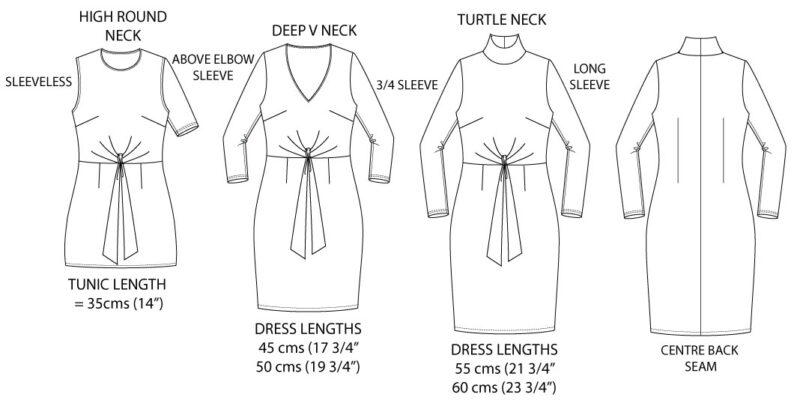 Hi Ho my sewing friends – and thankyou for visiting with us to see and read all about our Stacey Dress Pattern Tester Roundup.
Wasn't Part 1 of the roundup positively STUNNING ?
Like all of my roundup series each of my fabulous roadies offer wonderful and differing views of the pattern – and the Stacey Dress is a great example..
Whether the Stacey was cut in a softer knit – or a more stable jacquard double knit – each of the Stacey shapes showcase the design aspects of the garment fabulously !!
And the best thing of all about the Stacey is the style and shape is flattering on all figure types. Just AMAZING !!!
So lets continue Part 2 of the Stacey Dress Tester Roundup – and please continue all of your heart eyes, encouraging thoughts and general amazement my friends.
Our roadies would like to share the following with you all :
1. Your name and where you live ?
2. The Stacey has loads of style choices – what did you choose and why ?
3. What fabric did you choose and where did you purchase ?
4. What sewing tips can you share when sewing the Stacey ?
5. What was your favourite thing about making the Stacey?
6. Have you worn your Stacey yet and what compliments did you receive.
7. How are you styling your Stacey ?
And the finer details;
(AU/UK) 6 – 30
(US) 2 – 26
(EU) 34 – 58
Cup Sizes – B, C, D, DD
On Sale for a limited time only – $8.95(US)
Confident Advanced Beginner and Above Sewing level
https://designerstitch.com/shop/stacey-dress
---
Greetings from Milwaukee, Wisconsin, USA. My name is Allison. I sew for myself and my teen daughter.
I made a total of three Stacey dresses and would love a couple more. All of the ones I have made have long sleeves and the turtleneck. We choose this option because it is on trend for this winter, and well, winter in Wisconsin. This is dress is e..v..e..r..y..t..h..i..n..g!
It is casual, dressy, trendy, warm and fits a wide variety of settings. It can be worn for a stay home day (or week), for professional attire or even for an evening out. It is better than pajamas for home because I can answer the door for my deliveries and still be completely comfortable. Or dress it up with heels for a night out.
My teen's dress was my toile. I used a mystery fabric. It is thicker than a normal bullet but not Liverpool. It is a softer hand with less recovery, so I had to take it in to fit right. So there is my first tip, use fabric of the right stretch and gsm.
My dress is made from a knit jacquard. It is most fabulous. I also made one from a brushed French Terry. I wear this one at home frequently. Both of my fabrics were sourced from Made of Love Fabrics.
We have styled them with our red heels or flats. The one from French Terry is great with booties or even with slippers for a day in.
We have received multiple compliments about the fit and right on trend style of the Stacey dress.
---
Hi i'm Arina and i'm dutch. We are living at the see, so this dress is perfect for me, because there's always wind in this village. And the Stacey stays in place. Only the tie is blowing, but I like that!
The Stacey is such an easy dress en the fit is amazing! I wear it every week and my colleagues can't wait for the pattern to come out. They helped me select the fabric. It is a suede fabric with a bit of a leather look. I bought it in the shop of www.hollandstoffenhuis.nl
I chose the turtle neck because i really like that, that's so cosy and stylish in one. You can find more on my Instagram page
www.instagram.com/molz2.0_
The style i like the most is with my high heels, then i feel myself so sexy. But on my work i where it with my bikerboots, because i can't not walk hole day on my heels. Tips to make the Stacey as always, take your time for a good toille en you should have a amazing final!
---
Hi, I'm Barbara! I live in Northeastern Mississippi in the USA! I chose to make the V-neck hip length Stacey in a French Terry Buffalo Plaid fabric from my stash. I love the built-in ties on the Stacey. Make sure that you mark and use stabilizer where indicated at the base of the ties.
I recently wore my Stacey to work. Everyone loved my tunic! I wore my Stacey with a pair of Designer Stitch Patterns Harper pants that were modified to flares.
https://www.instagram.com/ninjabreadgirl61/
---
I'm Carmen from little ole Georgia. I made the Stacey with the fabulous V neck, 3/4 sleeves, and the 50 cm length skirt.
The fabric I choose for the final Stacey was a beautiful black scuba knit with bright blue and pink flowers. I purchased this fabric from The Fab Clique Fabric Shoppe last year, I think, and it was perfect for the Stacey. A sewing tip I would offer to anyone making the Stacey is not to skip the reinforcements at the front ties. You will be happy you didn't.
My favorite thing about making the Stacey was seeing how quickly it came off the sewing machine. I actually made three Staceys which will be worn on the regular.
I styled my Stacey with a pair of lattice pantyhose and a simple pair of black heels.
---
I'm Giorgia, originally from Melbourne, Australia but now living in Stuttgart, Germany! I made my Stacey in the shortest dress length, with 3/4 sleeves and a rounded neckline – I'm a big fan of 3/4 sleeves for German Autumn as it's never particularly warm or cold in October-November. I made my dress up in a scuba fabric, which is stretchy and warm just in time for hot chocolate weather :D. I've been wearing it a tonne with tights, a leather jacket and my Dr Martens. I really like my Stacey dress; it was a quick and easy so and is such a great style. I see many more in my future!
Instagram.com/gsewssometimes
Www.gsewssometimes.com
---
Kim Bailey Hi, I made the Stacey for my daughter after I should her the pattern which was similar to a dress she was looking at online. So the Lovely Ann let me test it for her and we love it. Covid had its fabric finding challenge here in Australia, but we got a gorgeous dusty pink 220GSM cotton Lycra fabric. The dress was super easy to sew and really only took me a couple of hours. the ties at the front waist are flattering detail and is great if making the dress for those like me with a 'Mum-tum'! She went for the short dress and sleeveless being a 14 year old and we are heading into summer here. she styled it with her Addis as sneakers. The Stacey is such a versatile dress as loving all the testers who did the high neck long sleeve 'winter' dresses. With all the different choices in fabric you could make a Stacey for each day of the week! Dress up for work and casual like my daughter did.
---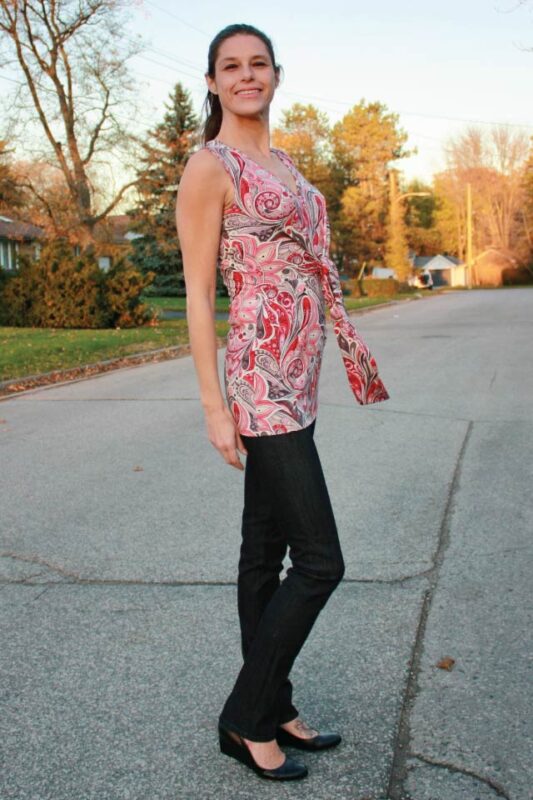 Hi Everyone! My name is Kristin and I live in London, Ontario, Canada. I chose the tunic length Stacey, with a V neck and no sleeves – I have so many beautiful dresses but I needed some tops, this seemed like the perfect solution. I used a lovely rayon/spandex knit that I purchased at my local Fabricland. When sewing the v neck Stacey make sure to follow Ann's fabulous instructions to get that perfect V shape – don't skip any of the steps. My favourite thing about sewing the Stacey was the construction. So clever and so easy! Sadly I haven't had the chance to wear my Stacey yet, but once the world wide pandemic is over I can't wait to wear it out. I chose to style it with my Dylan pants and a pair of black wedge heels to add a bit of fanciness to my outfit.
---
Hi, here is Marieke from the Netherlands.
Well, I can tell you already I wear my Stacey's almost every day since I made them.
Luckily I have 3 and more to come.😁
It's an genius pattern! In an unbelievable short time a gorgeous dress is finished! It's stylish, flattering and comfortable as pj's.
I used ponte fabric for the two with turtleneck and a sweaterknit for my Stacey with a v-neck. I can't tell you which one is my favorite, but I think my orange one combined with my white boots is giving that 70's feeling I love so much.
I think this is the dress you are saying: I am going to live in it forever!
As I said, it's a quick sew and just take your time to find out if your bust darts are sitting on the right place. That really can make or brake your dress.
Well, I prefer to wear mine with boots, but that's especially because I just love boots.😁
I don't go out much so I have to do with the compliments from my husband and children and saying that, that ís the most important right?
Have fun and enjoy your most comfortable and good looking dress!❤
You can follow me on Instagram too if you like.
Https://www.instagram.com/jongdesign
---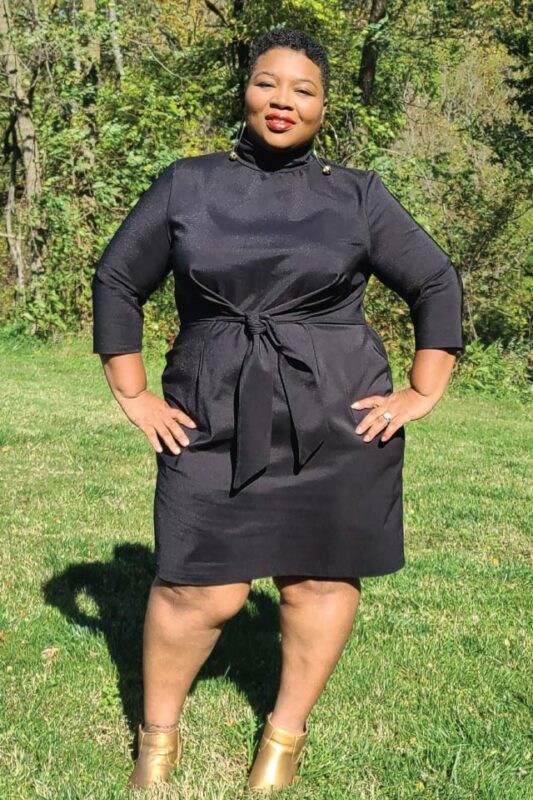 1. Your name and where you live ?
Martha Arzu McIntosh in Maryland
2. The Stacey has loads of style choices – what did you choose and why?
Did a turtleneck with 3/4 sleeve because its not my typical go-to
3. What fabric did you choose and where did you purchase –
I used this black scuba that I got from a costume design school destash
4. What sewing tips can you share when sewing the Stacey ?
Do the stay stitches for the ties cause it makes it easier to stitch the bodie and front skirt together.
5. What was your favourite thing about making the Stacey?
Truly a quick sew once you get your darts in.
6. Have you worn your Stacey yet and what compliments did you receive.
Yes I have and pretty much gets love on the fit. Very sexy.
7. How are you styling your Stacey ?
My little black dress is perfect for booties, heels and tall boots in my collection.
8. Social media
---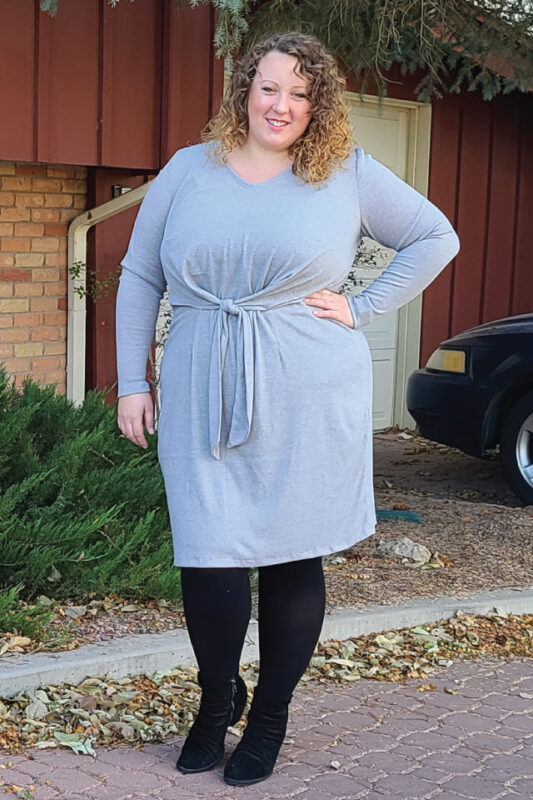 Good Morning you beautiful people!!! Melissa from Colorado, USA.
The Stacey in all its forms is Lovely!!!! My daughter Cherish chose the v neck, knee length for this cozy frock. She prefers an open neck line because she runs a bit on the warm side. I made it from a stable little ribbed knit that perfectly met the stretch requirements, strangely enough we found it in Walmart.
Stacey is a wonder and a joy to sew however your toile is very important!!! My girl is full busted and long waisted and my toile showed me exactly where I needed to alter my pattern. Swayback, bodice lengthening were both required. Ann's advice was great help!!!! Once I'd perfected my fit, Stacey took less than 2 hours to complete from cutting table to wearing. I love that, don't you!!! Chic clothing that is quickly completed and fits perfectly!!!!!!
Cherish has worn her Stacey several times and is always comfortable, complimented, and ask where may I find that dress!!! She is wearing black tights and suede ankle boots as winter is giving it best to settle in here. She tried a necklace but decided it took away from the lovely tie front. We hope you love it!!
Http://Facebook.com/Melissa.deeg3
---
Hey, it's Narelle from Perth, Western Australia. My Stacey was sleeveless, deep V neck and tunic length, because we're coming into summer (and I'm not going to wait to wear my tunic).
My fabric was the Perfectly Christina ponte from Lush Fabrics . I received it in a mystery bag and had no idea what I was going to do with it. When I saw the Stacey, I knew they were perfect for each other.
My favourite thing about sewing the Stacey was trying it on for the first time. With just a few minor adjustments (swayback and rounded shoulders), I had a perfect fit. The stretch fabric makes it comfy to wear, but looks really stylish.
I've worn my Stacey on the school run and was told "Wow, you look nice today!).
I'm styling my Stacey with skinny jeans and flat black slide for the school run, and with black pants and a cute necklace for a date night.
https://threadistry.com
https://www.facebook.com/threadistry
https://www.instagram.com/threadistry/
---
Hi my name is Sonia I live in SW Missouri, USA with my husband and fur baby Dune.
I chose the longest length for my Stacey as this is what is most comfortable for me.
I chose a French Terry from my local fabric shop. Unfortunately cannot be purchased online.
A sewing tip that I have is to make sure that you enforce the corners of the ties as the pattern states with interfacing. It will ensure a long lasting garment.
I love the turtleneck feature, it is so cozy for our upcoming Autumn season.
I have worn my Stacey out a couple of times already and feel so stylish in it!
I love to style my Stacey with knee high boots and an up-do!
Connect with me!
Blog: Www.sewsowforth.com
Facebook: Www.facebook.com/sewonandsowforth
IG: www.instagram.com/sewsowforth
---
My name is Stacey and I live on the south coast of England.
I wanted to try as many of the versions as possible, so I made three dresses! I used the 45 and 50 cm lengths, all three necklines and full and 3/4 length sleeves.
I used two light sweater knits and ribbed knit, all bought from Minerva.
This pattern is a quick easy sew, but make sure you don't stretch your fabric out as you sew. If anything does stretch, use steam to help it come back to its shape.
My favourite part is seeing the tie front come together, it's such a pretty detail.
I have worn all three of my dresses a lot since making them, my other half loves the style and says it is flattering.
I'm keeping styling very simple with just tights and boots.
www.instagram.com/all_sewn_up_by_stacey
Allsewnupbystacey.blogspot.co.uk
---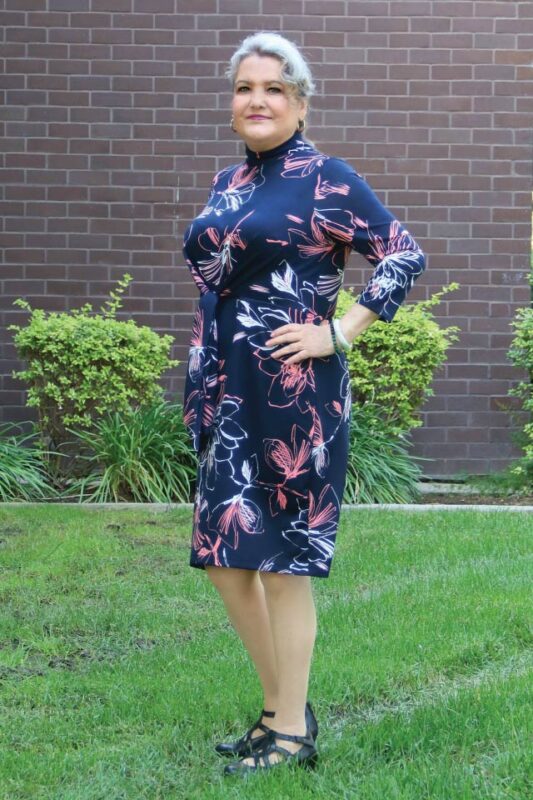 Hi, my name is Synthia, I live in Central California. For my Stacey dress I made the turtle neck, knee length, and 3/4 sleeve version. I originally made two, one was my muslin to get a correct fit. I wasn't happy with the first one because it didn't have the right amount of stretch needed. For my final I used a light weight scuba knit fabric, and it had the right amount of stretch. I am very pleased with my final version and so was my friend. Love the Stacey with it's many versions available and it's an easy sew.. Great Job Ann. https://sewsynsewn.blogspot.com