Hello again and welcome to part 2 of the Synthia Ruffled Top tester round-up.
I absolutely love featuring my ladies as I am so proud of each and every one. They are so very talented and are very much sew-masters in their own right.
The Synthia Ruffled Tops were made in a variety of fabrics and I am sure you will all agree that each and every Synthia version is both gorgeous and flattering on the wearer.
The finer details : A semi fitted shape the Synthia is both figure flattering and easy to wear and the pattern offers cups sizes for fine-tuning the fit of your garment –
Multi-sized pattern including Cup Sizes – B, C, D, DD(E).
On Sale for a limited time only – $7.00 (US)
So drum roll please…with out further ado…tadah…here are all the beautiful women of the Synthia Ruffled Top. xx
Kind Regards. Ann at Designer Stitch
---
Caroline Flynn.
I used a polyester chiffon fabric and even though it was tricky to sew with  I think it was perfect for the style, and I love the way the ruffles have turned out. The pattern worked straight away with no adjustments needed! This top can be worn lots of different ways."
I live in Waiuku, New Zealand. I used polyester chiffon https://www.instagram.com/caros_time/
---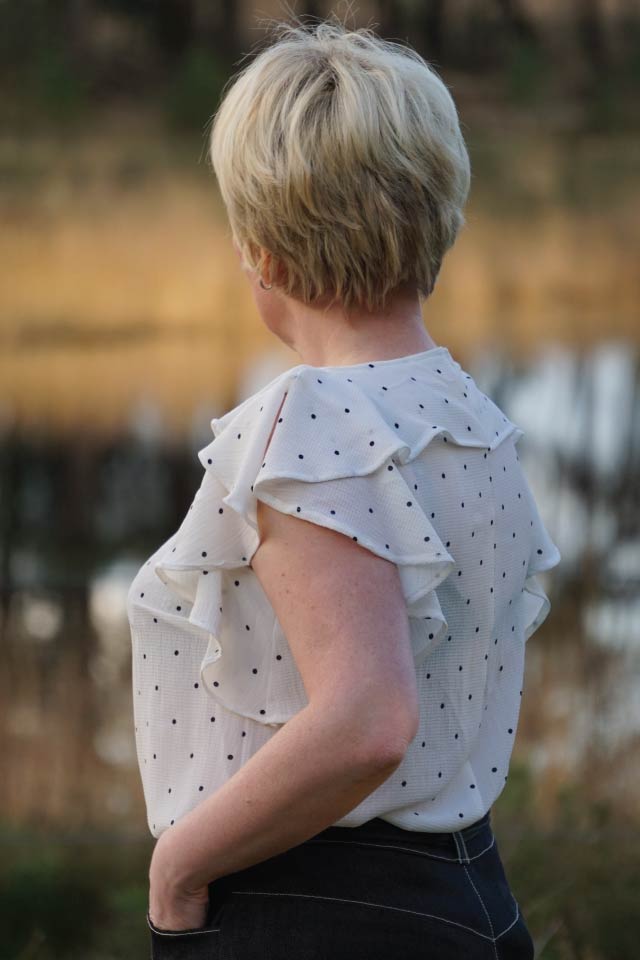 Hi, I'm Ilse Lemmens from Belgium.
When Ann Grose from Designer Stitch presented the 'Synthia' I immediately fell in love with it. This design has everything I wanted for a top: it is both feminine and flattering. The ruffle collar and waterfall armhole frill gives it such a romantic look. I used a white sheer crepe and yes, crepe is perfect for letting it drape beautifully. Synthia is definitely the best in a plain colour to show off the ruffles. Else you will loose them. I love to wear this top and I paired it with my Tanner Culotte, also a design from DS. Together they are the perfect match. The perfect match in heaven. https://sewsewilse.wordpress.com/
https://www.instagram.com/sewsewilse/
---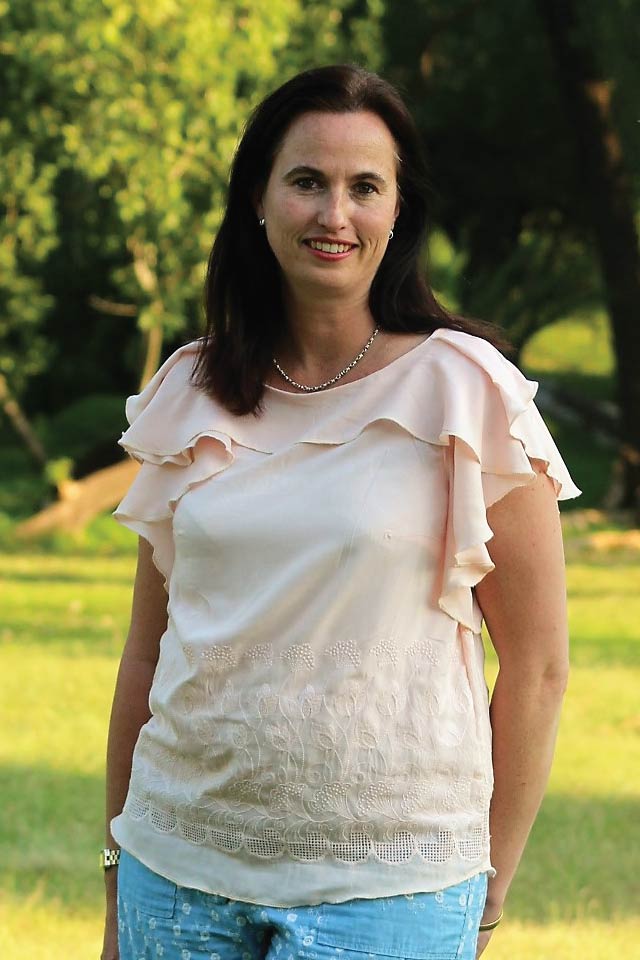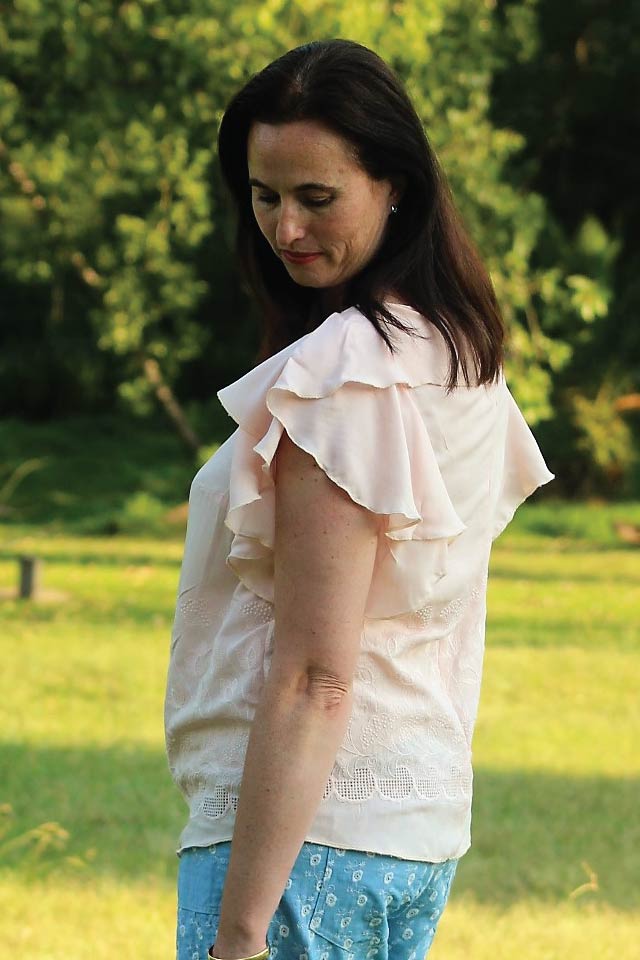 Genevieve Lynne Grossmann.
I live in Johannesburg, South Africa. As it's summer it is supper hot here at the moment and Synthia is just perfect. I used a super soft, Embroidered rayon challis for mine.
The fabric was really a challenge to work with but the result was oh so worth it. If I had to choose one word to describe Synthia it would be feminine. A beautiful pattern.
https://www.instagram.com/gegiegrossmann
---
Jenny Bowen.
I am from Canada and for my version of the Synthia I used a silky polyester that has a really nice drape to it which works perfectly to highlight the ruffles on this blouse. I really liked the line drawings when I first saw it but I was not prepared with how flattering this top would be once I put it on! Ann never ceases to amaze me with her keen sense of style and her top notch drafting!
You can follow me at:
www.EmbraceEveryday.com
Instagram: @othersideofthegarden
or Facebook at https://www.facebook.com/Embrace-Everyday-177190708665/
---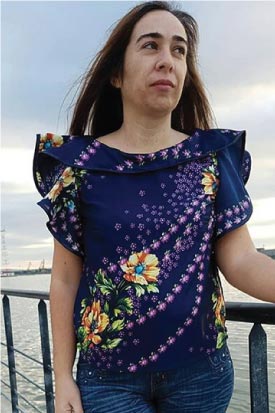 Dora Serrano.
I've been testing for Ann since the Summer of 2017 and each pattern is a must, made for real women. Synthia's top is no exception: it lays on your body as if it belongs there, every inch of fabric seems to be set on the right place.The ruffles lay around the upper body and give us that special look that makes us feel more feminine.
The pattern comes with good instructions, guidance on fit, and separate front pieces for different cups. It's very important though to read through all the pattern instructions before starting to sew (maybe more than once) and to make a muslin test fit first.
I love how quick this top is to sew. However, it requires some knowledge: sew darts, insert an invisible zipper, managing a lightweight, drapey woven fabric to get the right look.
There's always the option of sewing this top without the ruffles, but you'll be missing half the bling! All in all, this is the kind of pattern that you'll step back and say "Man… I feel like a woman!"
I live in Portugal.
Used silk for my Synthia.
You can follow me on www.instagram.com/colourbymim
---
Aimee Wilson.
My Fabric is a poly Fabric with a slight sheen. My grandmother passed about a year and a half ago. After her passing, I went through her sewing room and gathered Fabric and items that I knew I would use. This was some of the Fabric from her stash.
What I love about the Synthia Top is the flounce that goes around the neckline and the arms. It's genius how it goes together and looks way more complicated than it is. I love the relaxed fit as it is easy to wear and comfortable.
http://thesewingscientist.blogspot.com and instagram.com/sewingscientist
---
Jennie Coffman Lindstrom.
I currently live in Las Vegas, Nevada, USA.
The Synthia Ruffle top from Designer Stitch, is such a beautiful and feminine pattern. Sewing with silky fabrics can be challenging for me, but it is always well worth it when I have a gorgeous handmade garment in the end. This beautiful multi colored silk seemed like the perfect fabric for the flirty ruffles of the Synthia top. One of the things I love about this pattern, is that it gave me the opportunity to try out some sewing techniques that were new to me. I love expanding my sewing skills. The construction of the ruffle, and how it attached to the bodice of the top, was really intriguing. I really enjoyed the sewing process and how the top came together. I know that I will be using this pattern again!
My blog and social media info:
http://stitchedbyjennie.com/
https://www.instagram.com/stitchedbyjennie/
https://www.facebook.com/StitchedbyJennie/
---
Diane Cullum.
I live in Phoenix Arizona where it is either hot or warm most of the year which means I wear a lot of sleeveless and short sleeved tops. When I saw the drawings of the Synthia, I loved the simplicity of the blouse with the circle skirt type of ruffle. I really like how it drapes down the arms, creating a very different look from a regular blouse. It's romantic and flirty, floaty and fun. Since I love sewing with woven fabric, I knew I wanted to test this one for Ann. My lifestyle is casual and I have no job to dress up for, but this top will go out on date nights and to church in the summer. The fabric I used is a mystery (polyester, I suspect), blue and white checks with a raised texture. You really can't tell at all in the photos where it looks like a solid color!
https://sewingwithd.wordpress.com/2018/02/03/i-love-a-beautiful-flutter/
https://www.instagram.com/twochicklets/
---
Kiran Grewal.
Hello from Singapore.I adore my Synthia top. It makes me feel like dancing in a park and I can see myself making a million of these. For the Synthia top, I used art gallery fabrics rayon. This particular design is Budquette Abloom in the Abloom Fusions collection by Bari J Ackerman. I am drawn to florals and bright colours, so this fabric screamed out to be made into a Synthia. I've literally got a line of fabrics waiting to be made into beautiful Synthias. Check them out soon on my IG at http://instagram.com/gloopygoo
---
Nieves De Francesco.
This Synthia top is at the height of fashion right now, I made mine out a silver grey silk crepe de chine, did french seams for this as I thought it would be better with the silk. Truly lovely. I'm in Sydney and perfect weather for it right now
http:/instagram.com/nievesozz
---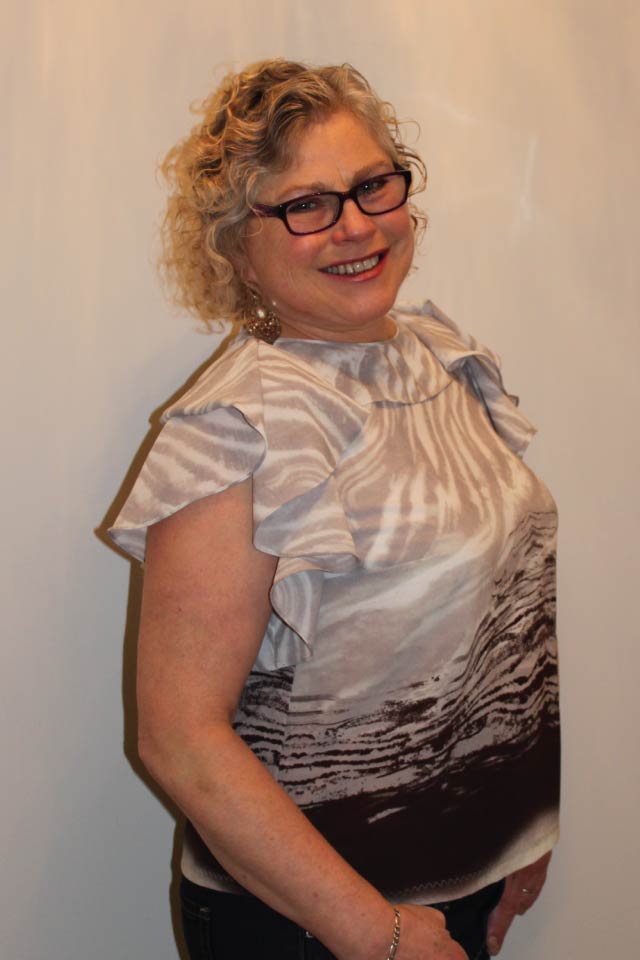 Patricia Garnham.
I'm a transplanted Englishwoman living in BC Canada, where it's chilly in winter and baking hot in summer. Taking photos in the snow was interesting!
I like the soft lines of the Synthia pattern; it has a very early Chanel feel to me. That's good, because as I've hit my 50's my waist seems to be disappearing!
Like all Designer Stitch patterns the pieces come together flawlessly. The ruffle attachment is a little tricky but once I put it over the bodice (on my mannequin) it was easy to follow and pin in place. I feel really ladylike in the top. Having 2 length lines helps it pair well tucked into a skirt or loose over jeans or leggings.
I used a lightweight polyester and finished my seams with an over edge stitch to add some weight and prevent fraying.
Blog: www.sewfarnorth.wordpress.com
I/gram: withloveineverystitch
---
Johanna Ali.
My name is Johanna Ali and I live in Fort Lauderdale, FL.  I am SO in love with my Synthia top. Ruffles are everywhere right now, and this top is perfect and right on trend. I used a chambray cotton shirting in denim color to make my Synthia. The construction of this top is genius, and I would have never thought to have sewn this top together like this. I think the Synthia top is one of my favorites from Designer Stitch so far. I will definitely be making more of these.
My blog is http://www.soveryjo.com/synthia-ruffled-top-designer-stitch-pattern/
My instagram is www.instagram.com/soveryjo
---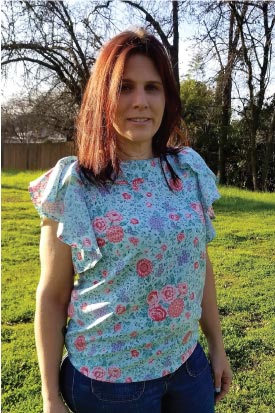 Kristen Brand Sacramento, CA, USA.
I made two versions one with and without the ruffle. Without is an old satin type that sat in my stash 10 years, with is a chiffon both from Joanns.
https://twinadoalley.blogspot.com.au/?m=1
Instagram is Stitches&Bobbins
---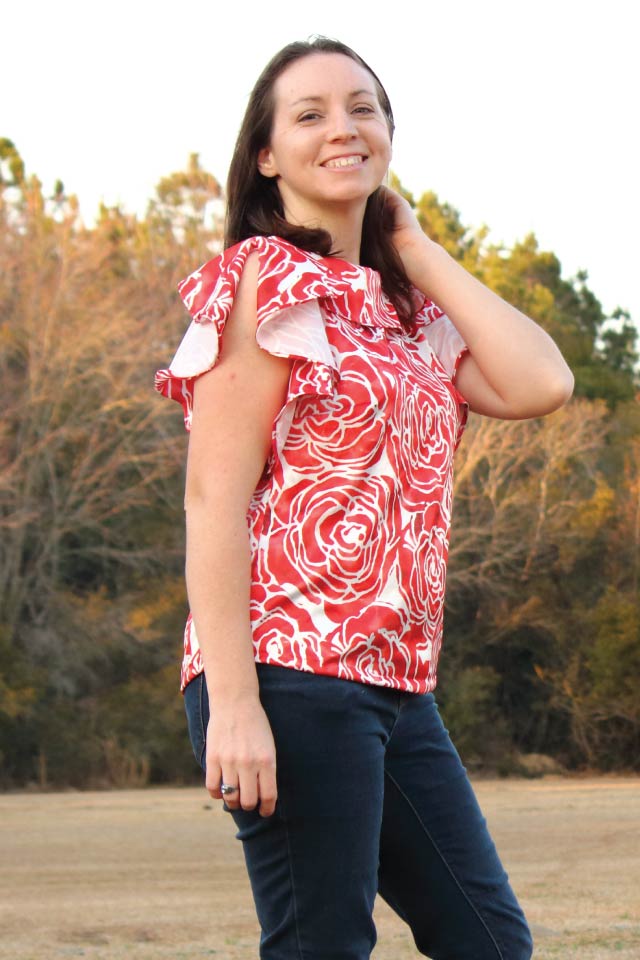 Carmen Statham.
I'm from a little town called Adel in southern Georgia. I love the newest pattern to Designer Stitch Patterns, the Synthia. As a romantic at heart, I immediately fell for the Synthia's romantic ruffles which encircle the wearer in graceful folds. I selected a large floral white and red fabric purchased from Joann Fabrics and Crafts by Cape May. This polyester, spandex blend drapes delightfully and the colors are phenomenal.
Blog: https://happilysewnafter.wordpress.com
---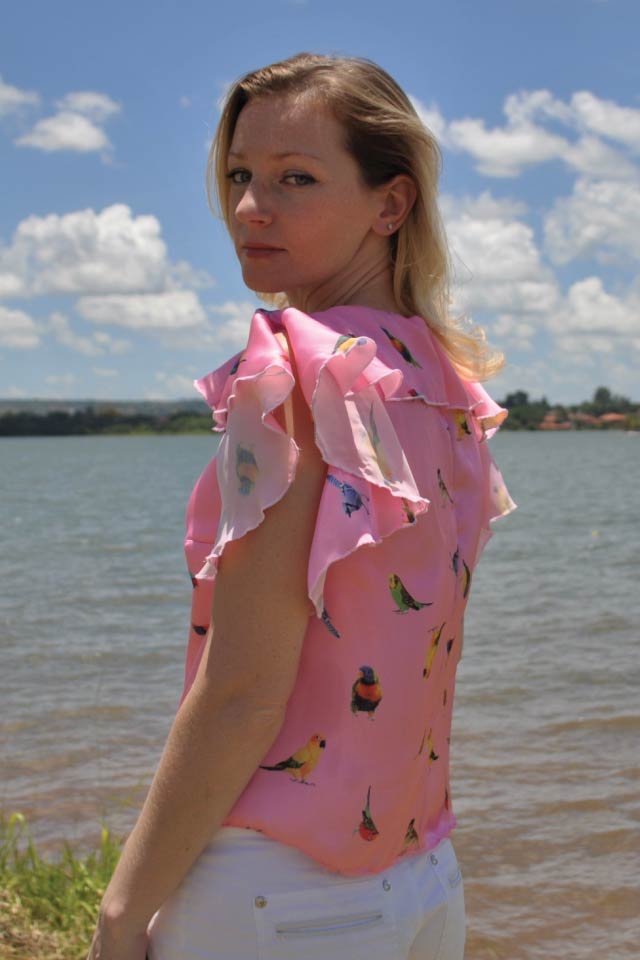 Meghan Cunha.
There is so much opportunity with this pattern; I decided to use a bright, funky print to make it fun and flirty but Synthia would look so romantic in a more delicate print or a solid. I love that I can choose from two different lengths and that it is slightly fitted at the bust while remaining comfortable at the waist. It is a great top for everyday or can be dressed up for a special night out.
I live in Brazil- lots of great fabric here! I chose a polyester charmeuse. It was a challenge to work with but I love how my Synthia turned out.
---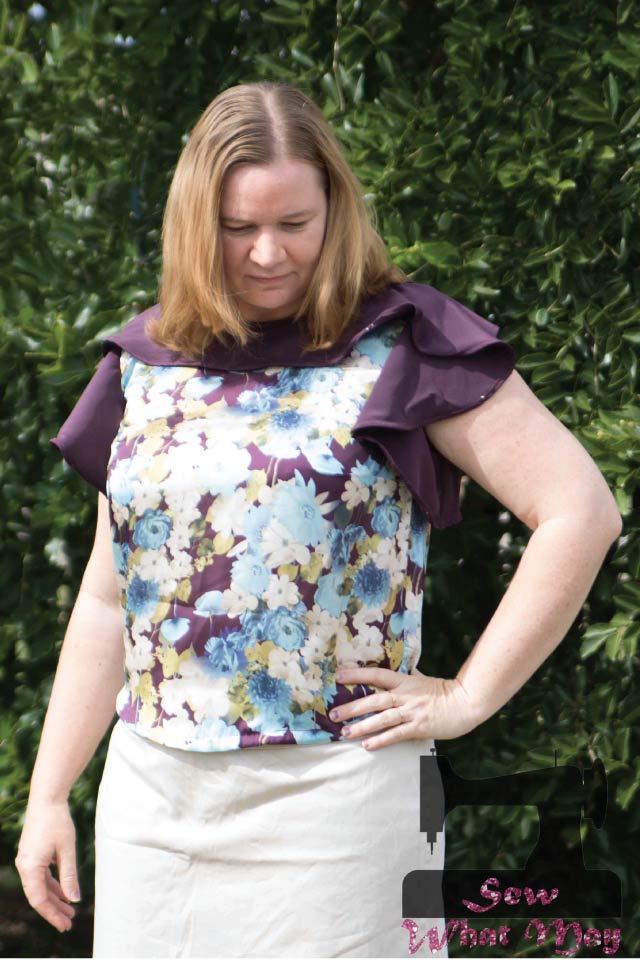 Katrina Dingley
I'm in Townsville. This is what i wrote: Its a feminine and flattering pattern that can be dressed up for a special occasion, worn to work or in a casual environment. The 2 choices give different views and allow a garment that is a quick sew for one or a little more detailed for the other. All of Ann's patterns are well constructed and look great on. https://www.etsy.com/au/shop/SewWhatMay…