Hello to my friends around the world.  We have been amazingly busy over here at Designer Stitch – and please let me introduce you to the new pattern in our catalogue – The Synthia Ruffled Top.
(named after my Synthia G  who is a valued DS pattern tester team member)
Ruffles are such a HUGE fashion trend at the moment – if you spend just 5 minutes in Pinterest you will see them everywhere – and on every possible part of the garment imaginable.
Hence the Synthia Ruffled Top – it is Fun, Flirty and an absolute breeze to sew.
A semi fitted shape the Synthia is both figure flattering and easy to wear and the pattern offers cups sizes for fine-tuning the fit of your garment –
Multi-sized pattern  including Cup Sizes – B, C, D, DD(E).
On Sale for a limited time only – $7.00 (US)
Showcasing the gorgeous Synthia are my wonderful team of pattern testers. I am sure you have read my previous posts about these wonderful women – they are the heart and soul of the sewing world – and true masters of their art !!!
So drum roll please….the first group of amazing ladies talking about their Synthia's!!!
Kind Regards. Ann at Designer Stitch
——————————————————————————————————
Hi, my name is Synthia Lee Gerritson, I enjoyed sewing the Synthia, not just because it was named after myself, but because it is such a feminine top that can be dressed up or down. I chose to dress up by wearing a black skirt and heels, and pairing it with a small clutch. I also made the Alyse tapered pants, by Designer Stitch, to have a more casual/dressy look. I feel the Synthia was made to my taste, I love to wear a garment I have made with chiffon fabric, as this one was, it gives a soft look. I specially love to wear garments designed by Ann Grose, she has given a lot of detail and thought into the Synthia top. https://sewsynsewn.blogspot.com.au/2017/12/designer-stitch-year-end-sale-30-off.html
---
Kate Williams.
I'm from Australia, just south of Sydney. I used a mystery synthetic I found at the op shop once upon a time. I don't usually wear lots of synthetic fabrics, so this was branching out a little for me. There is a slight difference between right and wrong side, but I think it's turned out OK.
https://katewillknit.blogspot.com.au/
https://www.facebook.com/katewillknit/
https://www.instagram.com/katewillknit/
---
Gabz Jefferson.
Lives in New Mexico, USA. The so-called "Land of Entrapment" but I like to call it "Land of Entrapment". Once you witness the beauty of this place, experience the wonderful culture and tradition of the New Mexicans, you will be trapped and surely more than willing to stay in here. Almost all of my projects are so colorful. But this time, I used black and white,
chiffon type of fabric. It is very flowy and draper kind of fabric. It is a little slippery but I am used to work on materials like this.
You may check other of my Designer Stitch projects at my social media URLs:
Ig: www.instagram.com/itsewcolorful
Fb page: www.facebook.com/itsewcolorful
Blog: https://itsewcolorful.wordpress.com
---
Katie Kennedy.
I'm thrilled with my two versions of the Synthia Blouse! The shell is so simple and easy to wear, and works for so many different outfits and types of fabrics. I can see myself making this in a basic chambray as well as a host of solids to boost my wardrobe. The ruffle addition is just a cherry on top; a really special and feminine detail when the need for a more dressed up option arises. I'm from Southern California. I used a soft rayon in my favorite color for my Synthia Ruffle Top.
https://www.instagram.com/kak513/
---
Casey-Marie Bray.
I love the soft feminine flounce of the Synthia top. The invisible zipper technique is genius, and it's well worth stitching together this top, if nothing else, just to learn this method. The included cup sizes took the guesswork out of any adjustments thankfully, as this is still a bit of a scary concept to me. I'm planning to wear this one with jeans and heels out for dinner, and I love that it's also versatile enough to be worn with a skirt for a corporate look. I live in West Brisbane, Australia
Instagram: www.instagram.com/lioncubcouture
Facebook: www.facebook.com/lioncubcouture
---
Rachel Reece.
I Love the Synthia pattern from designer stitch, and the reason is it's one of a kind. I feel so feminine in it. I have been looking for something like this for a while now and it the fit is spectacular. I'm not a usual ruffle girl, but since this isn't too much frill its just the perfect amount, (for the non ruffle people out there.) Ruffles are a big trend right now and wanted to get in on the trend. I live in California, USA and used a chiffon type.
Instagram: https://www.instagram.com/violetandjewels/
Facebook page: https://www.facebook.com/violetandjewelscreations/
Blog https://violetsandjewels.wordpress.com
---
Shalini Tahlini
I live in Washington DC area.  I used a gray chiffon fabric for my Synthia top. I absolutely love the light and airy feel of the fabric and the ruffles are so elegant in this top. The ruffles are what attracted me to the pattern and I already know Ann's drafting is top notch! I can't wait for the weather to warm up a little so I can wear this out. I find this top goes great with skirts, jeans and shorts. Perfect addition to my wardrobe!
I blog my creations at http://cropaway.blogspot.com and my instagram is https://www.instagram.com/shalinimunjal/
My Synthia blogpost will be going live in a bit. https://cropaway.blogspot.com.au/2018/02/designer-stitch-synthia.html
---
Belinda Cooper.
The first thing I said when I tried my finished Synthia is 'this top has some bounce!' The pattern is beautifully drafted and the flounce design detail moves with you. Flattering on almost any body shape Synthia is a great basic with a twist.
I've used a double sided viscose jacquard that had been waiting in my collection for the perfect pattern; I think I found it.
I live in Singapore and from time to time find the most amazing fabric influenced by the region. The motif is a simple leaf design and the bright blue colour is typical of the Asian palette whilst the reverse is silver.
The Synthia pattern is a beauty (as is the real life Synthia) and I'm sure whoever sews this pattern will find they have a great top that can be worn for many years to come.
---
Ana Inês Barros.
Synthia is a very trendy and fashionable pattern. Light and flowy is a must have in any summer wardrobe. This is "ruffle" time. Every fashion walk has tons and tons of ruffles but none like this. You will get the chance to make a difference and look like a top model everywhere you go. With this simple and easy to follow instructions anyone will be able to have a Synthia since this is suitable for almost any sewing level.
I live in Portugal and I used a silk for my Synthia
And my social media is
https://m.facebook.com/PontonoibyInes/
---
Melissa Evans.
I'm from Colorado, USA and I used a poly woven from my stash that I've been saving for something just right. Designer Stitch has created an easy wearing blouse that features a feminine and sophisticated ruffle. The pattern is as easy to sew as it is to wear with the professionally put together pattern and instructions. The ruffle is so cleverly constructed that you'll have a delightful ah-ha moment after you complete it. https://mahlicadesigns.wordpress.com
www.instagram.com/mahlicadesigns
https://www.facebook.com/mahlicadesigns/
---
Krisha Chiu.
I've been calling Synthia my Valentine's Day top because it makes for the perfect date night top. The ruffles are so fun and flirty, and I love that I can be dress it up or down depending on what I pair it with. We're pretty casual here in the Seattle area, so I like it with jeans and some cute heals. This was a lovely pattern to work with. The way the ruffles come together is pretty amazing.
1. I live in the Seattle area of Washington State
2. Fabric is a polyester spandex "silky solid" from JoAnn Fabrics.
3. My Instagram is instagram.com/buttercupthreads/
My facebook is https://www.facebook.com/buttercupthreads/
My blog is buttercupthreads.wordpress.com
---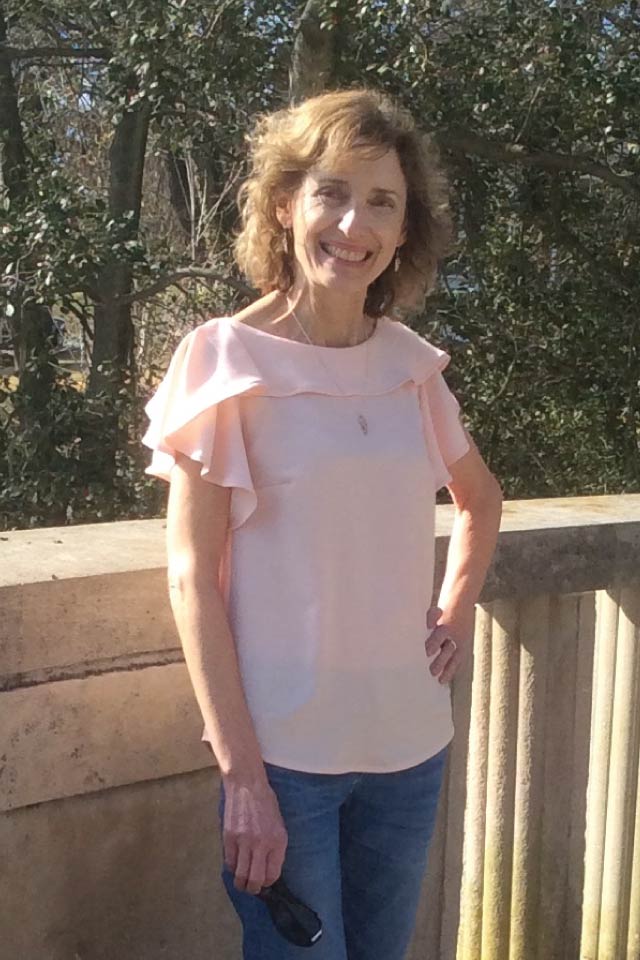 Andrea Shpuntoff.
I had the lovely opportunity to test the Designer Stitch Synthia Blouse pattern. The pattern is a joy to sew and the end result is, in my opinion, beautiful. I am by no means a model, but the Synthia blouse does make me feel pretty."
1. I live in Annapolis, Maryland.
2. Fabric is a "foiled hammered satin gardenia" from Joann fabric.
3. Instagram: https://www.instagram.com/andreashpuntoff