Hello my lovelies and I hope that you are well, happy and laughing today. xx
Thankyou for visiting with me today for Part 1 of the new Taylor Jersey Dress Tester Roundup.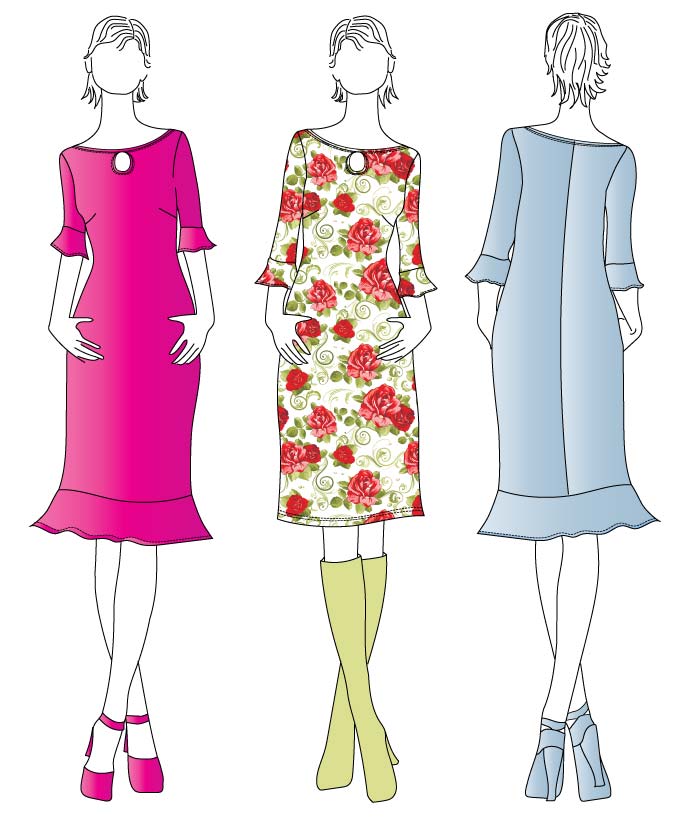 The Taylor is a modern gorgeous on-trend shape that is flattering and gorgeous on all figure types. Make in a medium weight jersey the Taylor can be worn for any number of occassions as the dress offers you total comfort while affording you a polished, sophisticated and stylish edge.
The Taylor Dress offers a number of styling options and combinations.
1. Just below Knee Length with added Hem Flounce.
2. Knee Length.
3. Above Knee Length.
4. Keyhole Bound Neckline.
5. Centre Back Seam for Extra Shaping.
All of the above styles are completed with choice of sleeve.
1. Shorter Sleeve with Flounce.
2. 3/4 Sleeve with Flounce.
The Taylor Dress is for a sewing level of Advanced Beginner and Above.
On Sale for a limited time only – $8.00 (US)
multi-sized pattern : Women's
(AU/UK) 6 – 26, (US) 2 – 22, (EU) 34 – 54
Cup Sizes – B, C, D, DD (E)
https://designerstitch.com/shop/taylor-dress
So now for the SUPER MODEL spectacular my friends – I would like to introduce you to the most WONDERFUL women who made the Taylor Jersey Dress.
Cheerio and Love to you all. xx
---
Greetings from Milwaukee, WI. My name is Allison. I choose the knee length Taylor with flounces on the sleeve and hemline. I love the romantic, flirty look of this style.
My toile, the floral print, is a Liverpool from Hobby Lobby. I needed to make some fit adjustments, but I loved her so much I made them all because I wanted to wear her. And I did for my finals photo. My finals dress has been stolen by my teen daughter. It is made from 250 gsm modal from Sly Fox Fabrics.
We both ended up styling our dresses with a belt, but it is gorgeous without, too.
As to tips, follow the instructions exactly for the binding on the keyhole. If you do, it will be perfection. Of course, make a toile before cutting your good fabric. And when using a Designer Stitch pattern with included cup sizes, trust the sizing chart. Under no circumstances should you base your cup size off your actual bra size.
My husband rarely notices what I wear or just grunts and nods. But, he loves this dress. He told me several times how nice I looked (Thanks, Ann). I wore it to church when I sang in the chorale. All the ladies were drooling! Then! I sent a picture to my mom via email. I have since received TWO emails from her saying how nice the dress is and how flattering the style is for me (Thanks again, Ann)
Thanks for letting me test. I have plans for a third Taylor, very soon.
---
Amber from Seward Alaska. I made both my Taylor's with the short sleeve. The one out of Liverpool I made with a flounce my other was more of a DBP I made in a short length the material was a bit on the light side, but when I saw the pattern it screamed at me it just had to be a Taylor dress. I was going to make the flounceless one longer but my husband liked the shorter length. Both fabrics I had already. With thinner material you need to make sure you stretch the keyhole more so it lays flat. The ease of construction was awesome for such a stunning dress. I've worn the stripped dress a few times and constantly get compliments. I've worn it with leggings and without.
https://instagram.com/alaska_cold_sewing
https://m.facebook.com/TAadventures
---
I'm Barbara from Northeast Mississippi.
I chose the short sleeved and short length with flounce for the "hot and humid" spring and summer here in the South USA
Both the thick Navy Modal (250gsm) and Floral Liverpool were purchased at Pretty Posh Prints.
Use Wonder Tape for your sleeve and hem flounces. It helps keep them even.
The flounces! I love to sway!
I have worn my Taylor to work and received many, many compliments.
I am wearing my Taylor with a pair of dress thong sandals, and block heeled sandals.
https://www.instagram.com/ninjabreadgirl61/
---
Hi Im Becca from Northern Florida.I chose the short sleeves and the longer version of Taylor. But I loved the dress SO much I made another with no sleeves for our hot summers and currently am making another. You will NOT find a more flattering and yet comfortable dress.
For my first Taylor I used the most perfect Modal Jersey from Sly Flox fabrics. The weight is perfection and the drape is just so lovely. The second one I used a stretch lace and so had to line it with a light weight cotton lycra….My best piece of advice is to use the recommended weight of fabric. That flounce feels so feminine and if you use the wrong weight you won't get that great feel from it……I think my favorite thing about the Taylor is how amazing it makes me feel. It also helps that every time I wear it (and its been quite a few times) my husband tells me its his favorite dress that I have made so far…I have paired both Taylor with cute pumps..All though the Lace one looks great with scrappy sandals…
---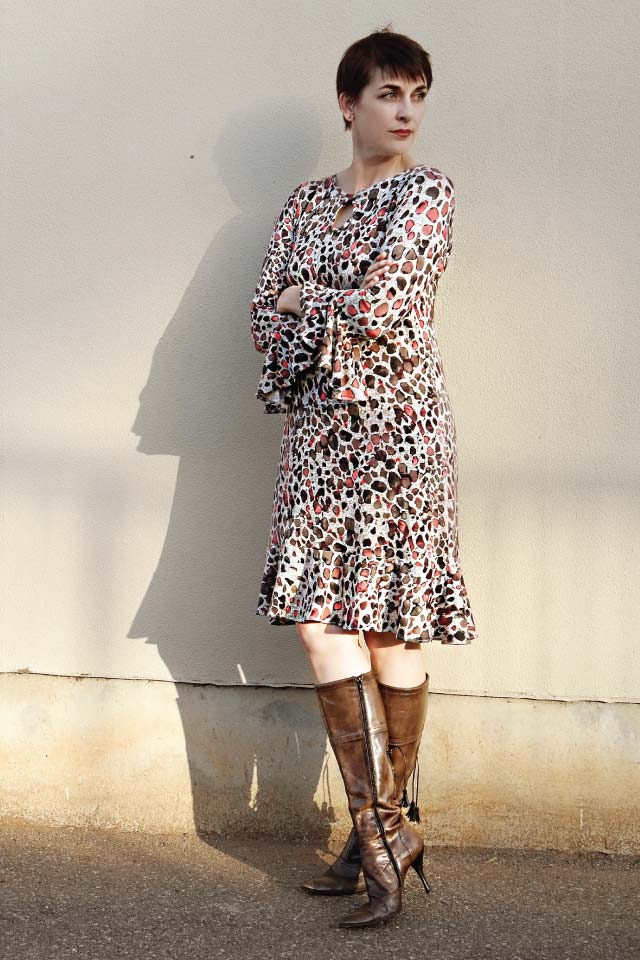 I'm Belinda from Adelaide in South Australia and I made the 3/4 sleeve Taylor with ALL the flounces. I LOVE flounces so much more than gathers so I took advantage of Ann's 'on trend' styling.
I've used a cotton/Lycra purchased on a whim in Singapore's Chinatown.
I feel most comfortable in lined dresses and so I hunted through my lining stash and found some Lycra which seems to work well at keeping the excess lumps and bumps invisible.. it also helped to plump out my keyhole. Lining your dress would be my tip…
I actually haven't worn my Taylor yet but I love her and she's ready to go as a trans seasonal item in my capsule wardrobe. I have my boots and a beautiful Penny Black long line parka in a faun colour at the ready. Just need the weather to chill!
---
hello, my name is Brittany L and I'm from Fayetteville, Arkansas. I made the short sleeve, above the knee dress, with all the flounces. I did have to make a sway back adjustment, so I recommend making a toile for your first time. The designer stitch website has a wonderful tutorial should you also need to make a sway back adjustment. I used a Liverpool fabric from Hobby Lobby which made sewing the keyhole very easy. I recommend a fabric like Liverpool that isn't slippery for binding the keyhole. While I was taking promotional pictures for the pattern I had a costume designer for the local theater offer me a job after I told her I made the dress.
---
I'm Carmen and I live in Georgia.
I chose the knee length and the 3/4 sleeves for modesty.
I chose a beautiful red modal Jersey from The Fab Clique Shoppe.
Affiliate link: https://www.thefabclique.com/?page_url=34
Make sure you have a stretch needle on hand because you don't want to skip or pop stitches with this amazing dress.
I love the keyhole the best. It really sets this dress apart from other knit dresses. And the flounces are very feminine.
I've worn my dress only once and now my kids want a dress of their own. Quite a compliment.
Styling the Taylor was really simple. I put on a pair of black heels and some dangly earrings and I was ready.
http:happilysewnafter.wordpress.com
---
hi I'm Cherry from Winchester, UK. I chose to make the straight hem above knee Taylor with short sleeves and sleeve flounce as I wanted a relatively simple silhouette. I used a lovely striped French terry from an online shop called the Cornish Haberdashery. The Taylor is an easy sew- the main tricky bit is the binding of the keyhole. Pin lots, go slow, and I used my edge stitch foot to ensure even stitching! Mine is quite a casual Taylor– I wear it run after my toddler (and still look stylish) and for days in the research office. I mainly style it with flats and boots. I've worn it lots- it's really comfy but I love the fit. My mum always comments how lovely the fit is when I wear it!
You can find me on Instagram www.instagram.com/goingtoneedstitches
---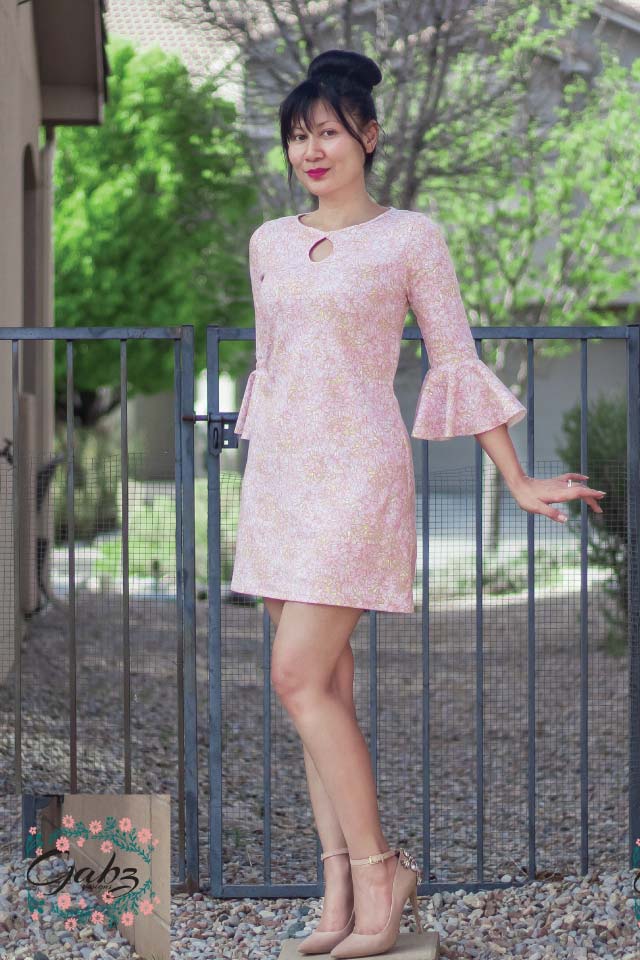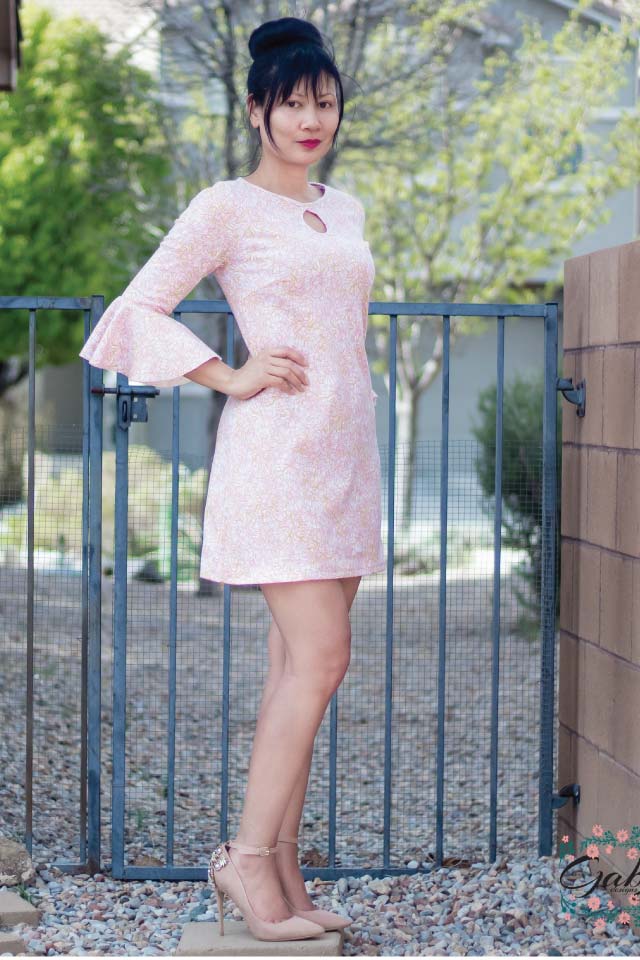 Hello, I'm Gabz J from New Mexico, USA. I made the 3/4 sleeved with flounce and above the knee Taylor dress. It is perfect for both high heels and flat shoes. I used ponte knit type fabric from an online fabric shop called fabricmart. It is very easy to sew using this fabric. Seriously, it is very easy to sew and for me this is a project perfect for beginners. The flounce and the keyhole are so fun to sew.. I wore my Taylor in a restaurant and the waitress told me that my dress looks very pretty. I was wore it with high heel shoes and they look so elegant.
If you want to see more of my Designer Stitch projects, please visit my blog https://itsewcolorful.wordpress.com , you may also visit and follow me on ig www.instagram.com/itsewcolorful . You may also like my Facebook page www.facebook.com/itsewcolorful
---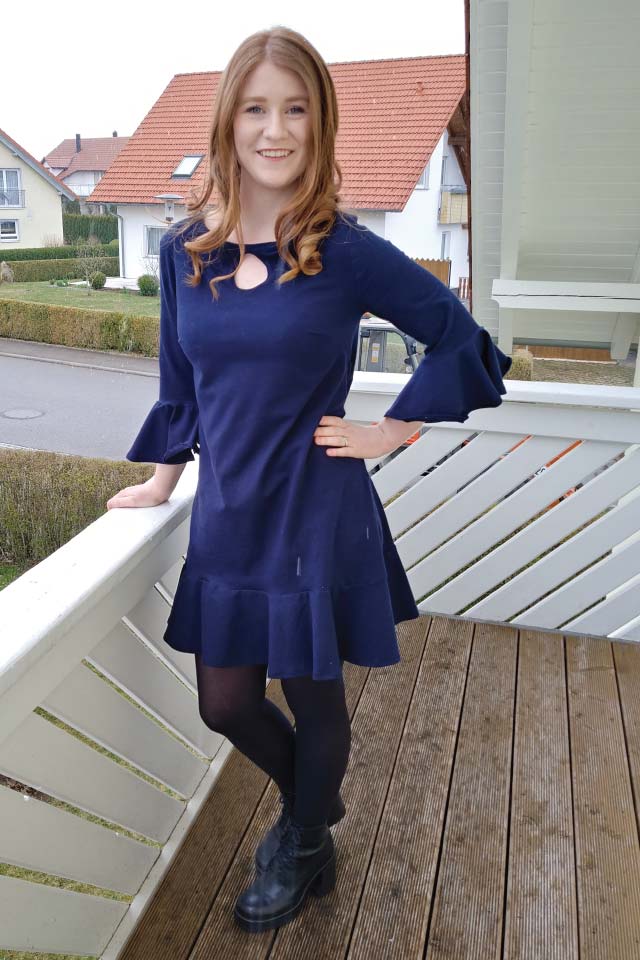 1. Giorgia – Stuttgart, Germany
2. Your choice of style for the Taylor and why ? I loved the flounce! So cute and flirty. I shortened the bodice about 7cm to make it suit my 5'2 frame
3. What fabric did you choose and where did you purchase -I used a plain navy blue cotton jersey from Driessenstoffen – they were the only retailer I could find with the right weight fabric!
4. What tips can you share when sewing the individual garments parts ? Go slow on the keyhole and press, press, press! Otherwise, I'd note that if you usually do a swayback adjustment, you'll almost certainly need to do it on this pattern too
5. What was your favourite thing about making the Taylor. The Flounce! Loveeeee the flounce!
6. Have you worn your Taylor yet and what compliments did you receive: Yes! Wore it to work twice and to my MIL's for Easter, compliments all round! It is perfect for work and play!
7. And how are you styling your Taylor ? I think it styles itself to be honest, but I like it with tights and ankle boots
8. Social media URLS www.instagram.com/gsewssometimes
---
Hello ladies, here Ilse Lemmens from Belgium. I'm so glad I joined to make this awesome Taylor dress! I chose the above knee length with ruches and short sleeves with ruches too because I really loved this look. And this in combination with my chosen fabric – red with polkadots <3 – I'm so in love! This medium weight jersey gives the ruches the perfect drape. So if you plan to sew one up too, make sure your fabric has enough drape. The keyhole was a bit tricky but be sure to use lots of steam to get it just right! I styled my Taylor with red shoes but I also took some pics with a white belt. I already worn my dress a few times and I received a lot of compliments. So nice!
Be sure to read my blogpost at: https://sewsewilse.wordpress.com and to follow my Instagram: https://www.instagram.com/sewsewilse/
---
Hello there! I'm Katie and I reside in California with my husband and three little boys. I had to try out both the skirt flounce and simple skirt; a girl needs options, you know! Both of my dresses are made with rayon/spandex blends which worked very well. I'd suggest some careful pinning/clipping when making the keyhole so you end up with a beautiful, even finish. When making the dress, I was struck with how easy it will be to dress up or down – l'll just wear some flat sandals and I'm good for school pick-ups, or I'll don some wedges and be ready for a dinner out.
I'll be posting pics of both my Taylors on my IG: https://www.instagram.com/kak513/
---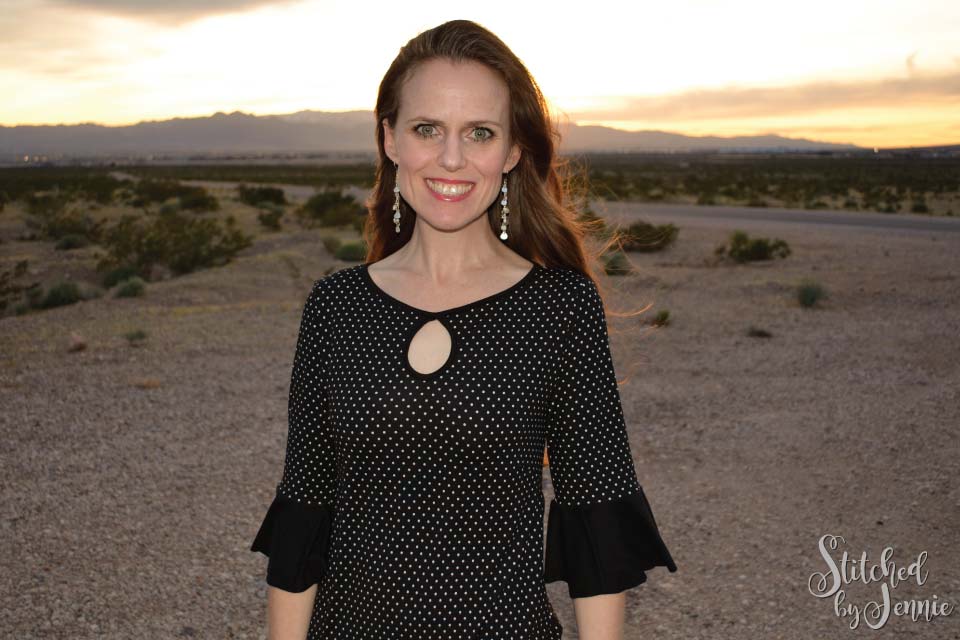 Hi I am Jennie L and I currently live in Las Vegas, Nevada in the United States. For my Taylor dress, I chose both the shorter sleeves and hem. I added flounces in both places. The fabric I used is a black polka dot from my stash, with a solid black for the flounces and binding. My best advice for sewing the Taylor is to go slow on the keyhole. It is so worth it to take the time to get a pretty binding. My favorite thing about making my Taylor, was that I trusted Ann and went for a shorter length dress. I tend to make longer dresses that cover my knees, but this time I went a little shorter than I normally do and I'm so glad I tried something different. I have already worn my Taylor, and my 14 year old has borrowed it too. I know it will get worn a lot! With some strappy heels and jewelry, my Taylor can be dressed up, or it can be casual with some fun sandals. Here is where I share my sewing adventures:
www.stitchedbyjennie.com
www.instagram.com/stitchedbyjennie
---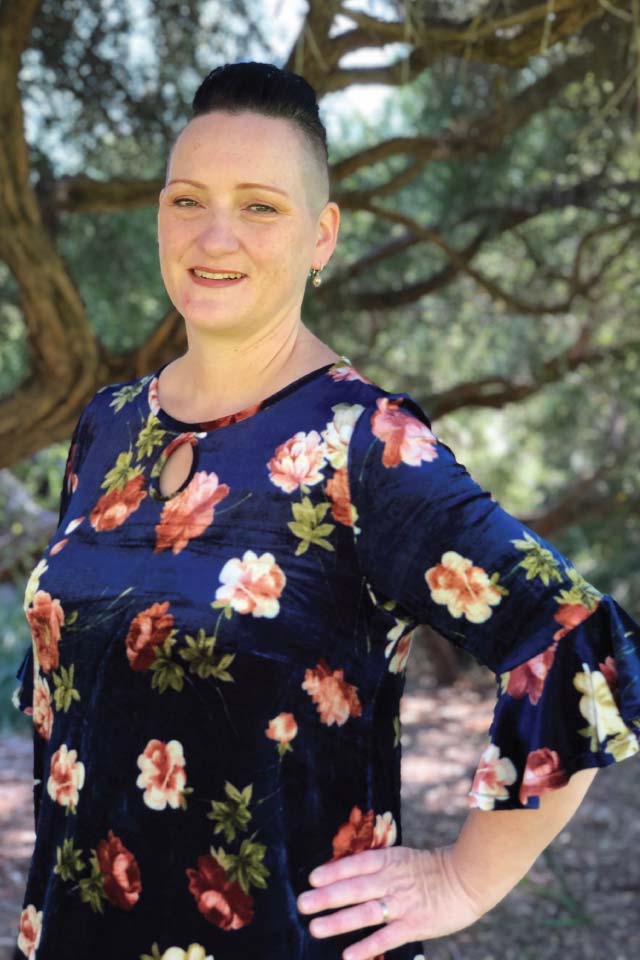 Kim B
hi, I'm lucky enough to be one of Ann's if sewing school students and made this fabulous Taylor dress in a stretch velvet from Lush fabrics and now that is is getting cold in Melbourne Australia this is perfect.
I made a size 5/6 graded knee length version with the fabulous flounce (which is what I love about this great knit dress pattern) and the shorter sleeve option with the flounce also. Speaking of sleeves …. it pays to always match notches and put the sleeves in the correct way! The unpicker and I were friends but how fabulous they go in when done correctly! Oops!!!!!!.
It is a really easy pattern to sew and directions are simple to follow and any alterations necessary like a sway back adjustment Ann has done fabulous blog posts to help you with these.
I Have it ready to where out in 2 weeks when I am in holiday in NZ so I will be pairing it with some 80denier stockings and fabulous ankle boot heels!
---
Hello everyone, I'm Kiran and I live in Singapore.
For my Taylor dress, I sewed a tunic length with the flounce. I was aiming for the resultant dress to end at the knee. I am only 5'3 so i also did have to shorten the length length and sleeves. This dress is made with lightweight cotton lycra. I felt that the print was busy and wanted to highlight that beautiful keyhole, so i did it with an accent fabric. The keyhole is such a pretty feature of this dress, it's actually not tricky to sew at all. My only advice being to take you time and line up the binding well. It will work out perfectly.
Its surprising that, and this is why i love sewing knit dresses, within an hour, i had a new dress to wear! ❤️
I wore it the very next day to meet a friend I hadn't met in over twenty years. She was so thrilled to see one of my "creations" in person.
For this and all my other sewing adventures, pop over to my
instagram page at www.instagram.com/gloopygoo
---
Hi there, I'm Kris from Canada! I made the short sleeve/above the knee flounce version of the Taylor which I absolutely love love love! I loved the flounce detail as I believe you can easily dress it up, or dress is more casual depending on how you accessorize it! For my red version, I used a ponte (rayon, nylon, spandex blend) from my local Fabricland. I found this dress to be an easy sew, just take your time around the keyhole and press lots! If you used a ponte knit with the same blend as I did, be sure to use a pressing cloth. I loved how easy the Taylor was to sew, but how it is such an elegant garment! By far, my most favorite dress pattern ever! I've received a lot of compliments on the color that I chose and how well it fits me.
My blog is: https://sewnotes.wordpress.com and my
Instagram is: https://instagram.com/sewnotes.