Good afternoon to all my lovelies on this inclement Thursday afternoon in Australia.
We have had a bit of good rain overnight which is very welcome to us all.
And a big shout out to you all for coming over to read this second installment of the Taylor Jersey Dress Pattern Tester Roundup. The Taylor is such a versatile dress and so so easy to wear. I am sure you will agree that my beautiful women who are part of the pattern road tester posse look amazing – well they always do !!!
If you missed yesterdays post be sure to read the Taylor Jersey Dress Pattern Tester Roundup Part 1.
On Sale for a limited time only – $8.00 (US)
multi-sized pattern : Women's
(AU/UK) 6 – 26, (US) 2 – 22, (EU) 34 – 54
Cup Sizes – B, C, D, DD
https://designerstitch.com/shop/taylor-dress
So with further ado !!!!… here is part 2 of the amazing tester roundup of the Taylor Jersey Dress. xx  .
Cheerio my friends.
Love to you all. xx
Ann at Designer Stitch.
---
I am Synthia LG, I live in California. For the Taylor dress I made the knee or just above the knee length, a better length for dancing salsa in. I used a light weight scuba knit fabric for my dress, which I purchased on Ebay. The only thing I can suggest in sewing up a Taylor dress, make a muslin, pay close attention to reading the instructions, especially when sewing the key hole for the neckline. The best part about sewing the Taylor, were the sleeves and the keyhole neckline, not to mention the fit was great. Another fun design from Design /Stitch.
https://sewsynsewn.blogspot.com/2019/04/taylor-dress-designer-stitch-design.html
https://www.facebook.com/Synthia20000/
---
I am Taryn HS from Cape Town, South Africa. My Taylor choice was the hem flounce with ¾ sleeves, also with flounce. I'm a little in love with flounces as I think they elevate a simple silhouette making it extra special. And I was definitely not disappointed with this. I made 2 Taylors, a fun flirty floral version in a mystery knit I had in my stash which seemed to have the correct weight and stretch. My guess is that is a Liverpool. For the plain navy version, I used a Stretch Crepe purchased from a local South African supplier on Facebook (Newmoon Fabrics). The keyhole and neckband was probably the trickiest part for me. My top tip would be to follow the instructions and be patient (with yourself), follow Ann's process – it will work out. Also, I was a bit hasty in snipping off the 'excess' keyhole binding on my first attempt which made the lining up of the keyhole a bit trickier. If you get stuck, shout out in the pattern support group. There is always someone on hand to provide some advice, clarity and support if needed. Taylor sews up pretty quickly and is a very comfortable (but stylish) wear. I have worn both my Taylors, the Navy one for work (both to a corporate event and important client meeting) and my floral Taylor was my Easter dress. The fit and style of Taylor gets loads of compliments (in both versions). The corporate look even got a number of colleagues (of differing body shapes and sizes) agreeing that it would make a great corporate uniform. Styling for me is generally all about the heels I choose to wear. I did add a necklace (which framed the keyhole) in an accent colour for the office look (in keeping with our corporate dress code) for an extra pop of colour. I found the perfect pair of pink heels to pair with my floral Taylor but my favourite way to style this version is with the mommy and me look I created for my daughter (inspired by Taylor). Follow my fashion, sewing and general life adventures at https://www.instagram.com/tarynhaynessmart/
---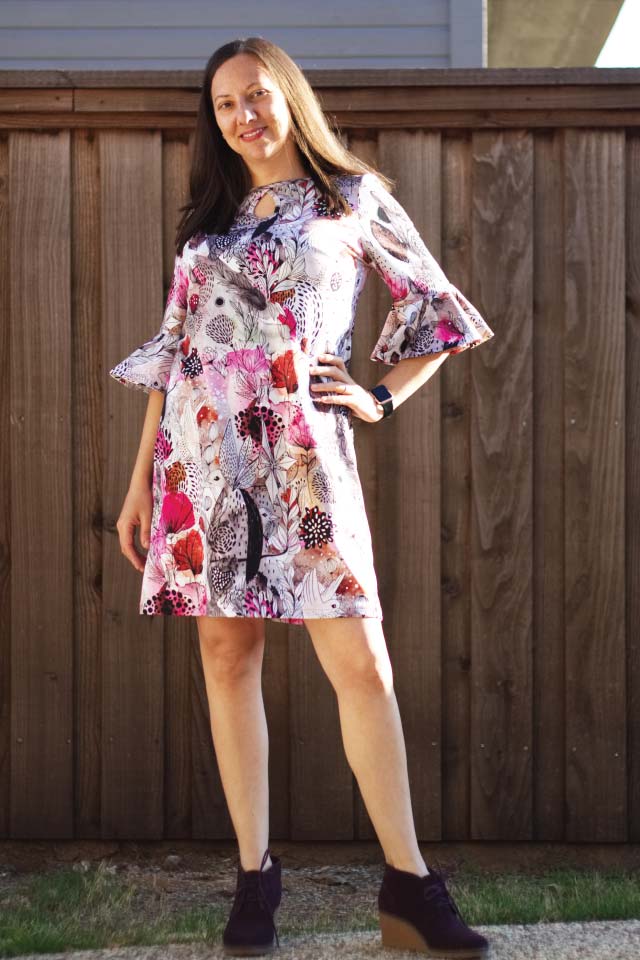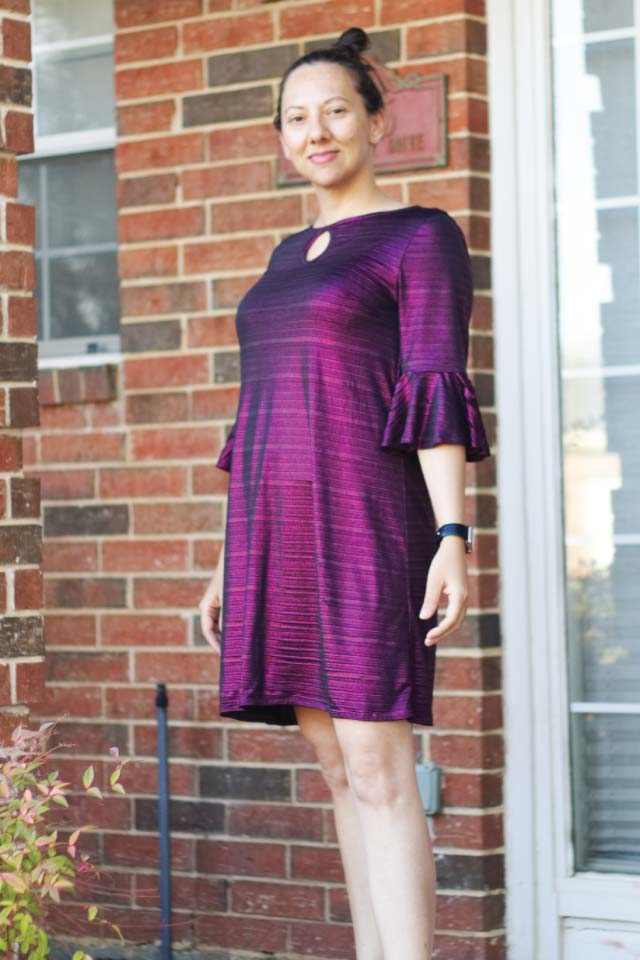 My name is Valentina, and I live in Carrollton, TX. I love all the Taylor dress styles and I can't say that I like one more then the others, but I picked the shorter length without flounce for testing. I will be making a version with flounce next. For the first dress I made, I used a mystery knit form a local store. It feels slinky like ITY but it has some pleats along the length of the fabric.
For my second dress, I used a euro knit (cotton elastase) that I purchased from Jumping June Textiles. This one was a little lower weight than recommended, but I gave it a shot because it is so pretty, and I am very satisfied with it.
The dress is very easy to sew. Make sure you measure yourself correctly and chose the correct cup size. The trickiest part is the keyhole, but you will be good if you follow the instructions.
M favorite part of the dress is the keyhole of course. Once you get the hang of it, it is fun and satisfying to make.
I have worn my euro knit Taylor out 4 times so far. I wore it to work, to dinner, to the park. A few people said that it's very cute.
I haven't done much to style it to be honest. I have worn it with sandals, and booties and it looked great both ways. I have also worn different earrings each time. I think you can really dress it up or down by putting on different shoes, jewelry, scarf, etc. All the tester photos show it really well.
My Instagram is @the_engineer_seamstress and here is a link:
Instagram.com/the_engineer_seamstress
---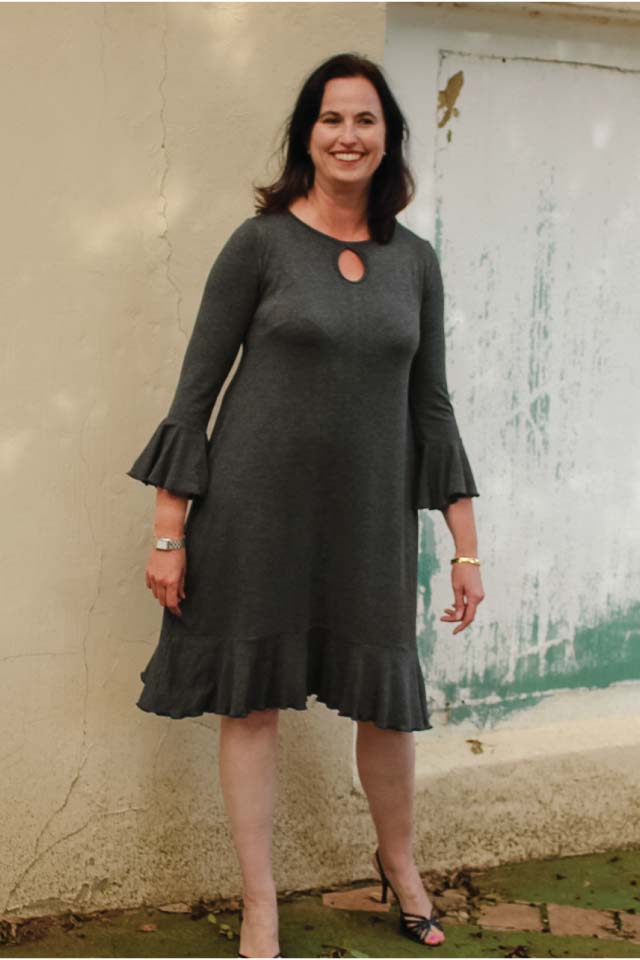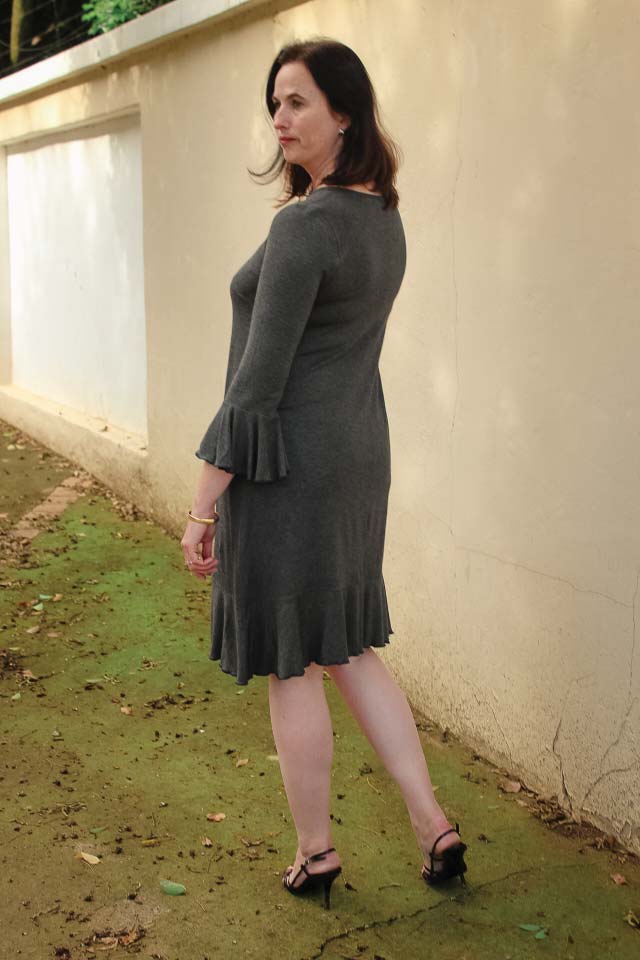 Hi, I'm Genevieve G from Johannesburg, South Africa. I chose to make the flounce bottom, 3/4 flounce sleeve with key hole, Taylor. The femininity of the design so appealed to me. I used a viscose knit, that I bought at my local fabric shop. It is a very soft and drapey fabric. My top tip is to read the instructions and go slowly, especially when sewing the smaller details like the keyhole. It's such a pretty feature and the instructions are fabulous. In general I love trying new patterns. I get super excited when I see the new garment come to life. I have worn my beautiful dress more than once and I have received numerous compliments on how flattering it is. As it's Autumn here, I'm wearing mine with long boots and either a jacket or cardigan.
Https://www.instagram.com/gegiegrossmann
---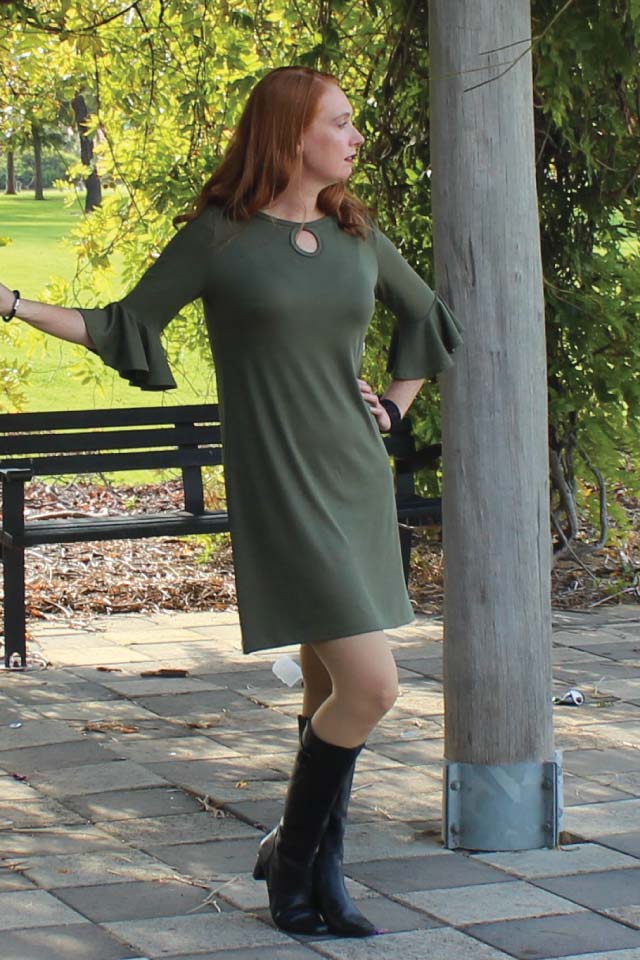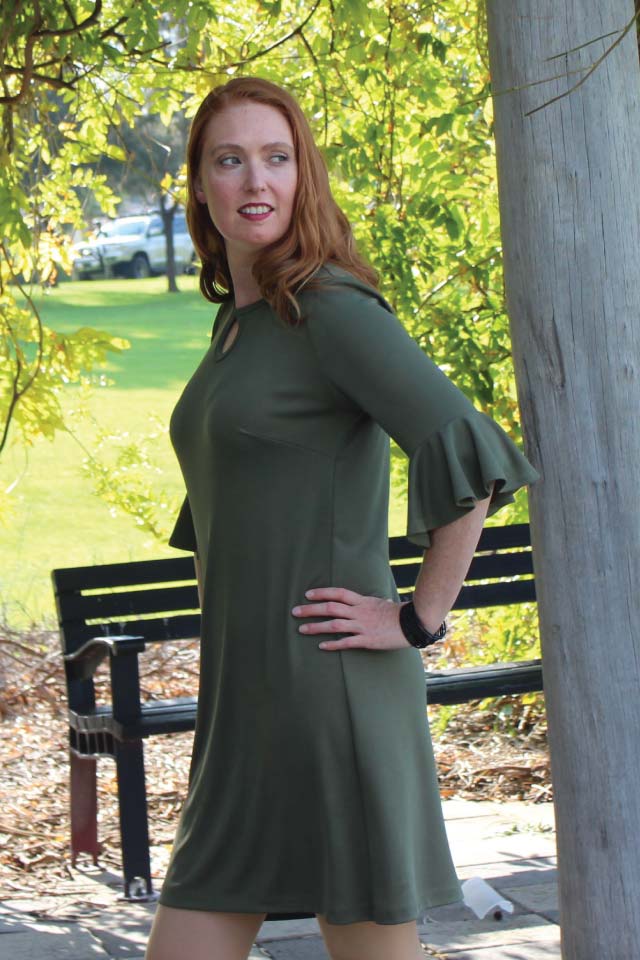 I am Amanda and I am from Perth Western Australia, I chose to make the Taylor option with the straight hem, as I wanted to make my boots the focus on the lower half of my outfit.
I used an Olive coloured heavy modal (370gsm) for my Taylor that I purchased from Lush Fabrics (https://lushfabrics.com.au/olive-heavy-modal/)
Olive is one of my favourite Autumn colours, and because I intend to wear it as the weather cools, I have styled my outfit with boots and bold black and gold accessories.
The Taylor dress makes a great outfit when you want to feel great, and confident, but still want to be comfortable.
I have worn my Taylor multiple times already and receive heaps of compliments every time!
My Fb blog can be found at www.Facebook.com/7bobbins
---
Hello everybody, I am Camelia from The Netherlands and my choice of style was pretty easy as those sleeves and hem flounces are beautiful! I chose for my Taylor a pique light scuba with the required amount of stretch and weight. Sewing the Taylor is easy and even if you might get intimidated by the keyhole, that is very easy to make so don`t skip it ! Keep the seam allowance even to get a neat edge all around your keyhole. To hem my flounces I just used a straight stitch on my sewing machine and turned the hem once and then trimmed next to the stitching line, on another scuba Taylor I even left the sleeves flounce hem raw. I love this dress, very feminine and easy to wear. The pattern is great as it is made for knits and offering the cup sizing gives you the best fit opportunity. Soon on my YouTube channel I will share my full review and a modeling you can see here https://youtu.be/ydFmkjLz4hI
and my sewing adventures are here on
Instagram https://www.instagram.com/calcedoniasewing/
---
My name is Kate, and I live in Australia, just south of Sydney.
I made an above the knee length version with short sleeves. It's a great length for this autumn weather we're having.
My fabric is from https://supercheapfabrics.com They have a great range of fabrics at a great price, and enough details on their site to be able to choose the right fabric for the pattern. It was tough to choose, but I ended up going for a bold print.
My top tip for stitching in the ditch for the binding, is to use a blind hem foot. I used the foot butted right up against seam, and shuffled the needle over a little to get the stitching lined up nicely.
My favourite thing about making the Taylor was how quickly it went together. I love it when you can make a dress in one night.
I wore my Taylor to my friend's birthday party. I had a number of compliments.
I like to wear it with my black ankle boots (they're comfier than my proper heels).
I will be wearing it with tights and boots as the weather cools.
https://www.instagram.com/katewillknit
https://www.facebook.com/katewillknit
https://katewillknit.blogspot.com
---
Hello! I'm Kristin, hailing from London, Ontario, Canada (where it is snowing. Again).
I made the above knee length Taylor with ¾ length sleeves with flounce; I love the feminine detail that the flounce adds to the sleeves. I really wanted to make the short sleeve version – but once again had to go with the longer sleeve because of my perpetual winter!
I used a delicious stretch velvet for my Taylor – and while the fabric was a bit slippery and more difficult to sew – the end result is so worth it! (make sure you use tons of pins/clips if you make one in stretch velvet!). I purchased my fabric at my local Fabricland store.
I found it really helpful to use my flat iron on the keyhole and neckline. It was much easier to maneuver than my big iron – and easy to get into the small area. I also (always) recommend making a toile – that way your final garment will be perfectly fit and you can practice any techniques that are new – without the worry of ruining your good fabric.
My favouite thing about making the Taylor was the ease of the pattern! Ann's directions are flawless – and it is really quite an easy sew, even though it doesn't look it!
I sadly haven't yet had anywhere to wear my Taylor – but my daughter and husband both love it – my daughter desperately wants one of her own.
My Taylor was styled with my Doc Marten ankle boots, my mum's 'summer wedding hat ' and my dad's beautiful BC Rich guitar. It is always a team effort for my photos!
---
Hi hi ! I'm Boon K from Singapore. I made 2 Taylor dresses, both with flounces on the hems n sleeves. I made 1 in a dark grey bamboo knit that drapes beautifully. This is the Taylorthat would take me through work and functions. My 2nd Taylor I made in a loud pink cotton lycra that would be perfect for my Fridays n fun-days !
Follow me on my sewing journey at www.instagram.com/limbksews
---
Hi there! I am Manda, sharing some sewing love from the Netherlands. I had the pleasure to sew a Taylor with 3/4 sleeves and the skirt flounce from a blend of cotton lycra knit that I found in a Dutch webshop.
I love the keyhole in this dress, it draws the attention of people straight away and the flounces feel so elegant. For sewing the keyhole I did a practice run first on some cheap fabric, therefore I knew where to pull the fabric tight when stitching in the ditch on my good fabric. The flounces were finished with a rolled hem (make sure to remove the hem allowance first) and I love how that looks!
This is the most elegant dress in my wardrobe, and when I wear it I feel pretty, chique and so proud that I was able to make myself a dress that looks like it was bought in a chique expensive boutique! I wear my Taylor with matching shoes and some earrings…thats all it needs!
You can find and follow me on Insta: HTTP://www.instagram.com/sewingambi
---
Hi, I am Marieke de J and I am living in the Netherlands since almost 2 months again, after living in Germany for 8 years.
I wore my Taylor already several times for different occasions and I even got a compliment from a stranger! But the nicest one was the one from my husband:" It isn't a tight or short dress, but you look sexy in it!"
I used for my Taylor a nice jersey with a damaged effect. I bought it in a Dutch onlineshop, Megastoffen.nl.
I made the version with flounces and 3/4 arms, just because I love 3/4 arms and in my wardrobe I don't have a lot with flounces. I am nicely surprised about the outcome! I did not hemmed the flounces, but cutted off the seam allowance and used the back from my fabric for the flounces for a playful look.
I style mine with high heels or ankle-boots. But I can imagine another one without flounces with fit flops or high boots. A short jacket when it's a bit colder and your ready to go!
It isn't a hard sew and I can recommend it for beginners. Don't be afraid for the keyhole. Take it slow and admire yours when you are done ❤
What I like the most is the perfect fit, the possibility to take the pattern piece for your cup size and of course the key hole! Such a lovely touch 💕
You can always have a look on my pages when you are curious about my makings.
https://www.instagram.com/jongdesign/
https://jongdesign.wordpress.com
Or have a look here: JONG Design
https://www.sewingportfolios.com/me/jongdesign
---
Hi! I'm Nicole and I currently live in North Pole, Alaska. I made the above the knee and short sleeve, both with flounce option. This got me really excited because I love flounces! It gives the dress that extra flair, especially when you move. For both my dresses I used Liverpool from So Sew English and Knitpop. I found this fabric very easy to work with and it gives life to the flounces. One thing that helped me with getting the perfect keyhole and binding is wash away wonder tape. Since Liverpool is pretty thick, I had to make sure, I pull the binding evenly to the wrong side when I topstitch from the front. With the tape holding everything down, I only had to worry about keeping my stitches really straight. And hold off trimming the excess binding on top of the keyhole. That would really make joining the ends easier. (Ask me why I know) The best part about making this dress is learning how to move bust darts, since my apex is higher than the pattern's. With Ann's help and a little googling, I have a new skill! I wore these dresses to church and have been complimented a few times, their attention almost always gravitates to the keyhole and how it pretty the little detail was. I'm so glad I spent that extra time perfecting it and the binding. I've worn this with heels and a stylish pair of boots. Can't wait for the summer when I can dress it down with cute sandals.
---
Sarah C, Virginia USA
I made a shorter sleeve shorter length Taylor because longer dresses make me look short and summer is coming!
I used Liverpool from my stash since it was the right weight and I thought the polka dots would look good with Taylor's style.
Taylor was super easy to sew. My only trouble spot was the keyhole binding, with the thick, spongy Liverpool, I had to pull the binding pretty tight to get it all the way around. I'd make my binding a little wider to compensate if I used a thick fabric again.
I love the whole project, it was quick and easy and a great result!
I wore it to my son's band concert but I had a coat on and no one saw 🙁
I went with pearls for my classic polka dots
https://www.instagram.com/yarndoggiedog/
---
My name is Stacey and I live on the south coast of England.
I chose the shorter straight hem style Taylor, as this is the style I will get most wear out of. I love the way it looks.
I used a light to mid weight cotton Lycra fabric which came from my local fabricland store.
The Taylor pattern comes together really quickly, the one bit that is worth taking your time on is the neckband – use lots of pins and stretch it nice and evenly.
I love this pattern because it's a quick sew, my favorite bit was finishing and putting it on!!
I wore my Taylor to a family party and everybody loved it.
I keep the styling quite simple for my Taylor and pair it with either heels or boots. I think the style of the dress speaks for itself.
Http://Allsewnupbystacey.blogspot.co.uk
www.instagram.com/all_sewn_up_by_stacey