Hello to all my friends around the world.  Say hello to the new Carmen Flounce Skirt  and it suits all climates.
The skirt is one that you will fall in love with instantly and it is bang on trend.
I loved developing this style of skirt and the great feature of the Carmen is that it suits just about any body shape. The pattern itself provides a standard waistband, high torso waistband and also – when sized down – it can be cut in a knit fabric.
Wrap skirts can be notoriously hard to wear as they sometimes don't retain their modesty by opening at the front – the Carmen Flounce Skirt is actually designed to look like a wrap but it has a clever front seam where the side panel is stitched to a certain point – so it actually is a mock wrap. Clever !!!
So lets start the Carmen Flounce Skirt Tester Roundup Part 1 – where I showcase of all my glorious pattern testers for the Carmen Flounce Skirt.
And they would like to share the following with you all :
1. Your name and where you live
2. Your first thoughts on the Carmen when you saw the tester pic (warts and all please)
2. What fabric you made the Carmen in and what influenced your choice of fabric. And how tricky was your fabric to sew ?
3. And where do you intend to wear your Carmen.
4. And how many compliments have you had so far ?
And don't forget the Carmen Flounce Skirt is on it release sale price of  $6 US and is a multi-sized pattern :
(AU/UK) 6 – 26
(US) 2 – 22
(EU) 34 – 54
https://designerstitch.com/shop/carmen-flounce-skirt
So tadah..without further ado – here are the first group of my most AMAZING GIRLS !!!!
Cheerio and Kind Regards
Ann at Designer Stitch
---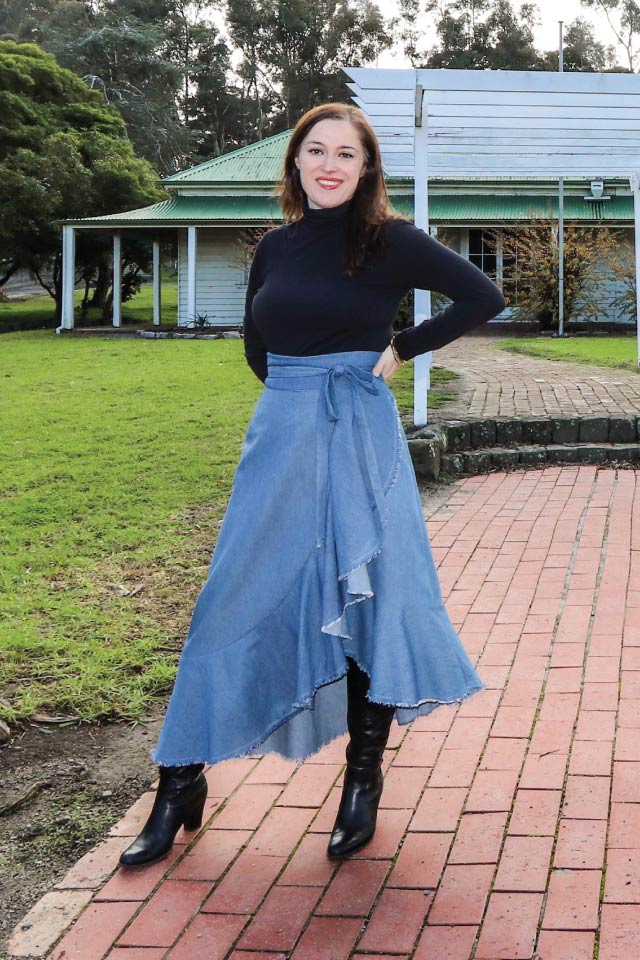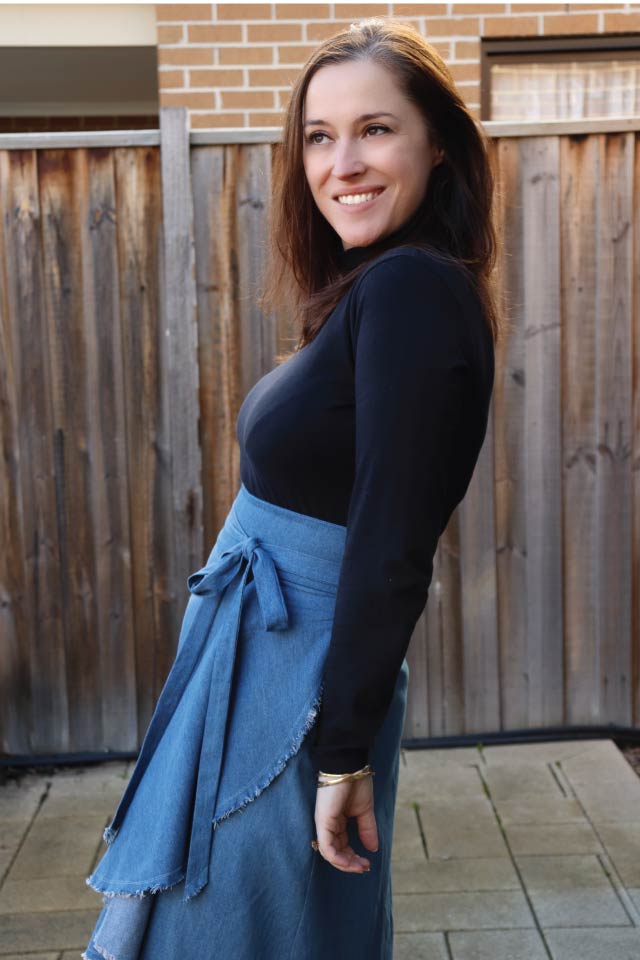 I'm Bec Walker from Melbourne, Australia. I was really excited when I saw the design for Carmen, especially when Ann added the longer length and the high waistband. Given that Carmen has ruffles I was expecting to have to gather that ruffle all the way around. So it was a lovely surprise to find that the flounces are cut in such a way that there is no gathering!
I made my Carmen in a mid-weight denim. I'm a stay at home mum and so practicality is a big factor in my wardrobe. Denim is easy to sew and it withstands the messiness of small children well. It's also casual enough that I think Carmen will get regular wear. This is also why I distressed my hem, as it keeps this as a garment that will work for kinder pickup as much as it does for Saturday brunches. (There is a mini-tutorial on my blog on how I distressed my hem).
I haven't worn Carmen out yet, but everyone who's seen the photos have been very impressed. My hubby was particularly delighted.
I'm on Instagram at http://instagram.com/edgestitch.bec and
my blog is at http://edgestitch.wordpress.com
---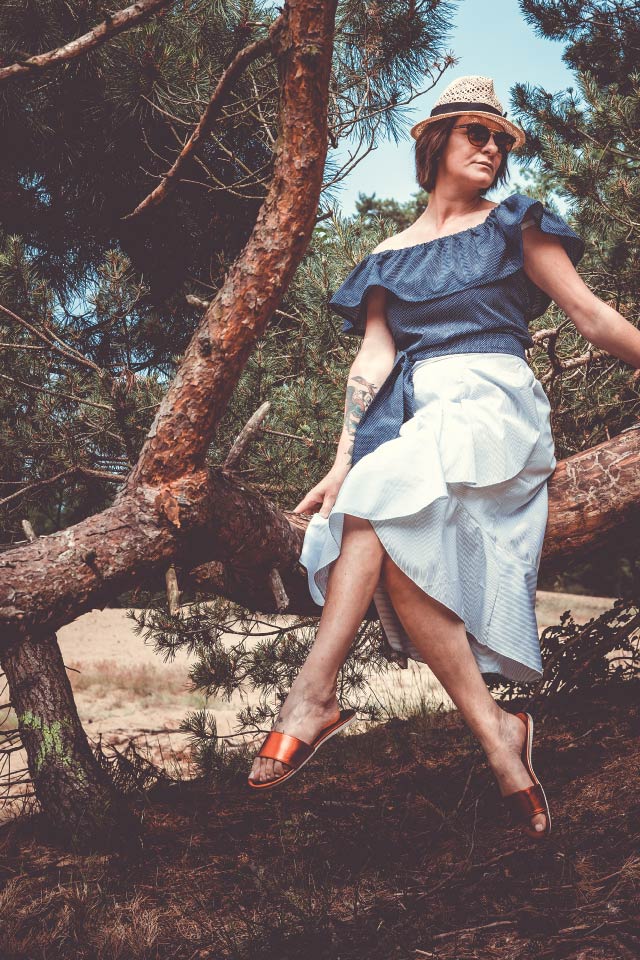 Hi Ladies, I'm Inge from Belgium and a very happy tester of the Carmen. When Ann showed of the drawing it was love of first site, she always includes some inspiration pics that helps us visual here look on the pattern.
I bought some striped cotton fabric, a vision I had to wear the skirt both with heels and flats, both Urban and sexy. Cotton is a very easy fabric to use, so no tricky sewing here…..
I have pulled my Carmen out of the closet to wear to work, and it was raining compliments.
You can find my Carmen on my blog www.madamestof.wordpress.com,
on my Facebookpage https://www.facebook.com/madamestof
or on my Instagram account https://www.instagram.com/madame_stof/
---
Hi, I am Camelia from the Netherlands.
When Ann, started to tease us in the tester group with inspiration pictures and drawings I just could not wait to get my hands on the pattern. I love the flounce around the bottom of the skirt and the idea of a faux wrap was great.
I made the shorter version with the narrow waistband. I chose a cotton sateen with a bit of stretch and I faced the flounce with a cotton eyelet, that gave also a bit more structure on my flounce. It is something about garments with flounces, so feminine and kind of sexy.
All the details on my skirt are also on the blog https://bit.ly/2InEFe3
A video review on YouTube https://bit.ly/2MfAHGL
---
My name is Lone and I live in Denmark.
Ruffles are everywhere at the moment, so there was no doubt in my mind when I saw Carmen; I had to make one!
I used a light cotton/poly tiedie denim. To me it had the right amount of drape and still have some hold to it. It was very easy to sew with and I love it.
I am going to wear my Carmen with a fitted t-shirt or shirt. She goes with both heels, sandals and boots I think.
https://sewnbylone.wordpress.com
https://www.instagram.com/lonelot/
---
My name is Joanne Castillo, born and raised in the Philippines but currently living in Bahrain with my family.
My first impression was, "That's so not me!" I am not a skirt person. But I immediately fell in love with the ruffles!
I used neoprene fabric. I saw a lovely similar style in a boutique. It gives more body and drama to the skirt. It wasn't so tricky at all. I left the ruffles hem raw which made the process easier.
I will definitely wear it on a date night with hubby.
This skirt is hubby-approved, a very rare moment that is enough for me to really love this skirt.
www.instagram.com/ar.JCcouture
---
Hi! I am Becca from sunny northern Florida. My mind just went crazy when I saw the carmen test! I am a romantic at heart and this skirt just SCREAMS romance…
Making just one was not an option! I have made 2 and have 1 more almost done. I can promise you that when I find the perfect knit I will be making yet another one <3….
The fabric I chose for the first was a beautiful pale pink crepe with gold flakes.But for the toile I used a decorator weight cotton. I added a double ruffle to that one with a pink gingham checked cotton. The third is a costume satin.
The first 2 I have worn all ready and was so amazed when my husband told me they are the most beautiful items I have ever made. I have gotten so many compliments but that one means the most. The third one I am making is for a special day at WDW called Dapper day. I can't wait to finish and show it off…
This pattern goes together so easily and all my fabrics but the satin has been a dream to work with. The satin…Well lets just say I am not working on it right now so I don't throw it out. Cheap satin is never ideal for anything.
---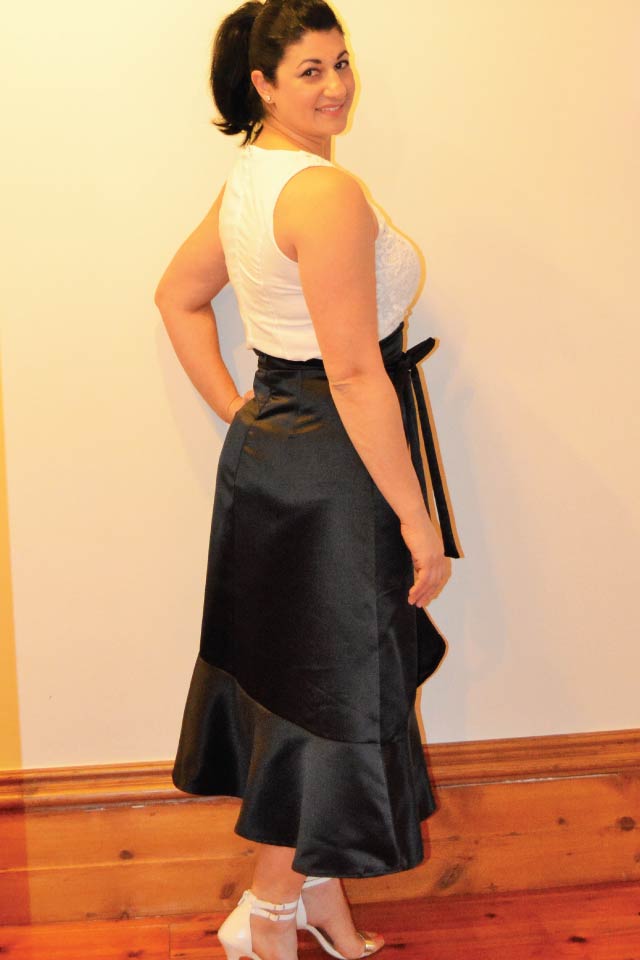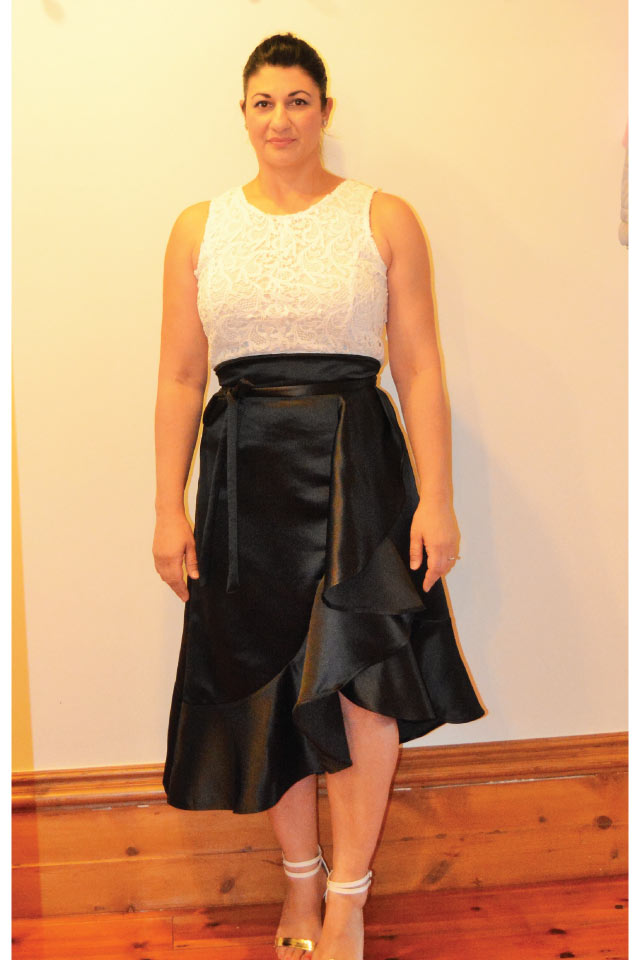 I'm Angela from Australia. When I first saw the tester call I saw the potential for making this skirt into something dressy to fill the gaps in my wardrobe but also the possibility of making it into an everyday skirt. I used duchess satin which provided some body and the sheen gave it more of a formal look. I haven't worn my skirt yet but have a couple of events coming up where it will get worn.
Check me out at https://tinkerandstitcher.wordpress.com
---
Allison Falkey from Milwaukee, Wisconsin, USA. From the moment I saw Carmen I was head over heals. Truly love at first sight. I made my Carmen skirt from a woven Cotten shirting fabric (100% cotton), then lined the flounce with a cotton floral. I choose stripes because I love the way they accent the movement of the skirt. My fabric was super easy to sew, once I cleaned my severely impacted feed dogs (shame on me) I plan to wear my Carmen for parades and picnics and festivals, she is perfect for Milwaukee summer days. So far, I have only worn her once, but several people stopped to ask about my 'gorgeous skirt'. I was so pleased with the construction of the garment, was way easier than I imagined. If you choose to line your flounce, just remember to flip the pattern piece for the lining.
---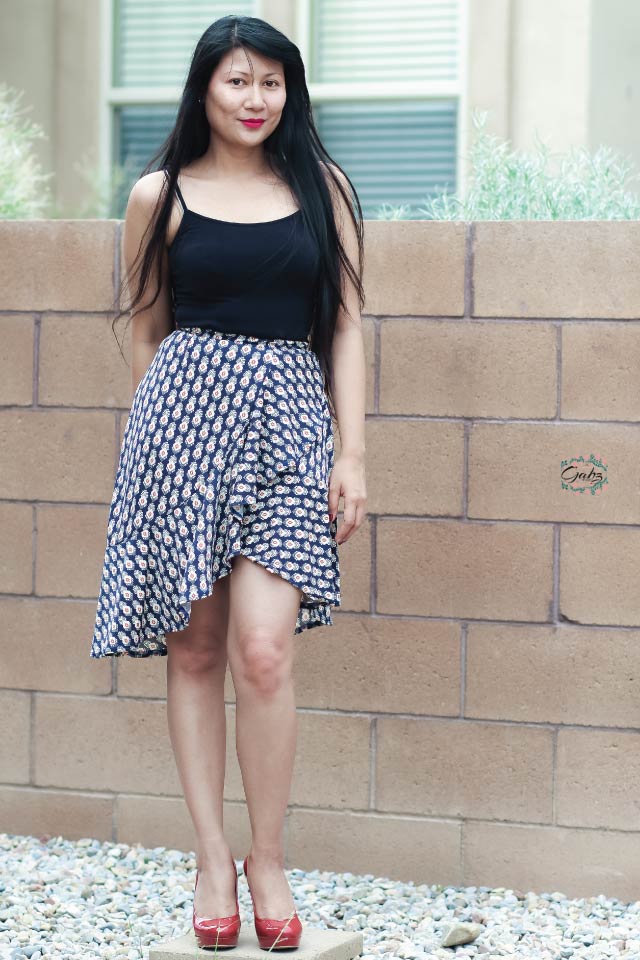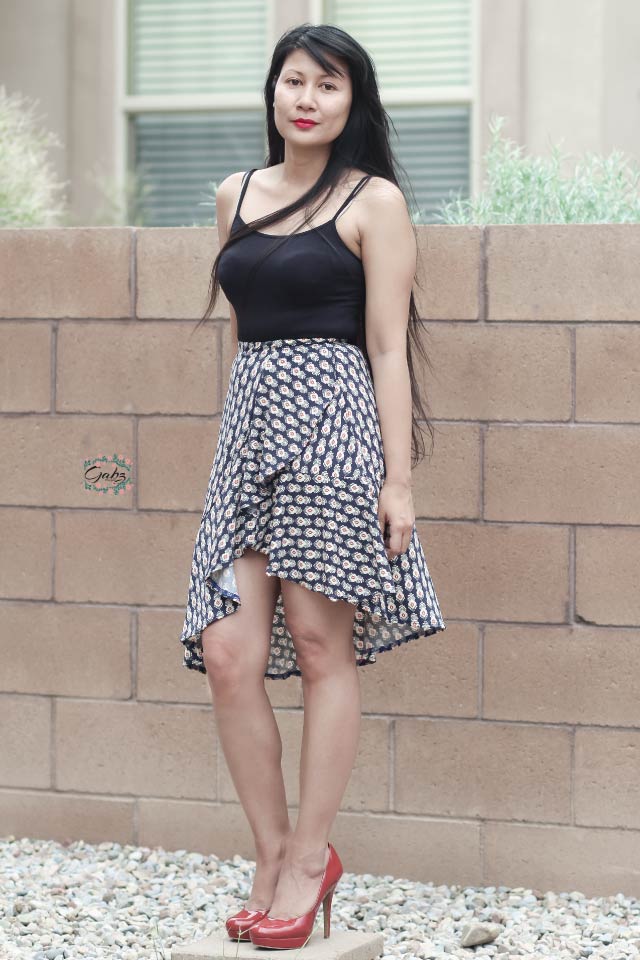 I'm Gabz Jefferson from New Mexico, USA.
The first time I saw Carmen skirt, my eyes popped out my eye socket. I knew it is very nice pattern for ITY fabric so I used it for mine.. It is flowy and cool..
This is perfect for dinner date and also for special events..
I received lots of compliments the first time i wore my Carmen.
If you want to see more of my projects, please visit my blog — https://itsewcolorful.wordpress.com
IG— www.instagram.com/itsewcolorful or
FB page —- www.facebook.com/itsewcolorful or
www.facebook.com/GABZNAILART
---
Synthia Lee Gerritson, I live in Central California, U.S.A.
When I first saw the drawings for Carmen, months ago, I knew immediately what I was going to make a salsa dance skirt, because of the sassy look it had.
I used Chiffon for my Carmen skirt, I wanted it to flow when I would dance. Sewing with chiffon needed tender-loving-care, and sewing needed to be a tad bit slower.
I will be wearing my Carmen when I am dancing salsa.
I made a short video clip dancing with my skirt, many compliments received.
I paired my skirt with a lace version of the Weekday Kat top.
Thank you Ann Grose, great and fun design.
https://sewsynsewn.blogspot.com/
https://www.facebook.com/Synthia20000
---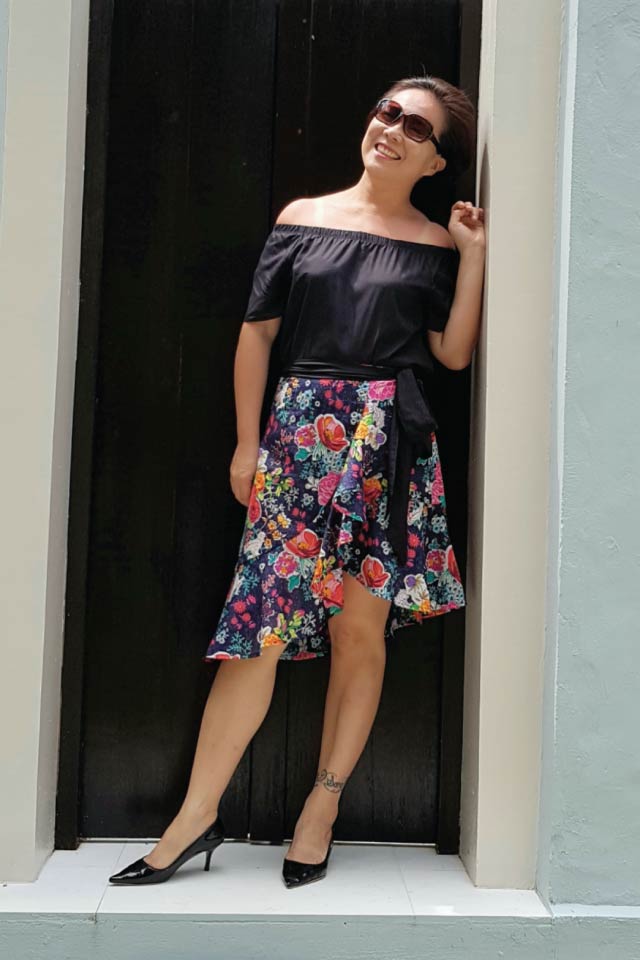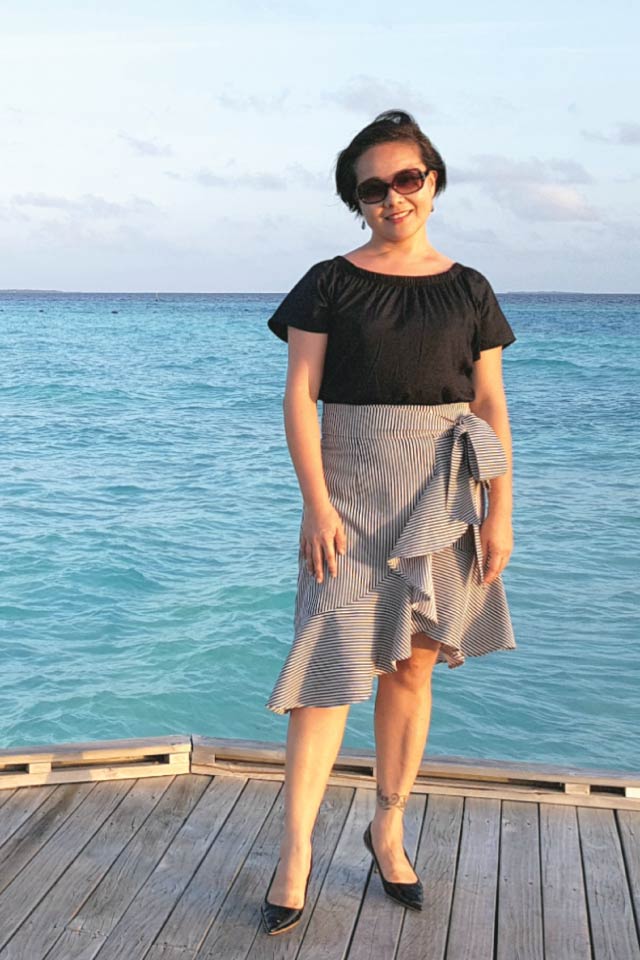 Hi! I am Lim I live in Singapore where it's hot and humid all year round.
Right from the 1st instant Ann started pinning pictures of wrapped ruffled skirts, I was hooked. It was something the secret sassy girl in me has always wanted.
I made 1 in colourful floral voile for my beach holiday, and a 2nd one in more sedate stripes that can bring me to work and casual outings.
You know it's a winner when the husband took a second look and spouted compliments before the skirt was even hemmed 🙂 don't wait to sew this up, believe me, you'll love this skirt!
Follow me on my sewing escapades on www.instagram.com/limbksews
---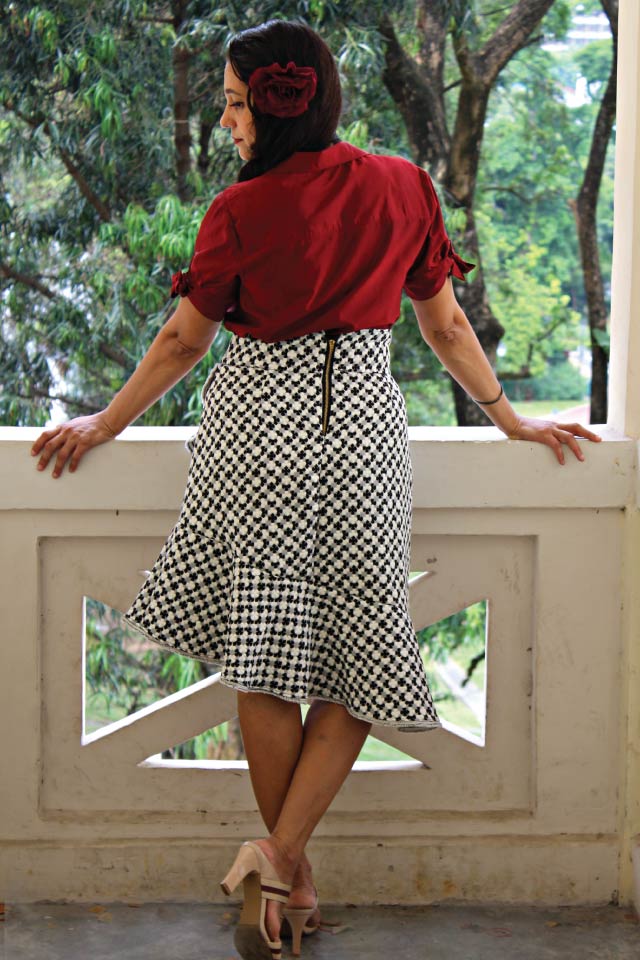 Hi, this is Kiran from Singapore. When I first saw the inspiration pics for the Carmen skirt start to pop up, I was a little apprehensive about whether I would be able to pull off the look. Ann was after something sexy, sassy and sophisticated. Could I do it? I wasn't about to let it pass without trying. LOL. I did spend a while trawling through Pinterest for ideas and styling tips. If you're sewing up your first Carmen, this would be a good place to start for pinspiration 😉
My Fabric was a double sided cotton brocade courtesy of the destash of my lovely sewing Friend, Belinda Cooper. She does have the best eye for fabrics. I chose this over the multitude of rayons and chiffons in my wardrobe because I wanted something that would show the fall of the flounce perfectly. My only challenge with this fabric choice is that my invisible zipper split on me and I had to improvise with an exposed metallic zipper instead.
If you make and wear your Carmen, trust me. You will receive many compliments. From the moment I left home for photographing my skirt, I've got a few "looks" and some even said "lovely skirt". Join me on this and more of my sewing adventures at http://www.instagram.com/gloopygoo
---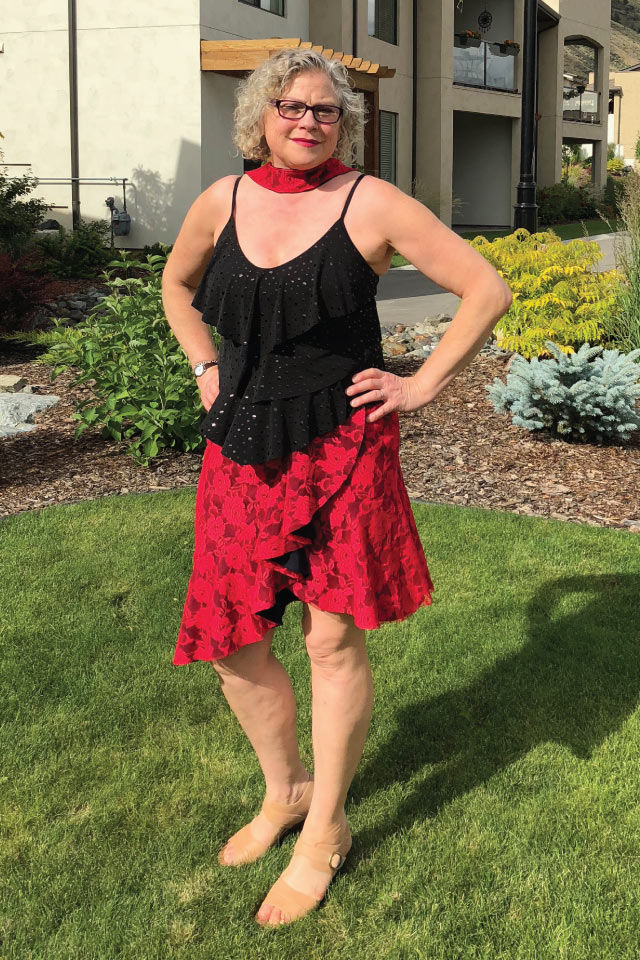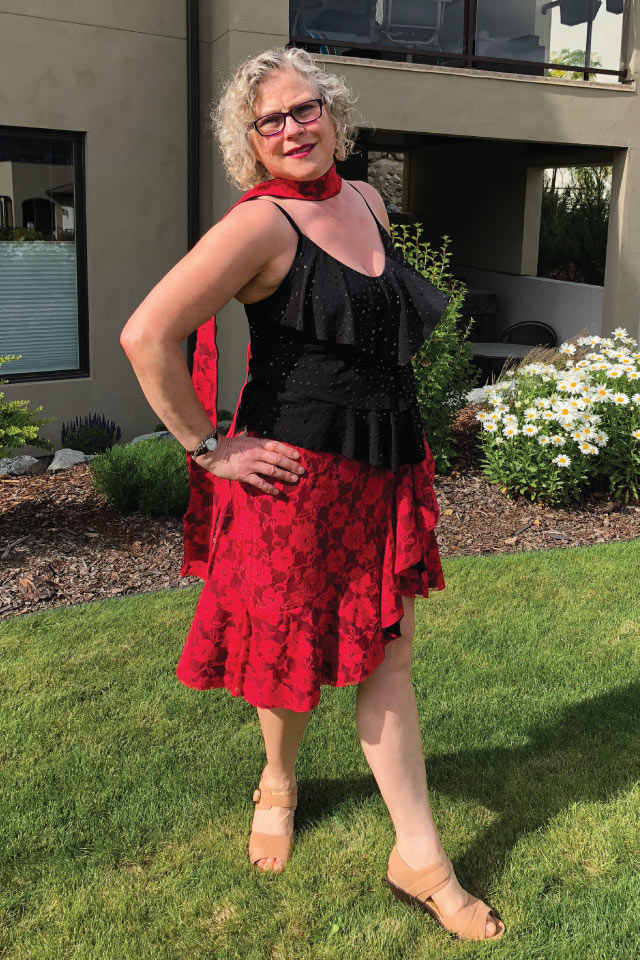 Hi lovelies,
I am Patricia from the beautiful BC Interior in Canada.
Carmen's flirtiness and femininity immediately drew me in, and the fact that you cut each piece individually (right side up) meant it could be made with the fussy fabrics that slip and slide when folded.
I chose to make the short knit version. I made it twice as my muslin was looking so pretty I took it apart and sewed it properly. It is a little short but I live in a hot summer climate. My day version is in a 'unicorn' type glittery poly Lycra fabric and looks great with a tank. Not too sexy but a bit of sass. I love wearing it with flip flops and a hat. My evening lace version feels sexy all over. I paired it with a flowy tankini top and heels. Ooh! La La! I want to make the Elwin in lace to wear with it 🧡
The knitted skirt's (lack of) waistband is great but I'd like to add a soft waistband on to finish it a little more for evening wear and allow me to tuck a top in. I'm looking forward to the woven version for a gala later this year.
It came together easily and sewed a dream. Using knit fabric eliminated the hems and I feel lovely in it.
I've had oodles of compliments wearing both. Most recently I wore my lace one to an evening event and had multitudes of compliments. I doubled the soft belt as a scarf. You can find my blog at www.sewfarnorth.wordpress.com
Happy Sewing
---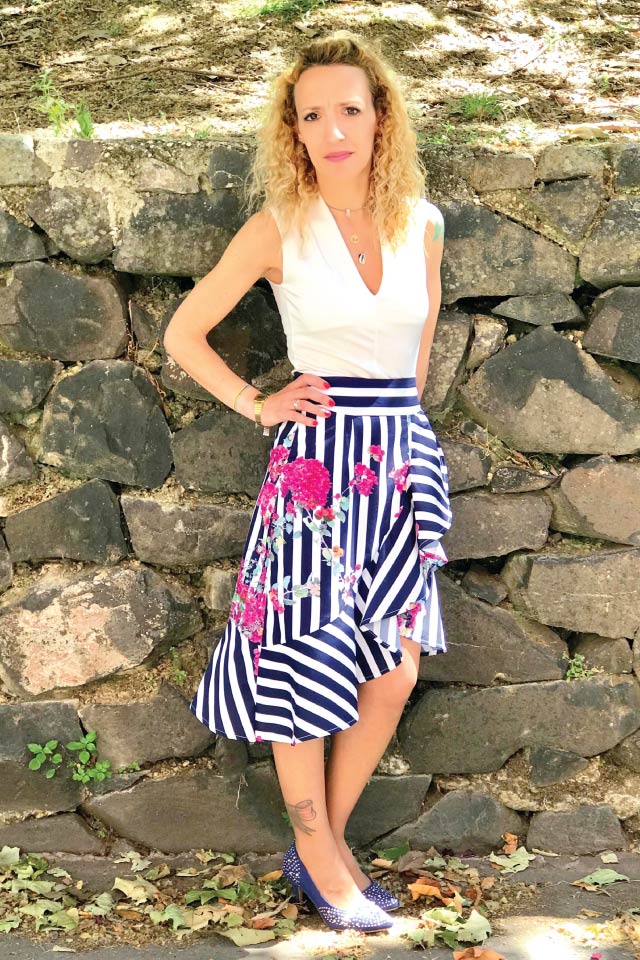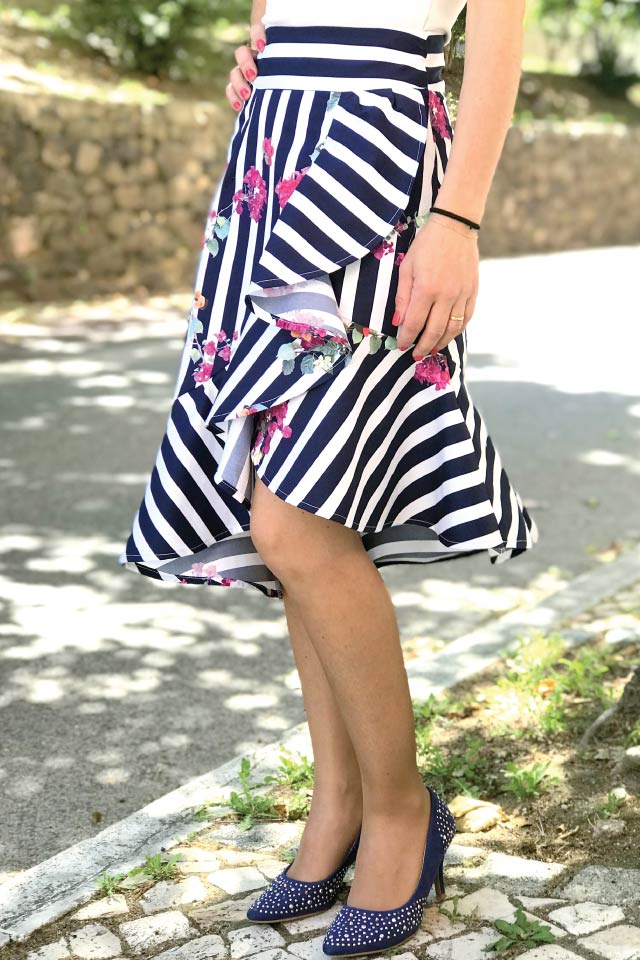 Hi, I'm Ana Inês Barros from Portugal living in a sunny Lisbon. Carmen was love at first sight <3 Inspired by some amazing pinboards I reached the conclusion I had the perfect fabric in my stash for quite a while.
I was waiting for the right pattern and Carmen I was sure it was the right one. A gorgeous stripped cotton easy to sew just perfect for this. I will wear it during summer vacations for sure but the ones that already saw it were amazed and inlove by my skirt.
And you know what I love the most? In this "wrap" skirt this mother of 3 can still run, sit anywhere and the skirts never "opens". Always a lady no matter what xx
Facebook – https://www.facebook.com/PontonoibyInes/
IG – https://www.instagram.com/ponto_no_i/