Welcome my friends to Part 2 of the Carmen Flounce Skirt  Tester round-up.
I hope you have enjoyed reading my series of posts in the past few days and if not be sure to check out yesterdays post – Carmen Flounce Skirt Tester Roundup Part 1
or the previous post – Carmen Skirt Inspiration and Influences
The Carmen Flounce Skirt is really gorgeous – and if you read the tester posts many husbands have been very appreciative of seeing their partners showcasing their own Carmen.
The finer details : On Sale for a limited time only – $6.00 (US)
multi-sized pattern :
(AU/UK) 6 – 26
(US) 2 – 22
(EU) 34 – 54
Advanced Beginner/Intermediate Sewing Level.
https://designerstitch.com/shop/carmen-flounce-skirt/
Kind Regards. Ann at Designer Stitch
---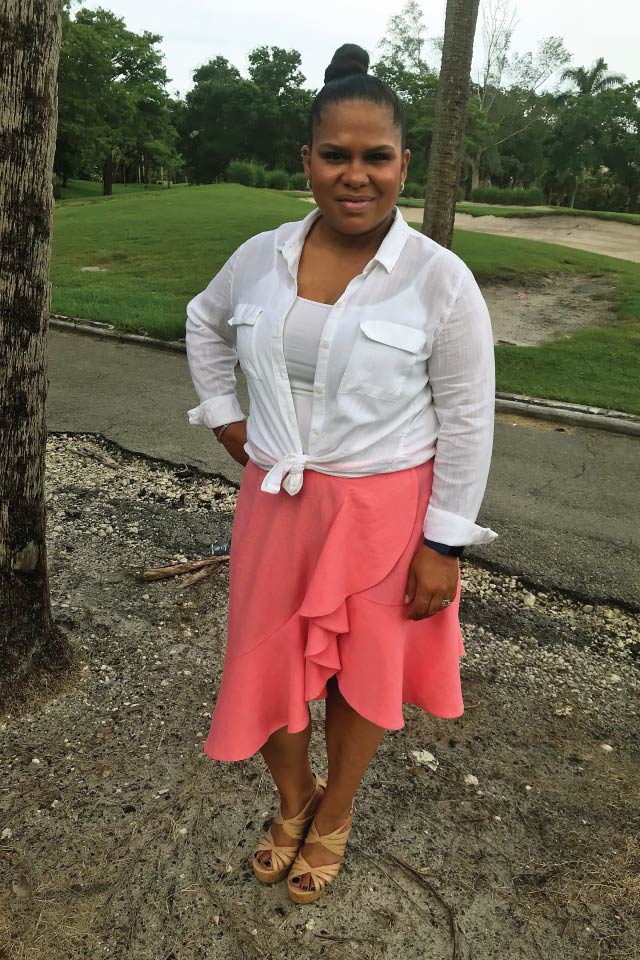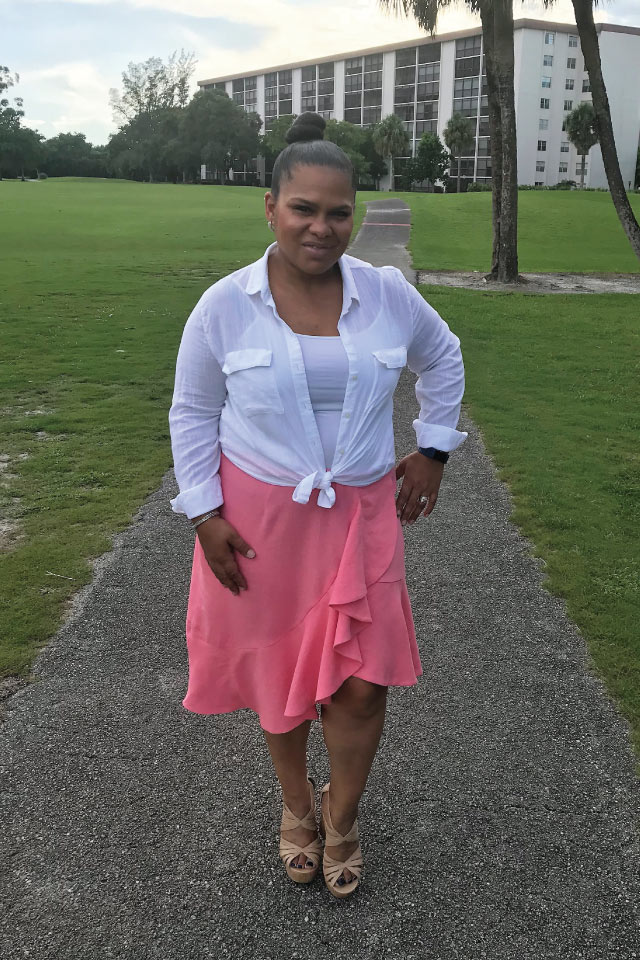 My name is Johanna Ali and I live in Fort Lauderdale, FL. When I first saw the Carmen I thought, I NEED to make that! I've been wanting a wrap skirt for so long and the flounce added to it had me sold! I made my Carmen using a coral rayon linen blend that I previously purchased. Using this fabric was super easy. That is the reason I chose the fabric I did, so I wouldn't have any problems sewing up my skirt. I plan on wearing my skirt out to dinner with my Hubby. I couldn't wait to share my skirt with the world because I knew they would love it just as much as I do, and I was right. I've gotten so many compliments on my skirt! Everyone loves it!
Blog: www.soveryjo.com
Facebook: www.facebook.com/soveryjo
IG: www.instagram.com/soveryjo
---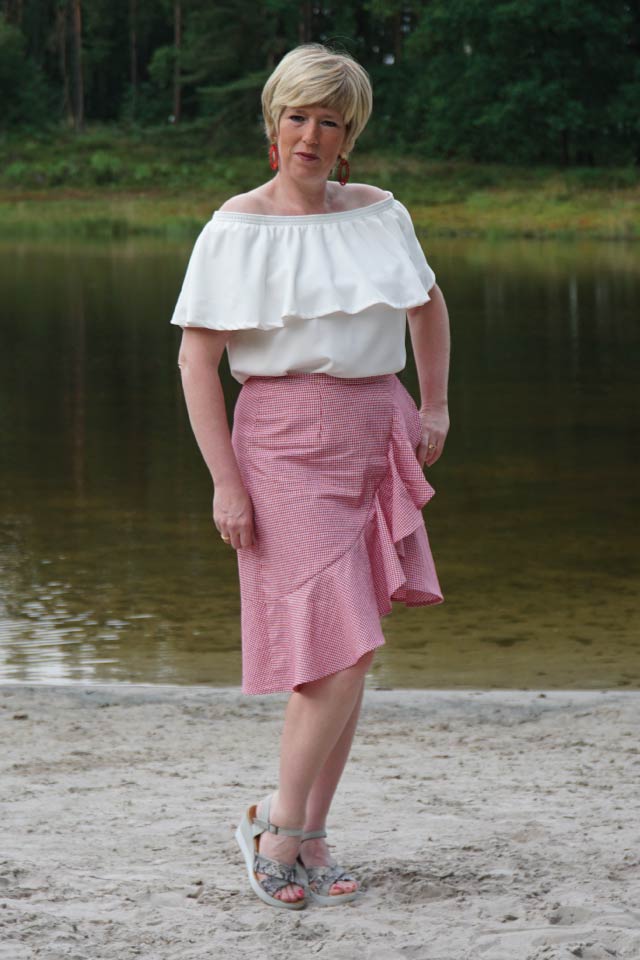 Hi everybody! I'm Ilse from Belgium. When Ann introduced the Carmen I was immediately head over heels! Such a romantic skirt! Ann showed pictures from Pinterest and I could visualise it totally. I went to my local fabric shop and fell,in love with a 'vichy' gingham in red and white. To show off my legs I choose for the short version. I didn't wear it already, but this week I'll wear it on the proclamation of the sixth year.
Certainly take a look on my blog: https://sewsewilse.wordpress.com
https://www.instagram.com/sewsewilse/
---
Stacey Clements, south coast of England
I loved Carmen from the first time I saw it and knew I had to make one!
I used scuba knit for my skirt which is really easy to sew and has great body.
I plan to wear my Carmen for nights out dancing with the girls and have already had compliments from some of my friends.
https://Allsewnupbystacey.blogspot.co.uk
https://www.instagram.com/all_sewn_up_by_stacey
---
I'm Katie and I reside in southern California. I've been DYING to sew up the Carmen ever since Ann teased with a line drawing! What a spectacular flounce and I love the uneven hem; it makes me feel so stylish. I used a stretch denim from Southern Belle Fabrics because I really like the stable texture and contrast white side to show off the flounce. Sewing it up was easy due to the stability of the fabric and clear instructions! I've already worn it to a party and received a bunch of compliments.
https://www.instagram.com/kak513/
---
I am Rachel Maxwell and I come from Werribee, near Melbourne, Australia. I loved the Carmen skirt and have been waiting for a pattern like this. I have a similar ready to wear skirt that I love. I chose a linen type fabric, which is thick enough to provide shape but has enough drape to create the flounces. It was easy to sew with and the whole skirt came together quickly and easily. I can't wait to be able to wear it to my monthly training events and to my power women events as the weather warms up
https://www.instagram.com/rmaxwell86/
https://www.facebook.com/rachie7
---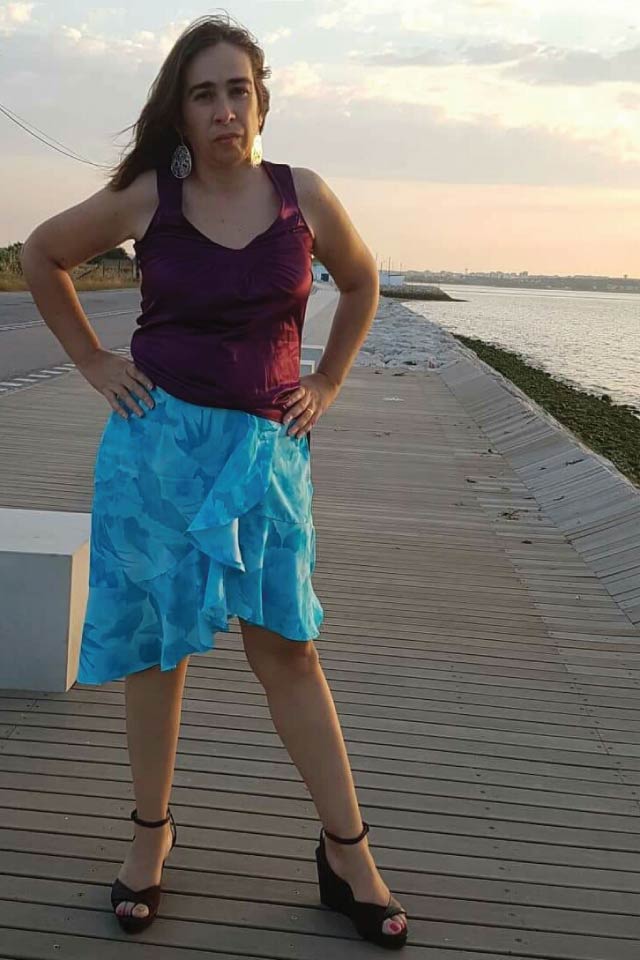 Hi! I'm Dora Serrano and I'm from Portugal.
I've been wanting to sew Carmen skirt since Ann started to share inspo pics… I was sooo anxious about it. I had gone through Ann's pinterest inspirational board and couldn't decide clearly on the style… I just loved them all!
I finally chose the short woven version and used the last fabric my mom had bought before she died. That's how special this pattern was to me. It was perfect to honour my mom's fabric.
A flowy silky blue floral cotton that was tricky to sew because it slided all over my sewing machine. Once I got the hand of it, it was easy to sew though.
I intend to use my Carmen everywhere. I have used it in a party and to work and got so many compliments. I don't wear skirts much to work, so it was even more attention calling. Everyone loved this skirt and said I looked amazing. My husband couldn't get his eyes off of me. 😀
I'll be posting all about this sewing adventure on www.sew4five.wordpress.com and you can follow me on www.instagram.com/colourbymim
See you around.
---
My name is Jennie Lindstrom, and I live in Las Vegas, NV in the United States. As soon as I saw the tester picture for the Carmen skirt, I knew I had to make one! I immediately loved the ruffles! I made my Carmen in a woven crosshatch from Southern Belle fabrics. The fabric I chose has a beautiful floral print that I knew would be perfect for my skirt. It was a little tricky to cut out (although I feel that way about most wovens), but was no trouble to sew. I haven't had a chance to wear my Carmen out yet, but I know I will wear it a lot! My husband really likes it, so maybe a date night is needed!
I blog at www.stitchedbyjennie.com
My instagram is https://www.instagram.com/stitchedbyjenni
---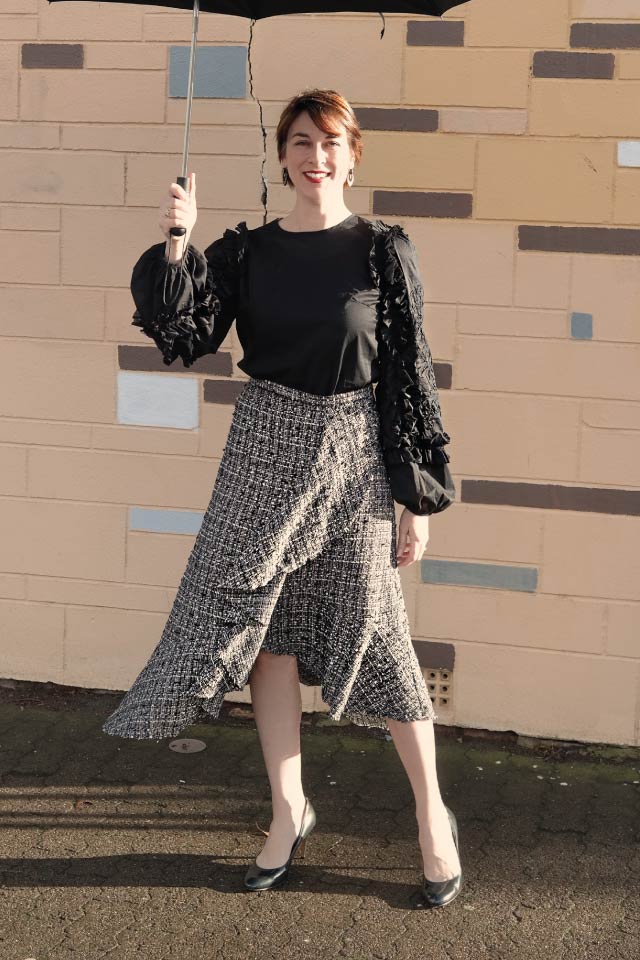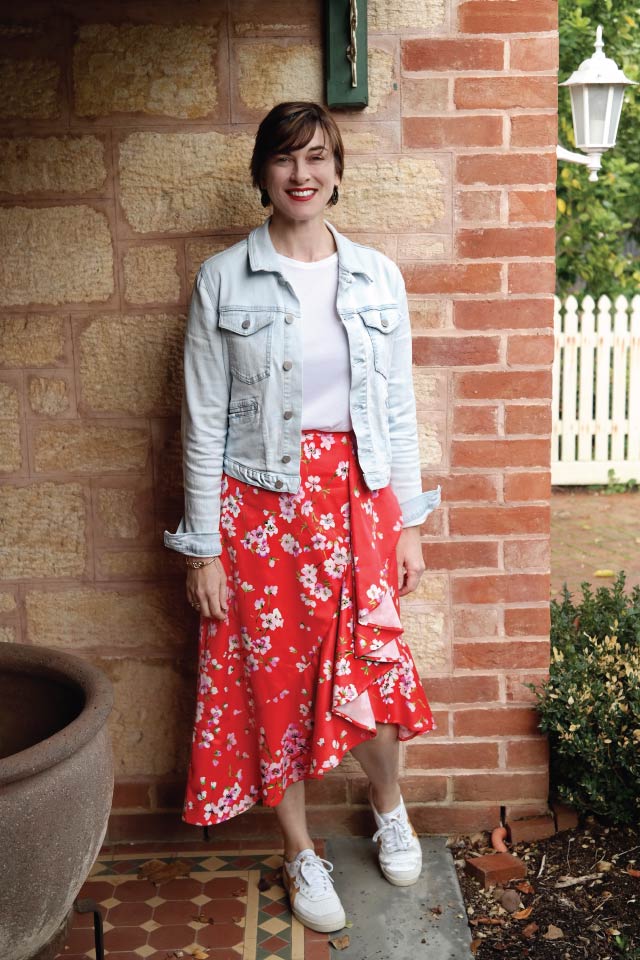 Hello! I'm Belinda and have recently moved to Adelaide. When Ann first showed the Carmen illustration to the tester group I immediately thought it was on trend and wanted to sew the longer version. I'm addicted to Vogue Runway and a few of the 2018 Resort collections were using this silhouette; so feminine and flattering for all.
I've made 2 Carmen skirts both in woven fabrics. The red cherry blossom print is a lovely cotton sateen from Nicole Xavier in SG. Easy to sew and I can't wait to wear it once the weather warms up. My second version of Carmen was inspired by Vivienne Westwood. The fabric is a cotton/silk/viscose tweed from a Nippori Fabric Town shopping trip. It has a tiny white flower sequin through it and as I've discovered, I'm
not a French Jacket girl so this was a good alternative for the fabric. I've left the flounce raw edged and over time it will continue to fray. I'm planning on wearing this Carmen skirt all layered up with boots, trench coat etc. The BEST feature of the Carmen skirt is that it does not fly open on a windy day. Ann has cleverly designed a front skirt panel but the wrap effect is still very much a key part of the design.
At the moment I'm still unpacking from our big move but hopefully I'll have a reason to wear both my Carmen's soon!!
https://www.instagram.com/bcolesk/
---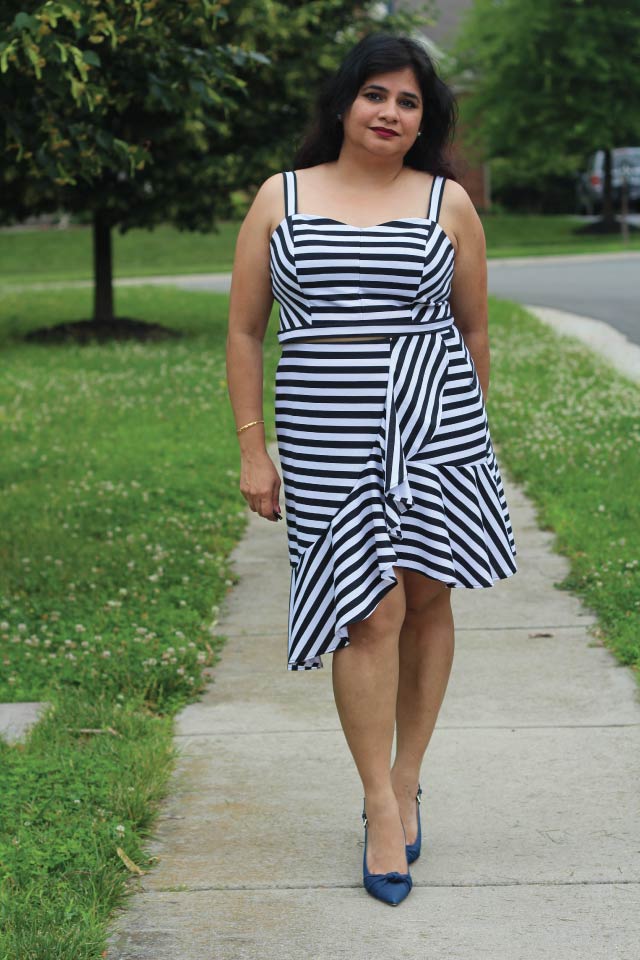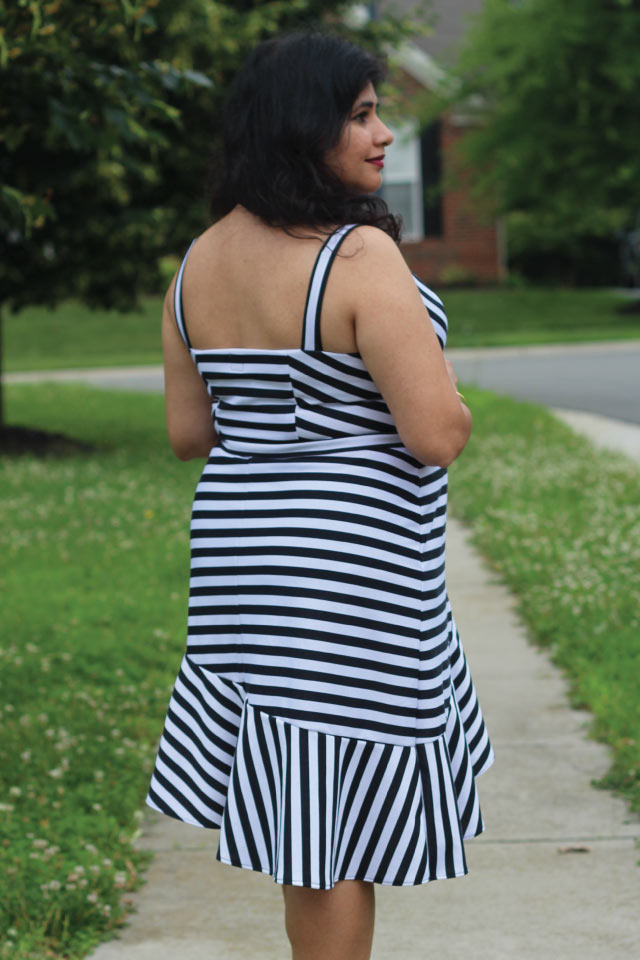 Hello! I'm Shalini and I live in Northern Virginia. I've been testing for Ann for a while now and know how good her patterns are. When I saw her muslin of what became the Carmen skirt, I immediately knew I wanted to make it in short version. I used a stripe knit that has been in my stash for a while. I wanted to sew the stripes in an interesting way and the ruffle provided perfect opportunity!
I wore it today as a matter of fact on vacation in Punta Cana! We walked around the resort then did some mini-golf and then dinner. Lots of compliments from my family 😊
I blog over at http://cropaway.blogspot.com
---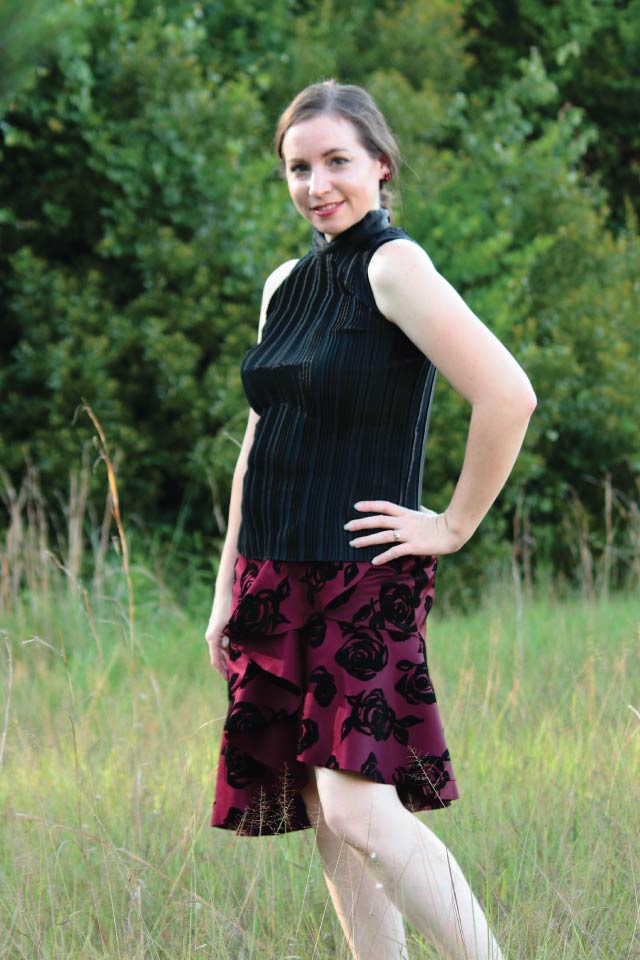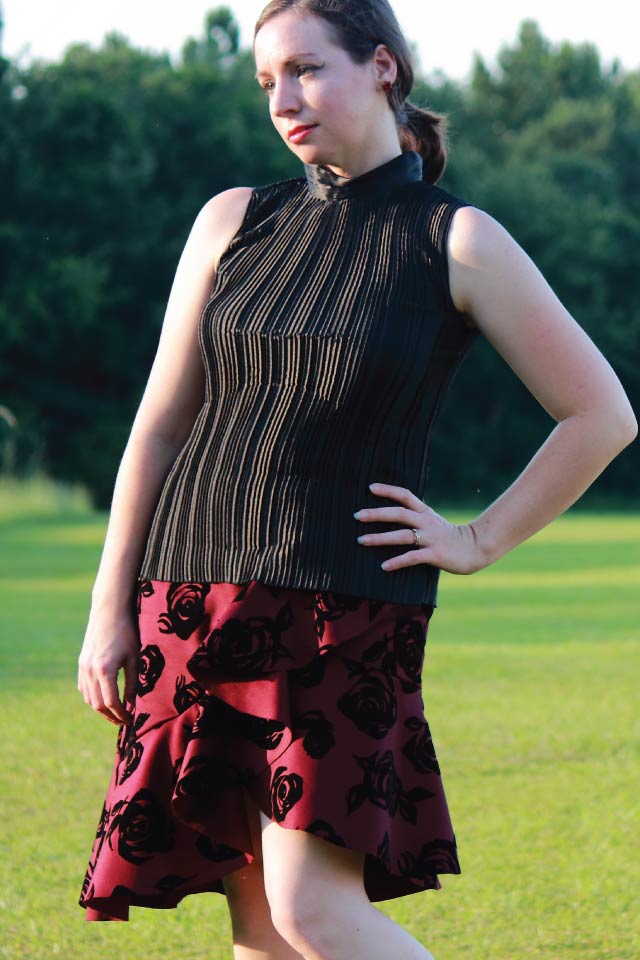 I'm Carmen from Adel and I absolutely love the Carmen Flounce Skirt not only because we share a name but because it really is a fabulous skirt. It's sexy and fun and comes in two lengths with a high waistband or a straight waistband.
Ann said she wanted her testers to be sexy so I thought a red skirt would be the perfect choice and I pulled out a red and black flocked knit with large roses. I couldn't have been happier with my choice. I did of course make two other skirts besides this one in woven. All the skirts I made were super fast and easy but the knit skirt was made in half the time. My only piece of advice when making the high waistband…contour it to your measurements. As always it's a pleasure testing for Ann and learning from her. See you on the next adventure.
http://happilysewnafter.wordpress.com
---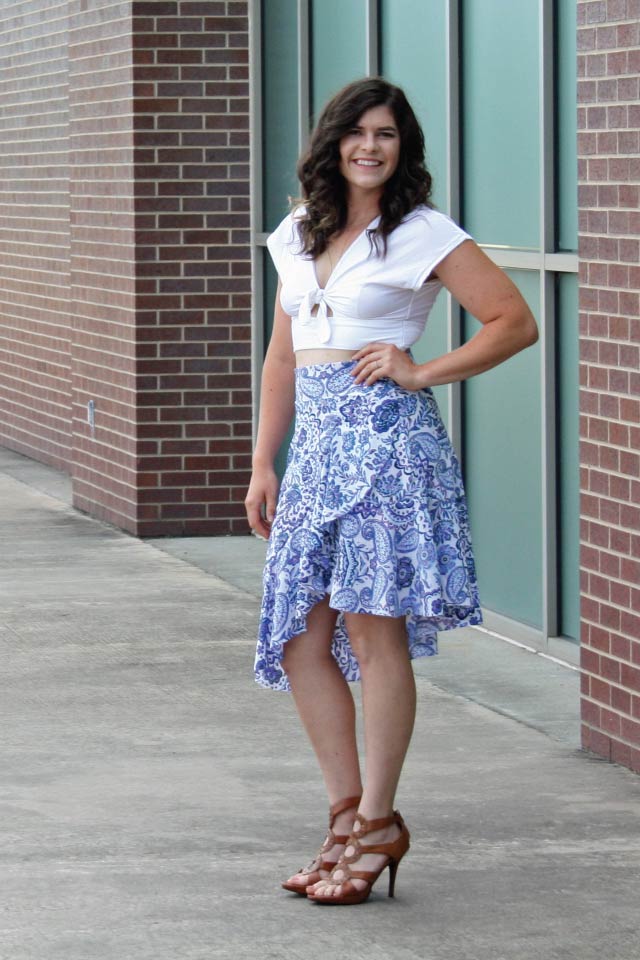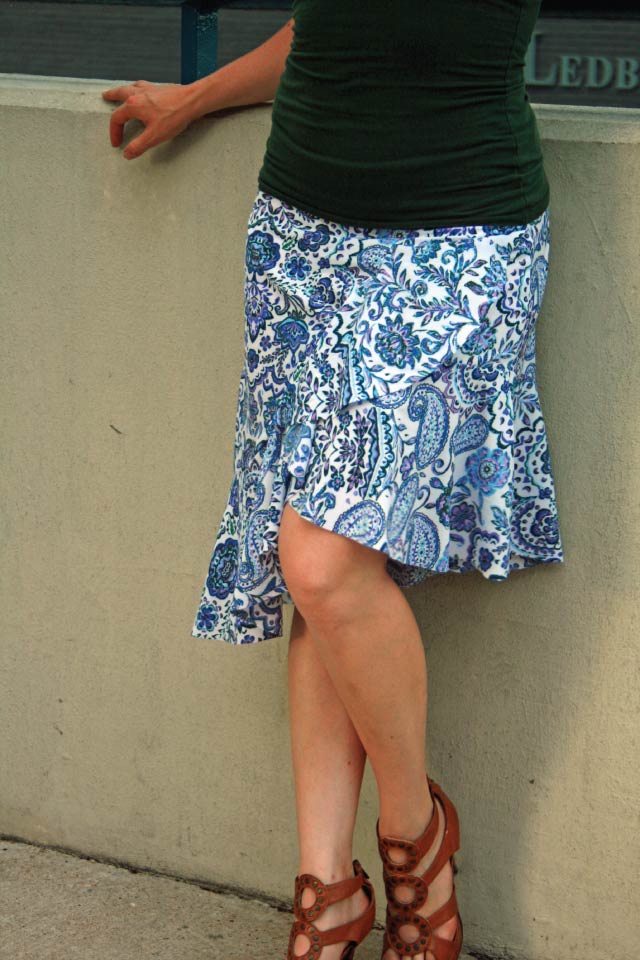 Hello, I'm Brittany Lowery. When I first saw tester pics of the Carmen I couldn't sign up fast enough to test it. The modest faux wrap covered the important parts, but the ruffle trim and high leg exposure give just the right amount of sexiness.
I chose a lightweight stretch woven (25%) because I wanted the invisible zipper option, and I loved the drape of the material.
So far I've worn this skirt to a business function, shopping, the grocery store, etc… It really can be dressed up or dressed down for any occasion.
My mother in law has already asked me to make 2 skirts for her to wear, and I've gotten quite a few head turns while wearing Carmen.
You can find me at www.instagram.com/ozarkbarbelle or www.instagram.com/fabergehen
---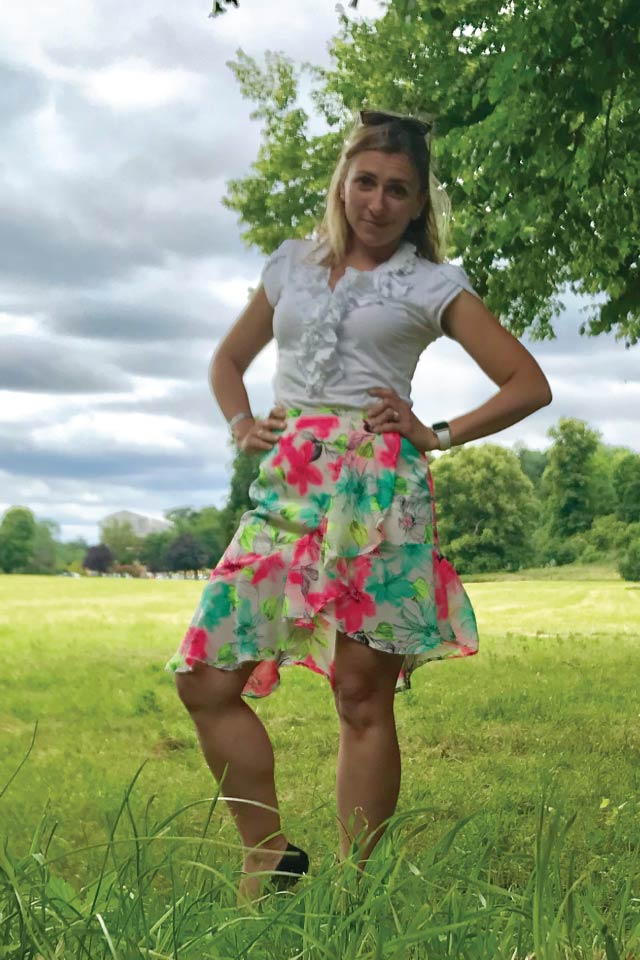 I'm Trish and I live in the Chiltern Hills in the Oxfordshire countryside
2. Carmen was love at first sight. I fell in love with the ruffles and the shirt and long option
3. I made my fabric from neon floral chiffon. I've been too scared to sew with it so far but I couldn't imagine making the Carmen out of anything else. The floatyness is divine. Chiffon is a slippery fella and it was a challenge to get the curves cut and sewn but worth every minute
4. I will wear my Carmen anywhere but especially to the ladies day at the Henley Royal Regatta this year
5. I've had soooooo many compliments on the skirt from moms at my daughters school and at work
6. Www.facebook.com/beautifulsummermoon
www.instagram.com/beautifulsummermoon
---
Sneha Nirody Monga , Texas USA. Thought the Carmen was incredibly stylish and I need to make it again! Fabric used was Liverpool – I wanted structure yet comfort. I don't usually wear something this fancy, mostly jeans and tees, but I do have girls' night out where I'll wear it. I haven't had any compliments yet, but haven't worn it out yet.
https://www.facebook.com/snmonga
https://www.instagram.com/mikimooshi/
https://sewingcurves.com/
---
I'm Erin from Yanchep in Western Australia.
My first thought was total love! I have zero curves and I was hoping this would give the illusion that I wasn't a stick 😂 and I think it worked.
I used a swim fabric from my stash that I just absolutely loved the print and couldn't go passed!
It wasn't tricky to sew, the swim is a bit slippery, but I find that easier than trying to match up different curves in woven.
I actually intend to wear it to my end of financial year party at work next week so no compliments on it yet except from my hubby and I won't repeat what he said to me 😋