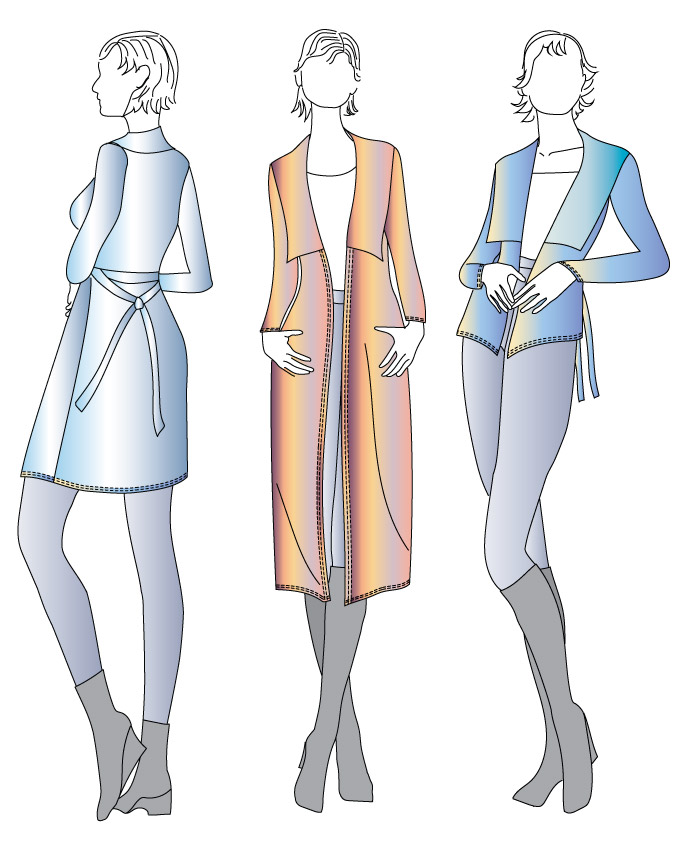 A big Australian Hello to you all and thank you for coming over and visiting with me ! I love that we can meet so many sew'ists from such diverse parts of the world. Love to you all. xx
Today I am featuring the gorgeous new Chelsea Cardigan PDF pattern release and the stunning pattern testers who gave a good "seagull" to this pattern before release. What do I mean by "seagull". When I send my pattern out to the testers they give it a good going over and are on the lookout for any typos or unclear instructions….I call it "seagull on a chip" – and it is amazing what they find as my eyes didn't…lol…….
And WOWSERS – has the Chelsea Cardigan been overwhelmingly popular. So thank you xx.
At the moment most of us around the world are in a seasonal transition – some heading into warmer months and others heading into Autumn and cooler months. Well have I got you all covered for this !!…
Whatever the season the Chelsea Cardigan will be your go to garment as it is so easy to wear and will co-ordinate with just about everything in your wardrobe.
Seasonal transition is sometimes hard as we may experience 4 different "seasons" in 1 day – and layers are just what we need to wear.
So lets start the Chelsea Cardigan Tester Roundup Part 1 – and "hang onto your seats" everyone – these gorgeous women are SPECTACULAR.
And they would like to share the following with you all :
1. Your name and where you live
2. Your choice of length for the Chelsea and why ?
3. What fabric did you choose for your Chelsea
4. Any sewing tricks or tips you have for sewing the Chelsea ?
5. Have you worn your Chelsea and has anyone commented?
And don't forget the Chelsea Cardigan is on it release sale price of  $8 US and is a
multi-sized pattern :
(AU/UK) 6 – 26
(US) 2 – 22
(EU) 34 – 54
Cheerio and Kind Regards
Ann at Designer Stitch
---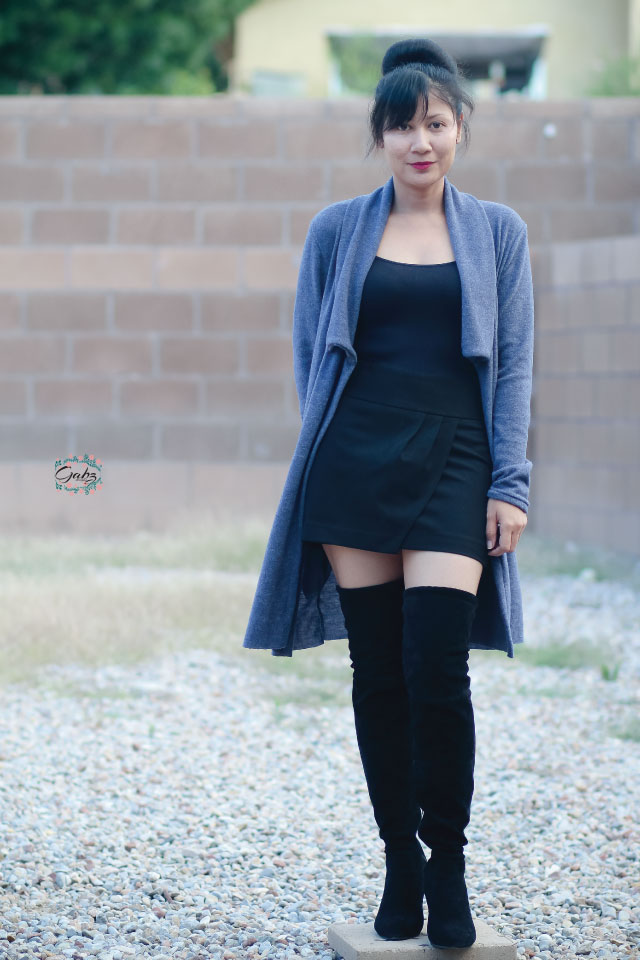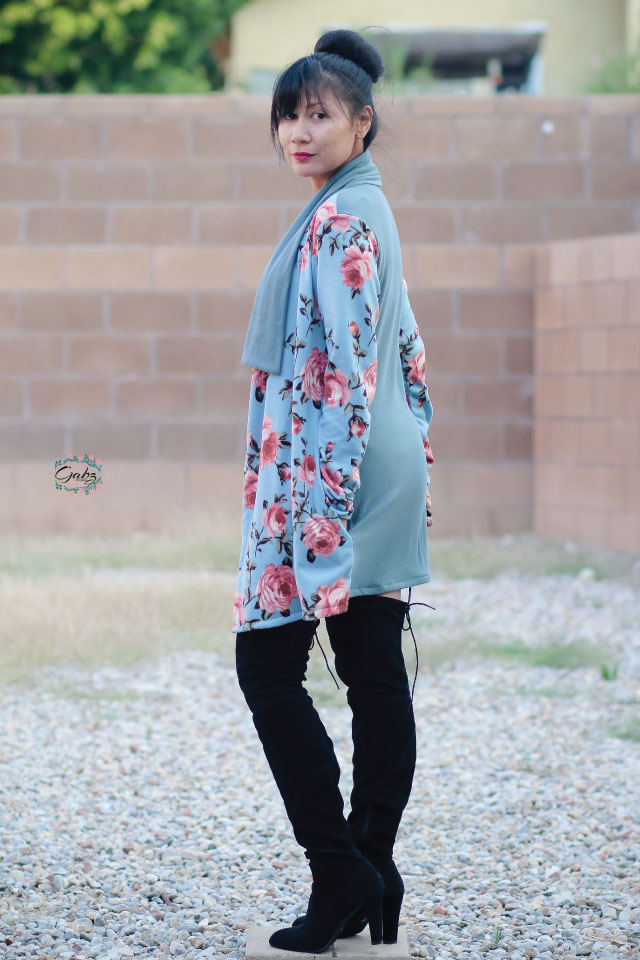 Hello. I'm Gabz Jefferson and I live in New Mexico, USA. I was originally going to make long version of Chelsea but my fabric isn't big enough for the option I planned to sew up. When I finished the Chelsea and tried it, I fell in love with it. I don't know if it is only before my eyes or maybe, all versions look really good. So the first one I made was gray and the fabric I used was gray cashmere hacci. The second Chelsea I made was shorter and I used floral and teal brushed french Terry .. Both versions are spectacular. The fabric I used are easy to manage and really quick with serger. This Cardi are so amazing, my friends told me that I have really great Cardi when I attended a party.
If you want to see more of my projects, you may visit my IG www.instagram.com/itsewcolorful or my blog https://itsewcolorful.wordpress.com or my Facebook page www.facebook.com/itsewcolorful
---
Taryn Haynes-Smart. I live in Cape Town, South Africa. 2. Chose to do a hip length Chelsea Cardy as we are heading into spring. 3. I've had some turquoise stretch lace in my stash for some time which just seemed destined to be a Chelsea cardy. 4. While I made the belt from the same fabric, the belt loops where a little tricky so used some co-ordinating fabric I had. I do think a coordinating ribbon would make a good lightweight belt option for my lace version as well. I left the hand-stitching of the collar till last and skipped the hemming part as I placed my pattern pieces on the scalloped edges of the lace to make the most of the fabric. 5. Haven't worn my Chelsea as yet other than for fit purposes and pics but it will definitely get loads of wear over the summer particularly for occasions when I need some coverage but not necessarily warmth. 6. FB: https://www.facebook.com/taryn.haynessmart/ IG: https://www.instagram.com/tarynhaynessmart/
---
You'll find me (Belinda) swanning around Adelaide in my full length Chelsea Cardigan.
When I bought this fine wool knit in Nippori at the start of the year I had a vision for a long cardi. Isn't it nice when sewing dreams come true?
The only trick with this fine fabric is stopping the hem from stretching out and even though I used my walking foot I struggled until I stitched bias tape and then turned up the hem (stitching through the tape). The result is lovely!
I stitched the sleeves by hand.
If you'd like to see my sewing diary and other random things I'm on Instagram
Instagram.com/bcolesk
---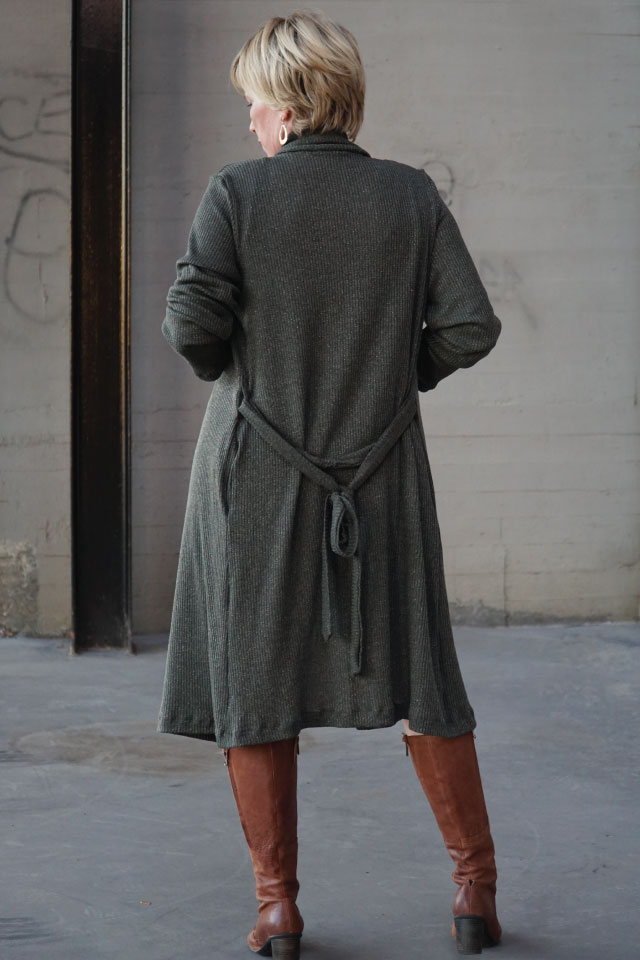 Hi, I'm Ilse from Belgium and I chose for the long length because I had too much short cardigans. A long piece of knitted glimmer olive was ready to be a Chelsea. Everything went very smoothly and hand stitching the collar was very necessary to give it a nice finish! I wore my Chelsea to the parent meeting in school and some parents gave me such sweet compliments! Thank you for this great pattern!
https://sewsewilse.wordpress.com
https://www.instagram.com/sewsewilse/
---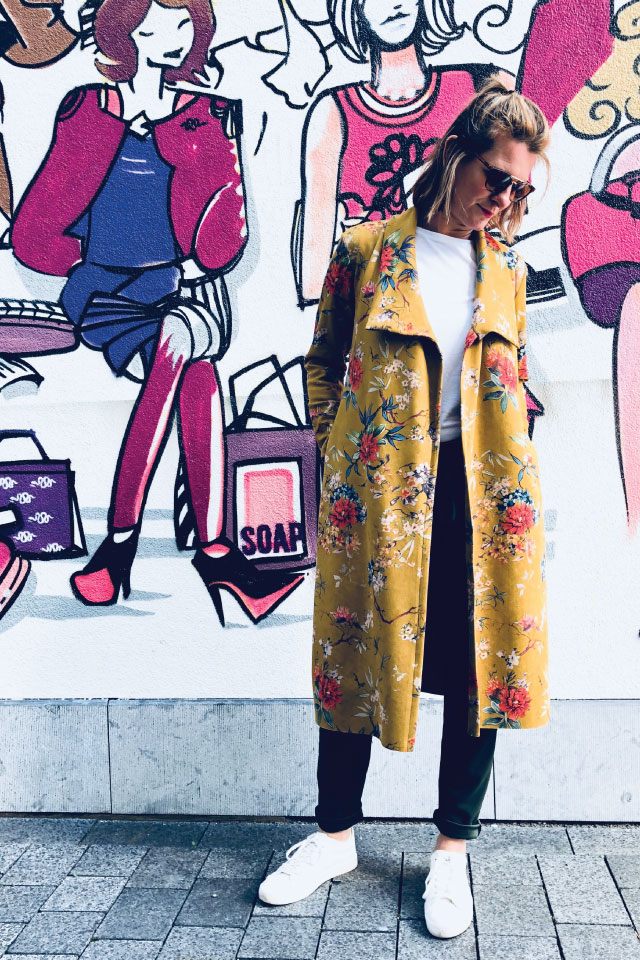 Hi Ladies, I am Inge and waving to you from Belgium… I choose to make a long length Chelsea so you can wear it as a 'coat' when it's getting chilly outside during late summer/fall. I used a scuba-suede fabric in a beautiful mustard color with a flower design. This fabric accentuate the 'coat side' of the Chelsea, I'm bought a lovely knit reserved for another Chelsea that wil accentuate more the 'cardigan style'. The pattern is a pretty easy sew, the only big job you have is hand stitching the collar. My Chelsea did not see the closet yet, I worn it to a family trip, a day trip to Eindhoven and on date night with the hubby…. I was asked 2 times where I bought my cardigan, all we sewing ladies need ;-). Do you want to get social? https://www.madamestof.wordpress.com https://www.instagram.com/madame_stof https://www.facebook.com/madamestof
---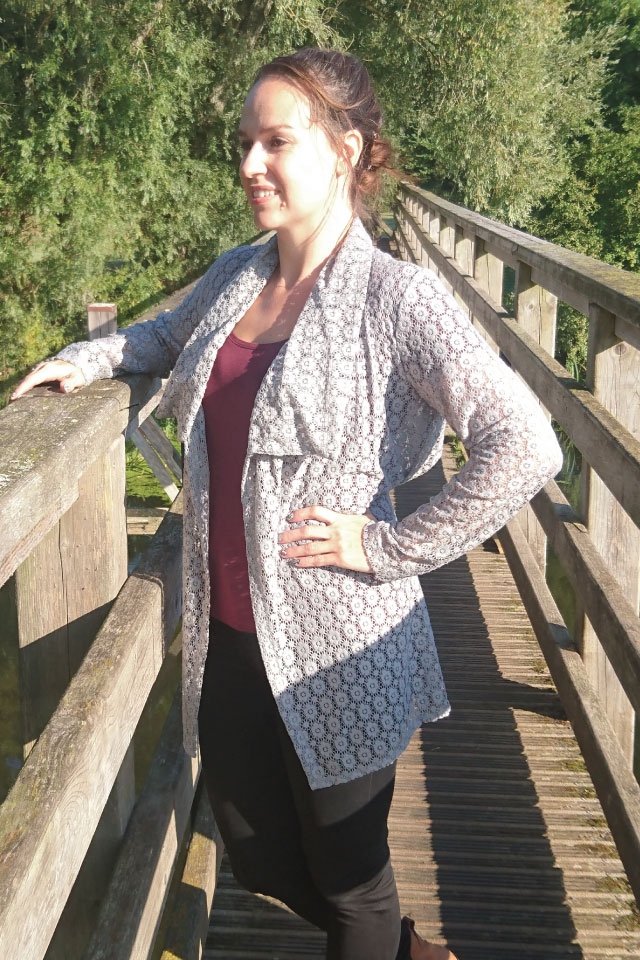 I'm Stacey Clements, I live on the south coast of England. I loved all three lengths of the Chelsea Cardigan, and found it hard to decide on which length to make – in the end I went with hip length as we are coming into autumn here in the UK, but I already have the long version cut out too for when it gets even chillier! I used a stretchy lace for my version – I wanted something in a neutral tone, preferably grey, so it would go with as many outfits as possible – and this was the fabric that caught my eye in my local fabric shop. My top tip for sewing Chelsea would be, cut out more than one version at a time – it's such an easy to sew pattern you'll make it quickly and once you have one you'll want more!! I have worn mine loads already, it's such a great layering piece and some of my friends have commented that they would love one too.
http://allsewnupbystacey.blogspot.com/
https://www.instagram.com/all_sewn_up_by_stacey/
---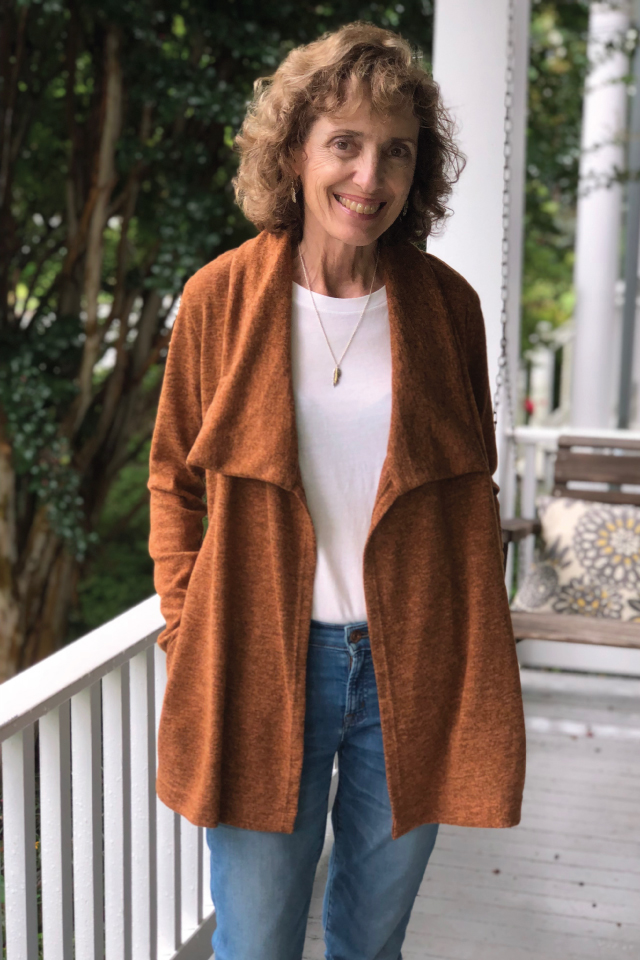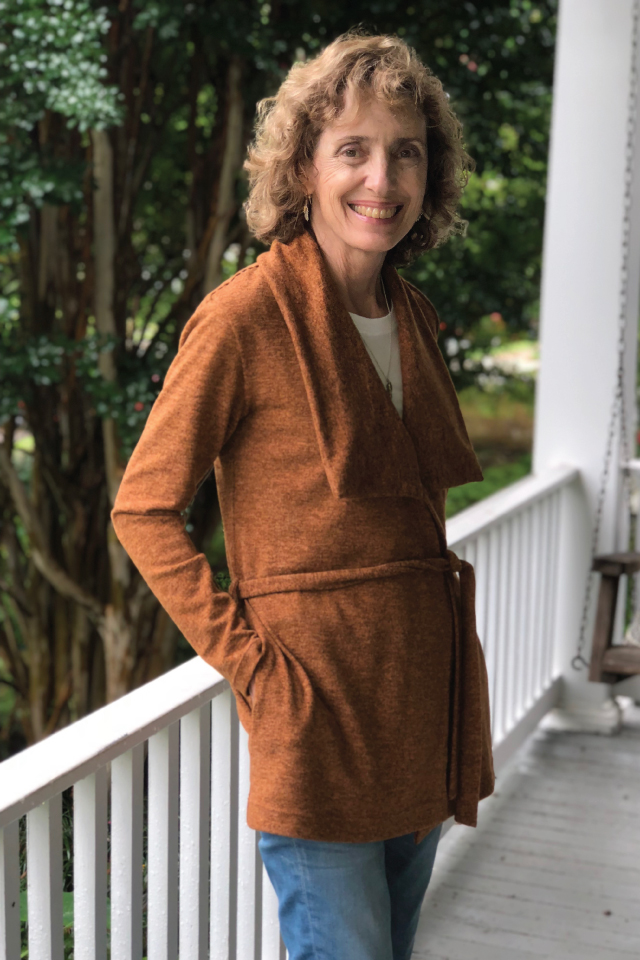 Hi, I am Andrea and I live in Annapolis, Maryland, Which is on the east coast of the USA. I chose the thigh length version of the Chelsea and used a brushed sweater knit to make an autumn cardigan. Although it usually does not get chilly in my area until October, I ended up wearing my Chelsea when the weather became chilly on a beach outing this past weekend! I found this to be a simple to sew pattern with a satisfying end result.
https://www.instagram.com/andreashpuntoff
---
Hi, my name is Synthia Lee Gerritson, I live in Central California, USA. I sewed up two Chelseas, a thigh version and the hip version. For the thigh version I used a sweater knit fabric and for the hop version I used a stretch faux suede, love them both. Both my versions are a great fit. The sweater knit is for everyday use, the faux suede is for going out. For the sweater knit I hand sewed the inside collar, and for the suede I used the burrito method because it was a slightly thicker fabric. I have worn the hip version out and received many compliments, I was even asked where did I purchase it. Anyone sewing up the Chelsea will fall in love the the style and fit, great design Ann Grose.
https://sewsynsewn.blogspot.com
https://www.facebook.com/Synthia20000
---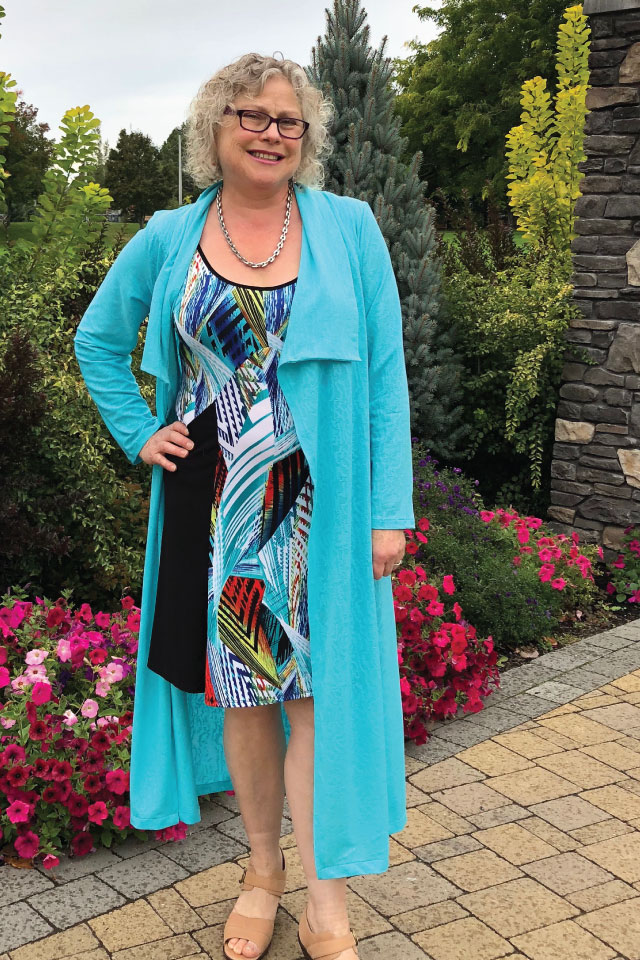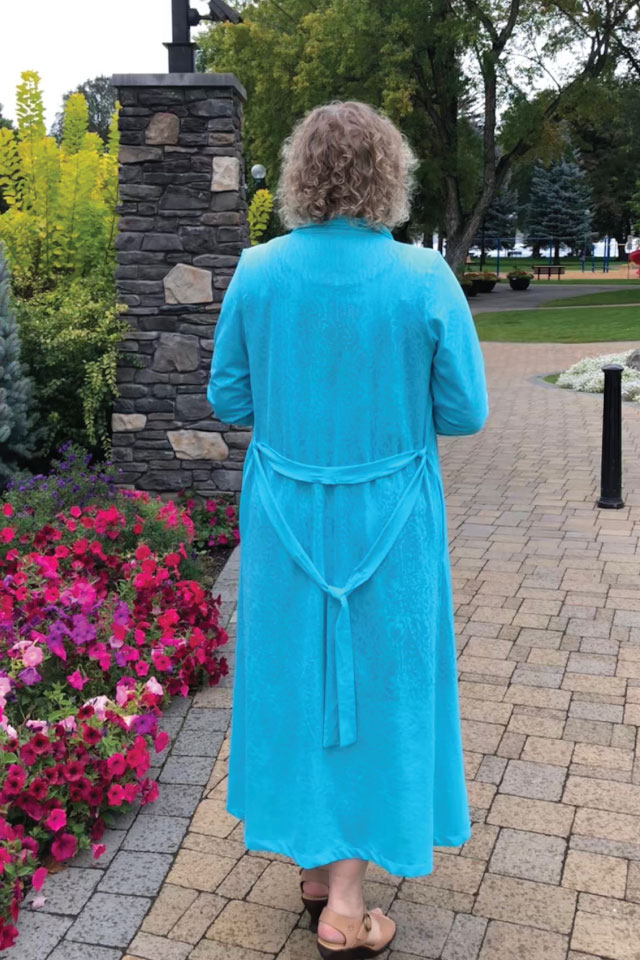 I'm Patricia and live in beautiful British Columbia, Canada
2. I chose to make a maxi length Chelsea. I'm 5'9′ tall and finding something long enough can be challenging. I feel the longer length (I added 10″ over all to the pattern) accentuates my legs. It's also cold here in winter and another layer will be fab!
3. I used a polyester lycra fabric in an amazing bright bluey turquoise with a burnout component.
4. I used a 4 way stretch fabric though probably I could have got away with a 2 way stretch. If you're going to do that then make sure the armsyce will fit!
5. I've had several compliments on my Chelsea. Himself (my other half) says it is one of the nicest things I have made. Go me!!
6. You can find my infrequent blog on www.sewfarnorth.wordpress.com
---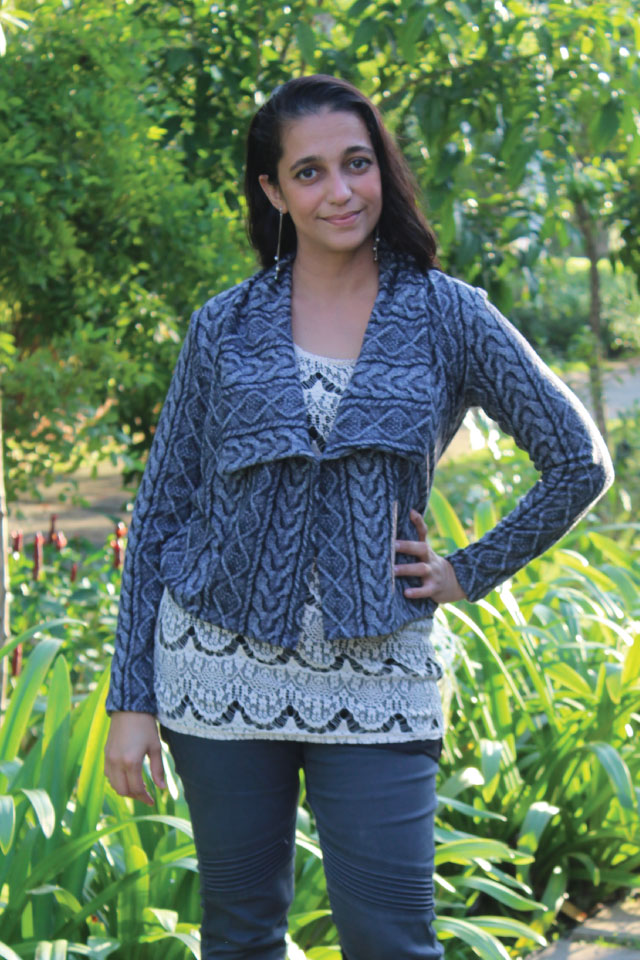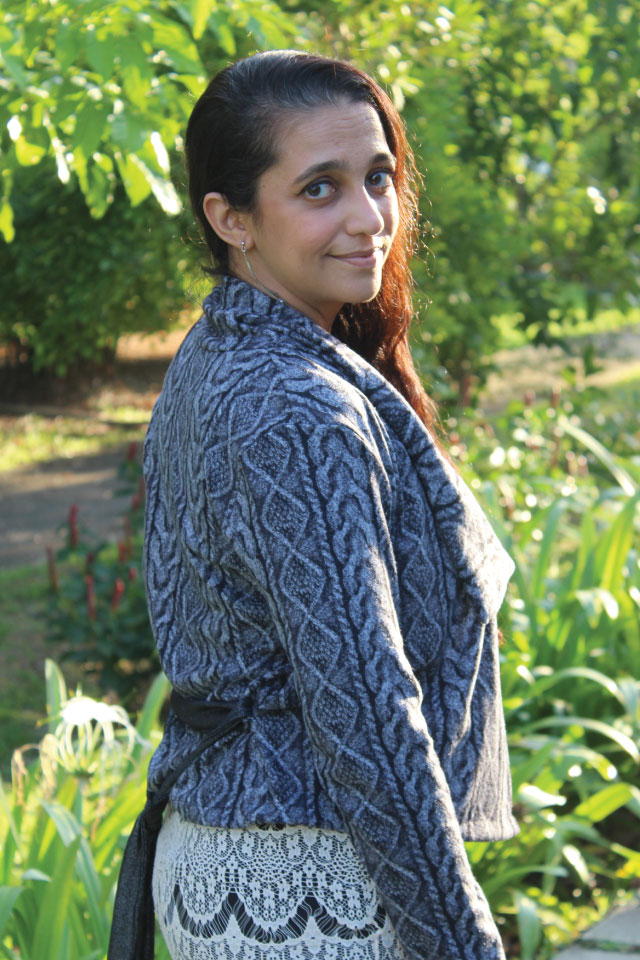 Hi, I'm Kiran from Singapore. I chose the hip length Chelsea because Singapore is a warm place and the only place I'd wear a cardigan is the to the theater. I needed something that would fit my handbag.
The knit that I chose was a lightweight stretchy knit in a cheeky cable knit print to trick the eye into thinking it was a knitted jacket. In sewing this jacket, a walking foot is your best friend. Don't skip that! It makes all the difference. Have fun sewing your Chelsea. Can't wait to see what you sew.
---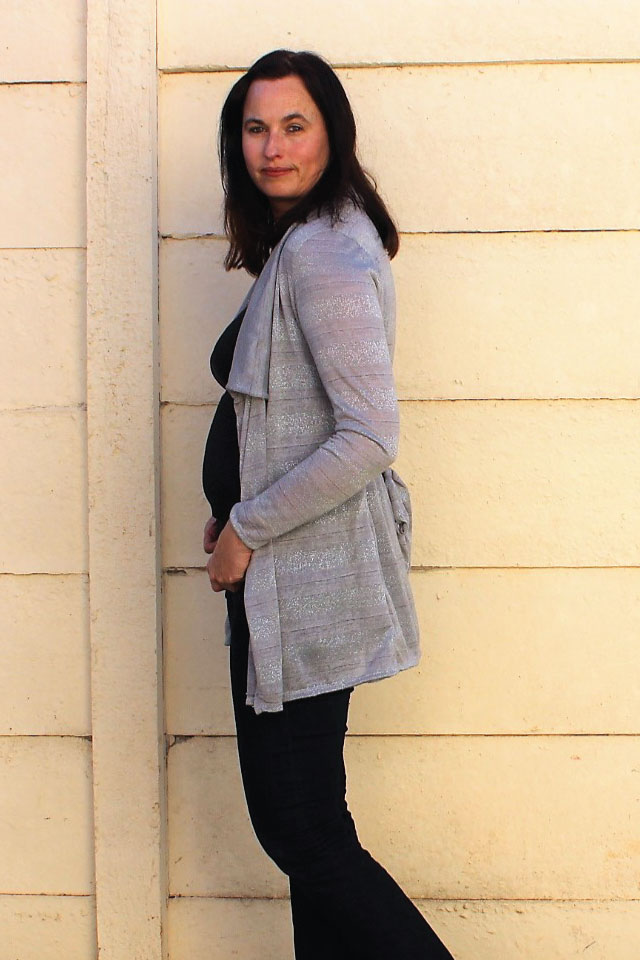 Hi, I'm Genevieve and I live in Johannesburg, South Africa. I chose thigh length for my Chelsea because I think it's a flattering length for my body and also because I felt I would wear it more at this length, especially as it's warming up here. I made my Chelsea out of a thin, sparkly sweater knit. When se info on the collar, I used loads of pins before starting to hand sew. I think I pinned it 4 times to make sure that it laid flat. I wore mine to a meeting at my daughter's school this past week and got lovely compliments on it. It'll be a staple for me this spring as it's often chilly in the mornings and evenings.
Https://www.instagram.com/gegiegrossmann
---
I'm Diane Cullum and I live in Phoenix Arizona. I chose the hip length because I get more use from shorter cardigans. We don't get much of a winter here. Now I want a thigh length Chelsea after seeing other testers make it. I just didn't get it done in time for release. My fabric is a thin and lightweight sweater knit that was in my stash and waiting to become a cardigan. I hate hand sewing, so it took me as long to do that, as it did to sew the rest of the cardigan on the machine! My tip is to do what some of the other testers did and sew as much of the collar on by machine before doing a smaller amount of hand sewing. I haven't worn my Chelsea anywhere yet since it is still so hot here and we are in summer clothes. It's a great cardigan pattern though and my longer length Chelsea is on my to sew list so I'll be ready whenever it does cool down! TwoChicklets.etsy.com http://sewingwithd.wordpress.com