Greetings my lovelies sew'ist friends and I hope all is well with you.
As most of us are possibly enjoying a relaxing weekend I hope that some of you have managed to get in some sewing time. xx
Thankyou for visiting with me today for Part 1 of the new Donelle Top and Dress Tester Roundup Part 1.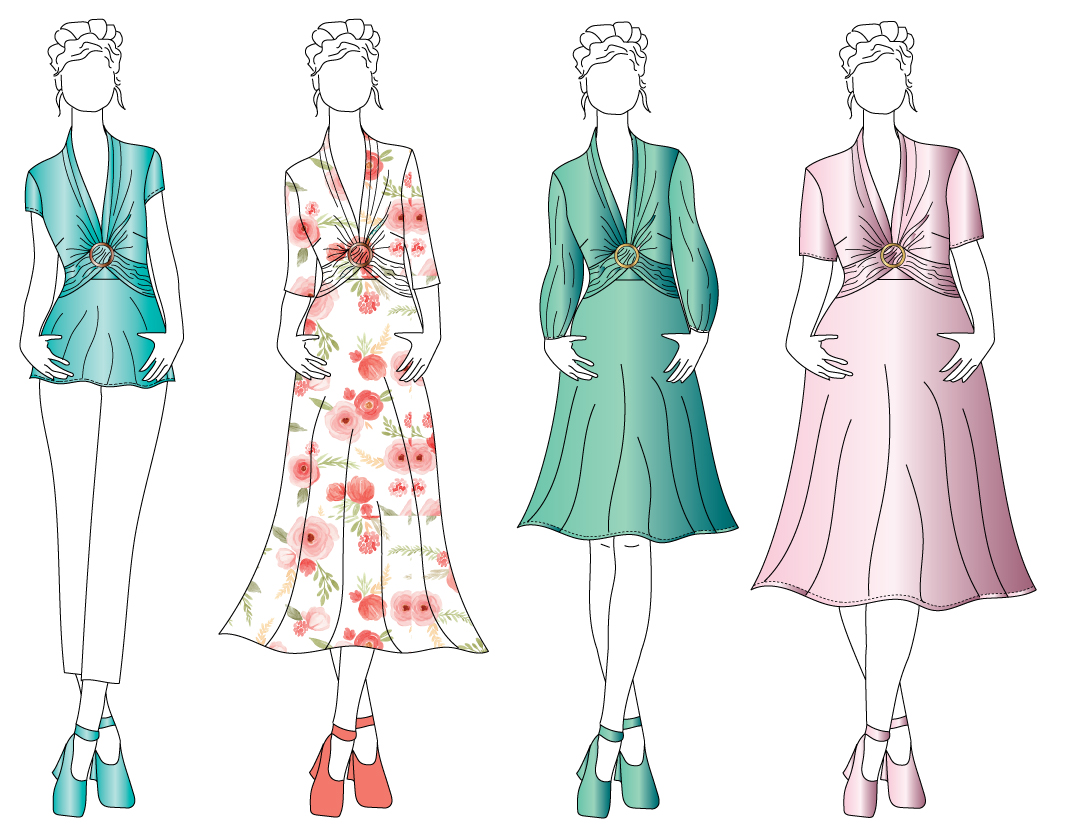 The Donelle is a beautifully Front Draped easy wearing Jersey Dress and the pattern offers a choice of styling options:
1. Tea Length Skirt.
2. Pencil Skirt – Knee and above Knee.
3. Knee Length Skirt – 3/4 and 1/2 circle.
4. Above Knee Length Skirt – 3/4 and 1/2 circle.
5. Hip Length Peplum.
All of the above styles are completed with choice of:
1. Cap Sleeve.
2. Just Above Elbow Length Sleeve.
3. 3/4 Length Sleeve.
4. Bishop Length Sleeve with Elastic at wrist.
The Donelle Top and Dress is for a sewing level of Confident Advanced Beginner and Above.
On Sale for a limited time only – $8.75 (US)
multi-sized pattern : Women's
(AU/UK) 6 – 28, (US) 2 – 24, (EU) 34 – 56
Cup Sizes – B, C, D, DD (E)
https://designerstitch.com/shop/donelle-top-dress
So now for the truly AMAZING spectacular my friends – I would like to introduce you to the most WONDERFUL women who made the Donelle Top or Dress.
And I have asked them all to share with you
1. Your name and where you live
2. Your choice of style for the Donelle and why ?
3. What fabric did you choose and where did you purchase – make sure you add affiliate link to fabric seller if you are able
4. Some of the sewing steps need a bit of patience – what tips can you share when sewing the individual garments parts ?.
5. What was your favourite thing about making the Donelle.
6. Have you worn your Donelle yet and what compliments did you receive.
7. And how are you styling your Donelle ?
8. Social media URLS
Cheerio and Love to you all. xx
---
Spring is springing here in the Milwaukee, WI area, along with thoughts of warm days and summer parties. My name is Allison Falkey. So far I have made three Donelle dresses. Two at tea length, one knee length, two with 3/4 sleeves, one with bishop sleeves. My favorite is the asymmetric, black and white print. The fabric was a gift from my mom. I had originally chosen a different fabric for my final dress, but once my toile was complete, my original choice did not feel right.
When you make your Donelle, take your time with the early instructions and trust the process. The most difficult part of the dress was sourcing the slider ring. Check eBay, Etsy and your local resale stores. I used a buckle with the tongue removed for my black and white dress. Make sure you lap right over left to achieve the perfect look.
My favorite part about making Donelle is how quickly she sees up. Then there is the fit! I absolutely love the way this dress fits.
I have worn my collection of Donelle out several times. She (and I) are receiving rave reviews (Thanks, Ann). I belong to a ladies group. I wore may knee length Donelle. They raced and drooled. Wanted to know when I was making them all the same dress. Said we needed a uniform (we don't) and Donelle would be perfect.
As to styling, for my black and white Donelle, I am styling her with a pair of black and white striped shoes. It makes be feel flirty and cheery.
---
My name is Andrea and I reside in Annapolis, Maryland. My lifestyle, for the most part, is casual (jeans, pants, shorts) so I chose the cap sleeve, peplum version for my Donelle. My fabric is a light weight jersey from a Knitpop scrap box. My tip for sewing the Donelle is to read and follow the directions—it all comes together if you do not over think the instructions. My husband, who often is oblivious to what I am sewing and wearing, told me he really likes my shirt! I styled my Donelle with jeans for my photos, but I have a pair of linen pants I plan to wear it with when the weather is a bit warmer.
My instagram is https://www.instagram.com/andreashpuntoff
---
1. I'm Angela from the South part of Australia.
2. I chose a bishop sleeve and tube skirt because I liked the drama of the sleeve and that the skirt balanced it out for me.
3. My fabric is a maroon coloured poly/spandex that had some subtle lines going through the fabric.
4. The area where most concentration is necessary is probably the back neckline to make sure correct edges are sewn together.
5. Donelle comes together surprisingly quickly and the cut is really flattering.
6. I haven't had a chance to wear mine yet, my version is a bit dressy but have a ladies lunch coming up soon so weather permitting.
7. Most likely mine will be worn with some heels.
8. https://tinkerandstitcher.wordpress.com/
and IG @tinkerandstitcher
---
Hi! I'm Barbara and I live in Northeastern Mississippi in the USA.
My choice of Donelle was the Peplum top to wear out socially with friends.
I chose ITY for both of my Donelles. Fabric from Knitpop Auctions. (knitpop.com)
Transfering all notches will make Donelle a quick and easy sew. Evenly distribute the side gathers.
My favorite thing about making the Donelle was purchasing the buckle slider. I picked out my sliders first, then picked the fabric to match the slider!
Have you worn your Donelle yet and what compliments did you receive.
7. I stlyed both my Donelles with Vintage Made Magazines Woodstock Flares and chunky platform shoes for a 70's disco vibe!
https://www.instagram.com/ninjabreadgirl61/
---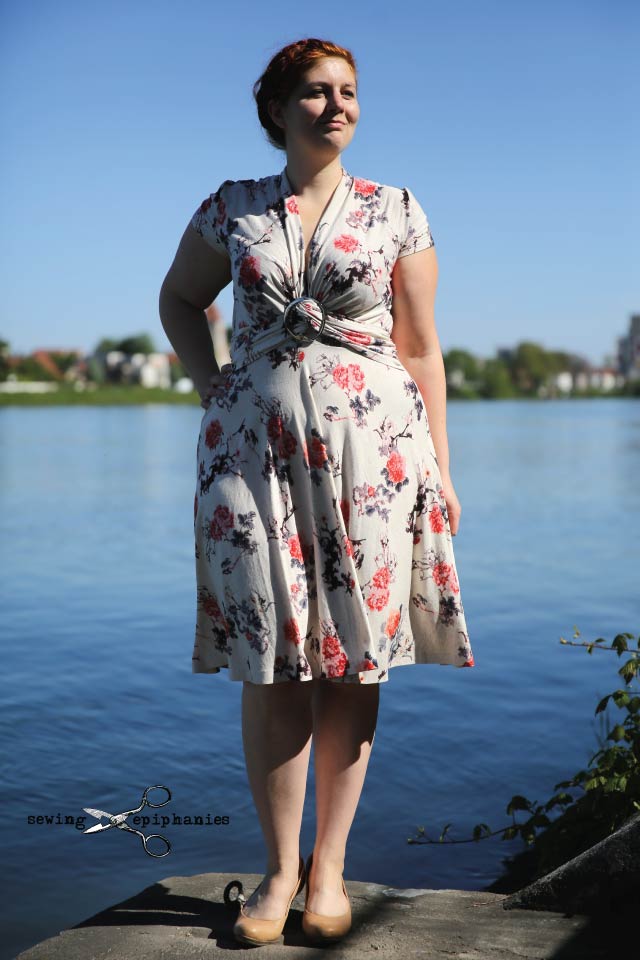 1. Your name and where you live
Béatrice Gauvain from Basel Switzerland
2. Your choice of style for the Donelle and why ?
I chose Tea Length because ive never tried it before and was curious 😍 I usually sew knee length but im so glad i chose Tea 😍
3. What fabric did you choose and where did you purchase – make sure you add affiliate link to fabric seller if you are able
I chose Cosmea by Lillestoff 😍 https://graustufen-stoffe.de/…/cosmea-modal…
4. Some of the sewing steps need a bit of patience – what tips can you share when sewing the individual garments parts ?.
Follow the instructions very strictly without trying to make sense of it. It will fall together like perfect puzzle and you will understand in the end, why you had to follow these steps ☺️
5. What was your favourite thing about making the Donelle.
It was so much fun, its so perfectly and cleanly constructed which i really love in a pattern.
6. Have you worn your Donelle yet and what compliments did you receive.
Oh the compliments 😍 The best one was from a total stranger who saw me exiting after dance classes and he just stared at me in awe and said.. wow this dress… 😍😍
7. And how are you styling your Donelle ?
Cute heels, my vintage purse and braided hair 🥰
8. Social media URLS
https://www.facebook.com/sewing.epiphanies
https://www.instagram.com/sewing_epiphanies/
http://sewingepiphanies.ch/
---
You'll find me, Belinda wearing my Donelle in Adelaide 🇦🇺
I've chosen the bishop sleeved/peplum version in black extra fine merino. The buckle is resin and reminds me of nougat. Both were deep stash but now sitting in my current capsule wardrobe.
Donelle is a simple sew but have patience with the back neckline; it provides the shaping required for the lovely collar.
I'm really enjoying wearing my Donelle (bishop sleeve style) because it's perfect for autumn and IMO is a classic with a twist.
---
Hi, I am Camelia from the Netherlands.
I loved the tech drawings of Donelle dress and I was very excited to see how the dress was coming together especially in the front. I choose to make the knee length with the 3/4 length sleeves. This version is going to be perfect for the summer. I made two versions one in a rayon jersey and the second version in stretch velvet. I added clear elastic in the shoulder seams and reinforced the back neck with seam tape to be sure that there will be no stretching out of these seams. Although this pattern might look complicated is actually so easy! If you follow the instructions there is nothing difficult about it. I must say that for me the biggest challenge was to find a slider I want and like and fit the size, but now I have a few in my stash enough for all the Donelles I want to make. That pencil skirt version is gorgeous! I think this dress can easily be worn with heels or flats and be worn every wear, I am so happy with this pattern!
I love Designer Stitch patterns and you can see my video reviews here on my YouTube channel
https://www.youtube.com/calcedoniasewing and sneak peeks of my work
on IG https://www.instagram.com/calcedoniasewing/
---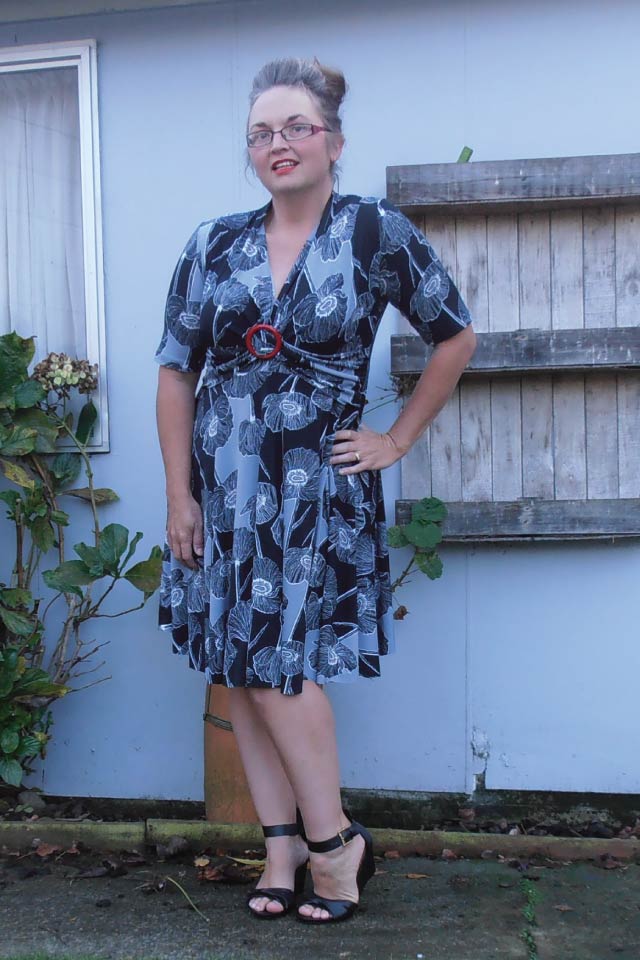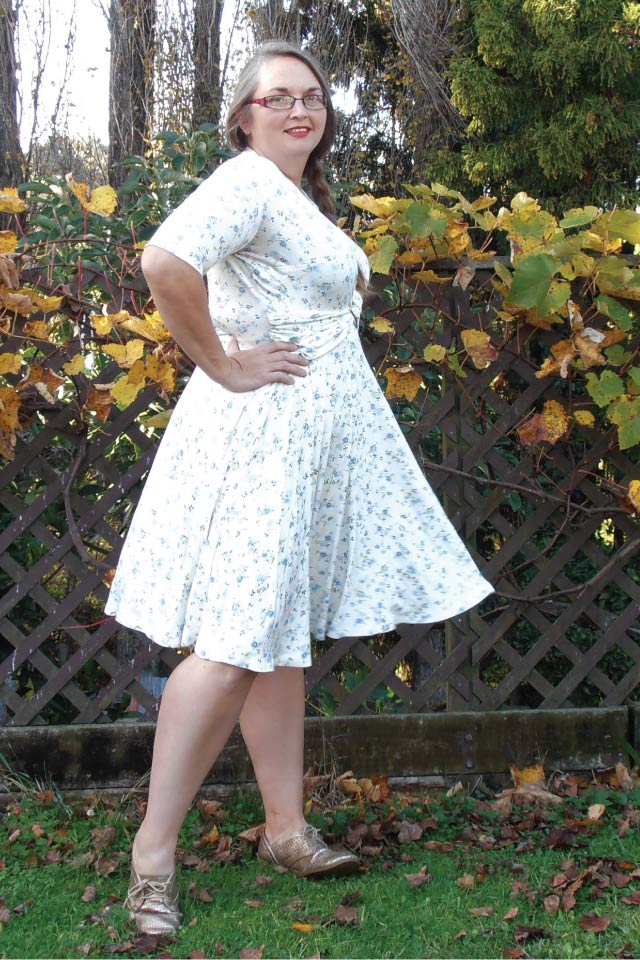 My name is Carmen and I live in New Zealand.
I chose the knee length with elbow sleeve.
My fabric was a polyester spandex blend that I bought from a designer clearance.
Mark the notches clearly and take time with the side gathering and threading through the buckle
While it looks fancy and complicated, it's a quite quick sew.
I'll be wearing black wedges with my dress
Www.Instagram.com/thats.a.given
---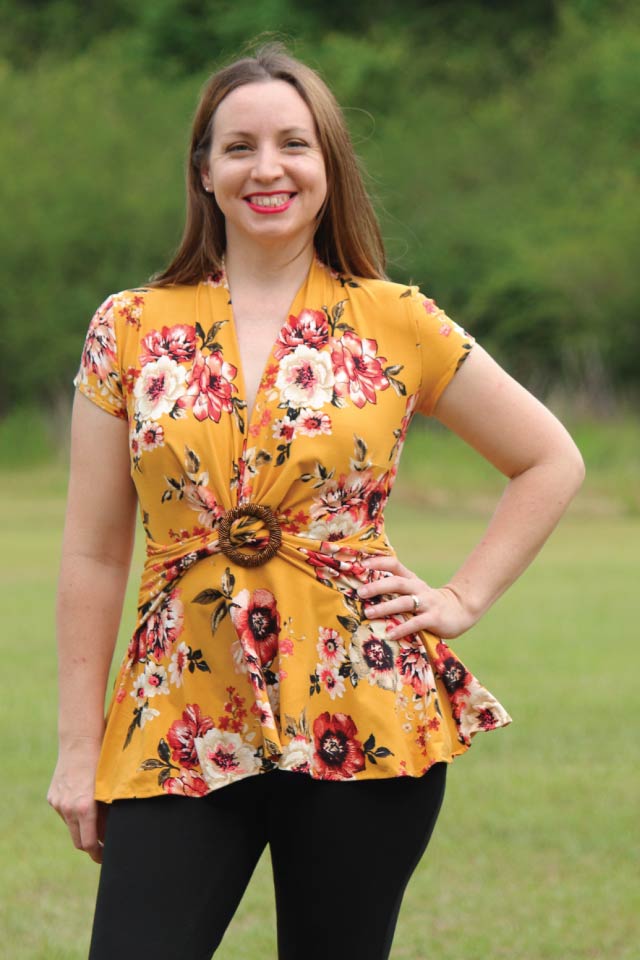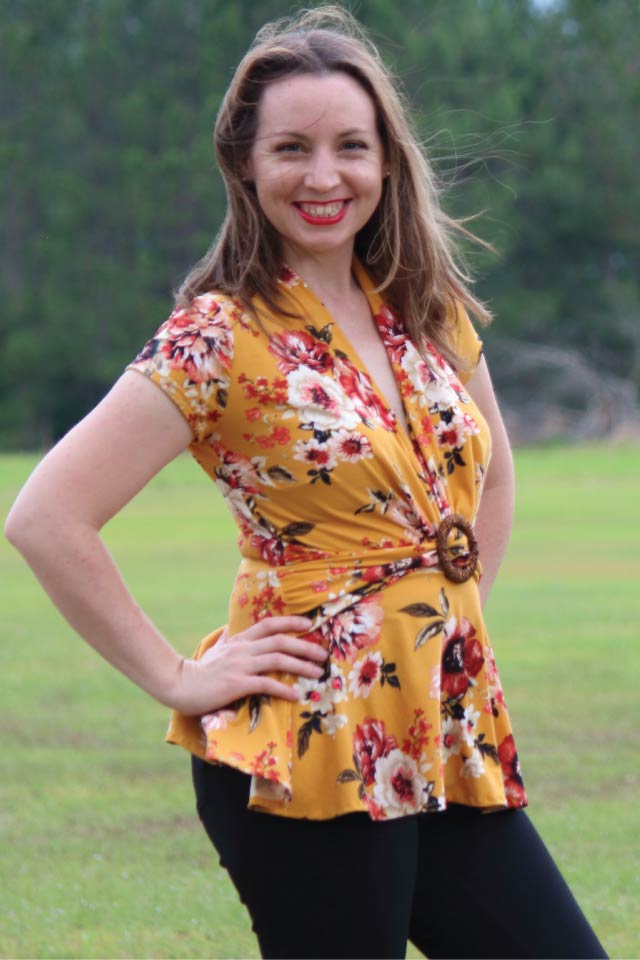 Hi I'm Carmen from Georgia. I chose the top length because I have too many dresses, but I'm still going to make a dress as soon as I can. I chose a double brushed poly for my final and I love it. My next one will have to be ITY though because I want something with more drape. I styled my top with skinny black capris and black sandals. The buckle is beaded and complements the fabric well. I purchased the fabric from www.thefabclique.com
My blog is happilysewnafter.wordpress.com
---
Hello, I'm Dora S and I live in Portugal.
I made two knee length Donelle dresses for myself and have another one on my sewing machine for my older daughter. I recently came to realize this is both the length I like and the one that suits me better… not too long nor too short.
For my blue Donelle, I used a pre-wrinked knit that gives you a wavy fabric look. It's gorgeous! For my pink dress, I chose some large floral print in jersey with a fantastic drape. They were both bought at a local store.
Tips I can share with you for when sewing your dress: read everything first, make a muslim, follow your measurements to choose the size to sew and not finished garment measurements because being a knit pattern, it has negative ease and take a deep breath when attaching the skirt to the front bodice. Take your time, be persevering, read the instructions thoroughly and enjoy because after that you'll be nearly done.
My favourite thing about making the Donelle was the fit. It's very flattering and I was pleasantly surprised. I also loved to see how quick it was to sew.
I haven't worn my Donelle since my tester photo shoot because the weather got a bit cold again around here (Spring is being shy…), but I'm thinking of wearing it a lot. Love both of my dresses!
I think Donelle looks great in any style. Mine will be simply accessorized with a pair of high heel sandals.
Follow my sewing projects at:
Blog – www.sew4five.wordpress.com
IG – www.instagram.com/colourbymim
---
I am Gabz Jefferson from New Mexico, USA. The land of enchantment and green chile. It is starting to get warm in here so I decided to sew up the cap sleeves/ top length using jersey knit fabric from an on line fabric store.
I enjoyed sewing this pattern and I don't think there's part of this pattern that is tricky for me. But I have the favorite part, it's the installation of the hardware. I have this circle hardware which is silver but I wrapped it with my main fabric.
I wore my Donelle at air Base and people asked me where I bought my top. I told them I made it and they are so amazed. I also posted it on my Facebook and the compliments I am recieving give me a big smile… I also posted it on my Instagram which is www.instagram.com/itsewcolorful . Next time I will be posting it on my Facebook page www.facebook.com/itsewcolorful .
If you want to see other of my makes, you may also visit my blog at https://itsewcolorful.wordpress.com
---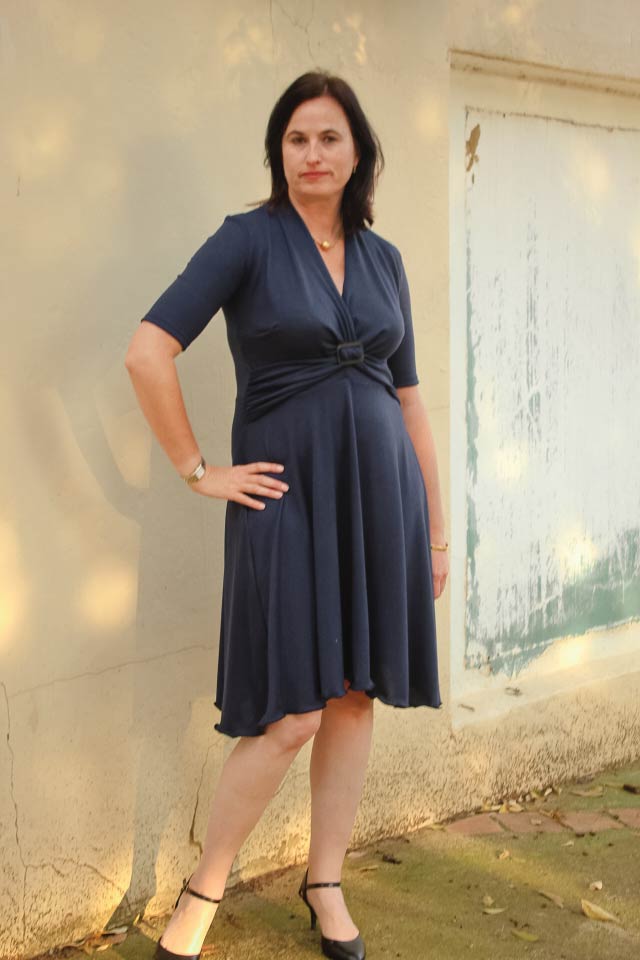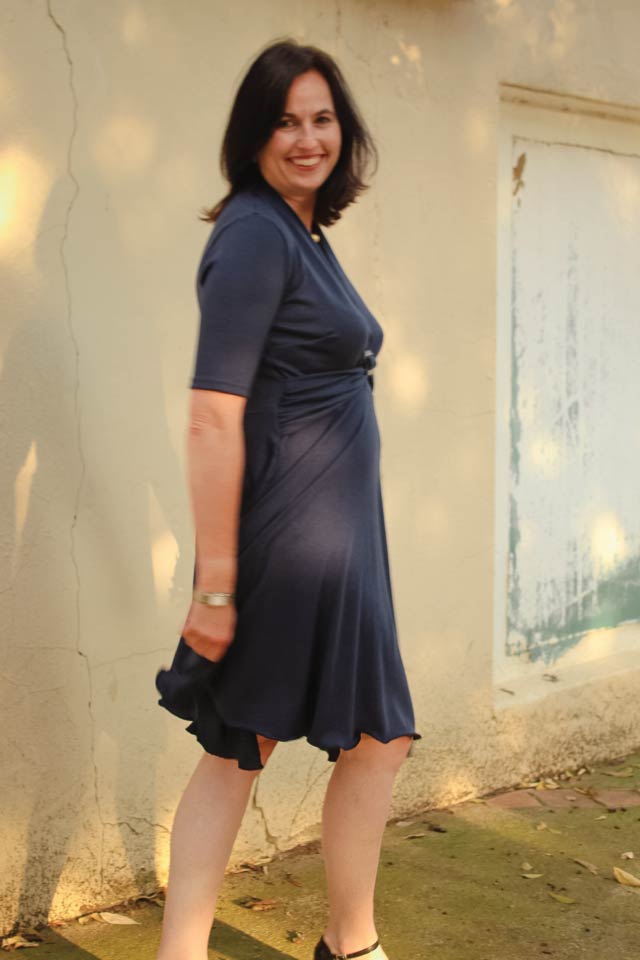 Hi, my name is Genevieve and I live in Johannesburg, South Africa 🇿🇦. When Ann released the drawings of Donelle, we were all blown away, each option was just the epitome of elegance. I made a knee length dress. I used the most luscious jersey knit fabric that I found at a local fabric shop. Super soft and drapey.
I must be honest that I was somewhat intimidated to sew this beautiful design because it just looked complicated. I would definitely recommend reading the whole tutorial before starting and then going one step at a time. I was amazed by how quickly my dress came together and how much fun it was to make. Watching each step take you closer to a really beautiful end product is so satisfying.
My fabric lent itself to my dress being great for transitioning between seasons. As it's getting colder here, I'm wearing it with boots and a Cardi. I think this may be the most elegant item in my wardrobe.
Https://www.instagram.com/gegiegrossmann
---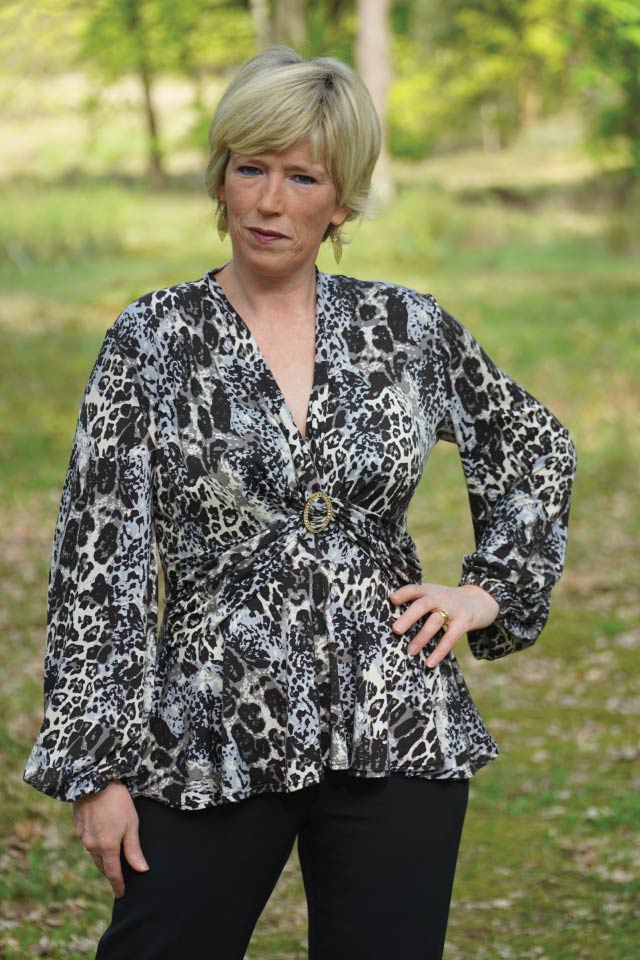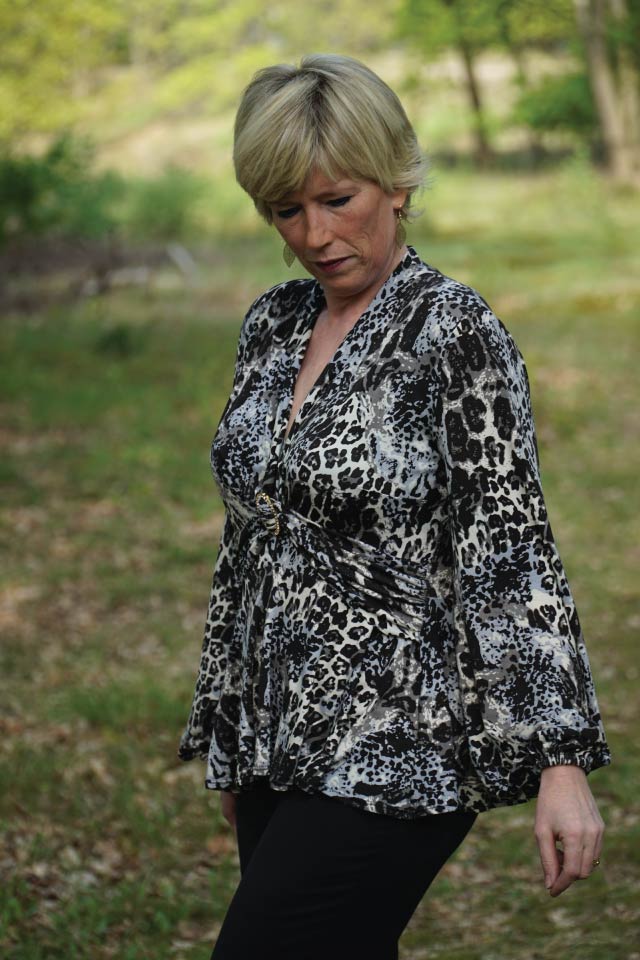 Hi, I'm Ilse and I live in Belgium.
As always Ann designed and presented several options to sew the Donelle and because actually I'm a 'pants lady' I went this time for the top with peplum. Since we're in spring but the days still can be cool I chose those divine bishop sleeves.
At a local store I bought this poly jersey and it was the perfect choice for it!
Maybe good to know but, take your time to thread your buckle nice and easy. Your end result will be very refined!
It was a bit exciting to bring the top part and peplum part together and this in combination with the construction of the buckle, but I really loved to do it!
I already worn my Donelle to a birthday party from a friend and she really loved it!
I styled it on black classic pants but I think it would also be great on a pencil skirt! Next time!
https://sewsewilse.wordpress.com/
https://www.instagram.com/sewsewilse
---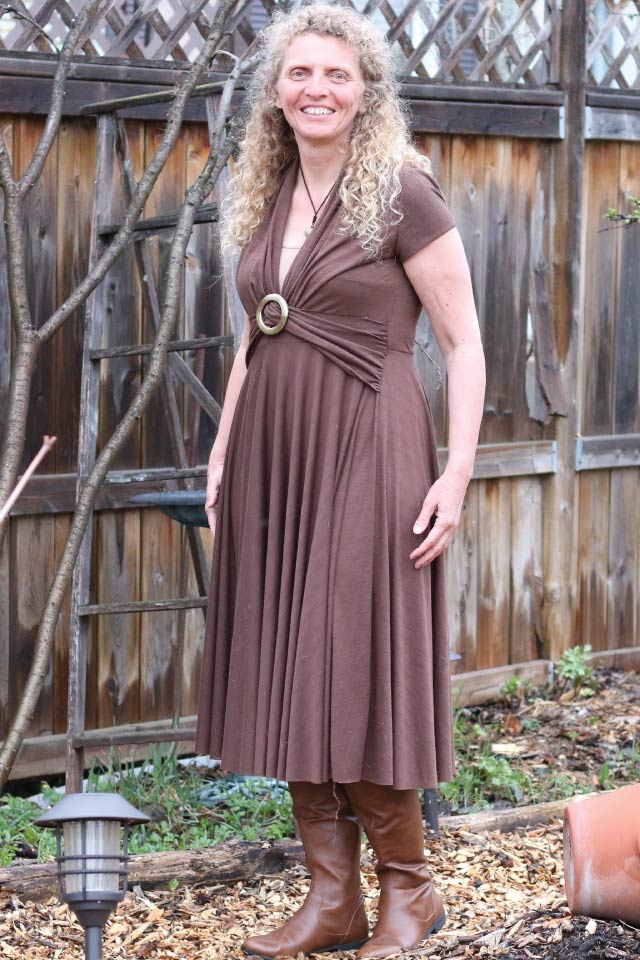 Greetings! My name is Jenny and I live in Canada. I made a Donelle shirt with 3/4 sleeves to go with my Designer Stitch Harper Pants and a tea length dress with the cap sleeve because it will be the perfect dress to wear in the summer. Both of the fabrics I used were a cotton blend knit that I purchased at a local fabric store. I have been wanting a dress with the buckle detail on the waist because I am seeing this style pop-up all over the internet and I am so happy that I now have TWO Donelle's that I made to fit perfectly in my wardrobe! It is still a bit chilly here so I wore my dress with some dressy boots but it looks equally great with my summer sandals and I can hardly wait to go out and about with it! You can follow my sewing escapades on my blog at https://embraceeveryday.wordpress.com/
---
Greetings fellow stitchers! I am Judy and reside in the rolling hills of southern Indiana. The Donelle is my very first pattern test for Designer Stitch and I am so pleased with the result! I sewed the knee length version with bishop sleeves. Knee length dresses are best for me due to my height and shape and I just love a good statement sleeve! The fabric I used is a cotton/spandex blend, very soft and cooler to wear here in our Indiana summers. I purchased my fabric from the local Joanns store. Although the Donelle looks complicated it is a pretty straightforward sew! Because my fabric was a bit slippery I took extra steps to hold my side gathers. I hand basted them with a strong cotton thread and then hand basted them in place. I also added a strip of stay tape to hold everything in place before I serged. I have worn my dress several times and received so many compliments. I recently wore my Donelle with small red and black pearls, matching bracelet and pink shoes. One person ask me if I did custom sewing jobs and if I would make her one! So happy with this pattern! You will love it too!! https://www.instagram.com/acustomclothier/
---
I'm Kate, I live on the east coast of Australia, a little south of Sydney. We have pretty mild winters and the Donelle top version would be perfect for a dressy top to wear out and about. I went for the bishop sleeves as I get frustrated with 3/4 sleeves getting bunched under my jacket.
My final version was meant to be my toile. I found a linen interlock on the clearance table at Spotlight that looked perfect. Enough stretch, plenty of drape and linen! (I love linen).
The construction of the Donelle is rather clever. But I had to slow down to make sure that I was sewing the pieces together in the right configuration – I nearly ended up with a rather interesting shaped top. I like the tip in the pattern to tie off the gathering threads to preserve the length, this makes the process of positioning the 'wraps' easier.
For what looks like a complicated garment, Donelle is actually pretty quick to sew. That was a nice surprise, and always a plus for me.
I've worn my Donelle top out and my friends commented on how comfy it looks (and it is).
I've styled it with jeans and with a denim pencil skirt. I'd love to wear it with my Harper pants but they're the wrong colour. So I guess I'd better make another pair.
I blog at https://katewillknit.blogspot.com
And you can find me on Instagram at www.instagram.com/katewillknit or
on Facebook at www.facebook.com/katewillknit