Hey ho my friends. And thank you for joining us in the Romy Cami, Slip, Gown and Cheeky Boyleg roundup – Part 2.
As you have seen in Part 1 of our roundups the Romy Cami, Slip or Gown and Cheeky Boyleg is a stunning design offering adorning lace detailing along with irresistible sensual satin. 
It's fine lace detailing and a plunging neckline of the Romy frames your bust. The flirty, open-back design features figure-skimming stretch satin traced in delicate lace for an altogether sexy style. And adjustable fine straps expose your shoulders.
Add in the cheeky lace boyleg briefs and your Romy offers a combination that is a perfect balance of sensual and romantic aesthetics.
And remember my friends – Valentines is the following week so the Romy should be YOUR ROMY.
So, let's continue with our roadies in Part 2 of the Romy Cami, Slip, Gown and Boyleg roundup. All stunningly glorious. Love to you all. 💗
They would like to share with you the following. 
1. Your name and where you live?
2. What fabric combinations did you choose and where did you purchase.
3. What sewing tips can you share when sewing the Romy.
4. What was your style choice for the Romy.
5. What fit alterations did you have to make to the Romy.
6. Have you worn your Romy– and if not, what plans do you have for your dress?
7. Any plans for future combinations of the Romy.
And the finer details; (AU/UK) 6 – 30 (US) 2 – 26 (EU) 34 – 58
On Sale for a limited time only – $9.95(US)
Very Confident Advanced Beginner and Above Sewing level.
Romy Cami, Slip, Gown and Cheeky Boyleg
---
Hello I'm Ashley R a sewist from Central London, England, UK.
I'm excited to share with you the amazing new Romy slip, Cami gown and Cheeky boylegs.
I used a mix of satin and galloon lace for my slip and a light weight cotton for my cami , fabric came from a UK group @jo-rorags.
My sewing tips are to always make a fit first to get the best fit for your body, I'm only 5 foot and had to remove some main length. Always read the measurments for your body.
I styled this pattens on it's own to show the design, best and very comfy nightwear. I've worn mine a few times and love it, the fit and style. I can see myself making many more Romy and depending on your fabric it would also make a great nightout top.
IG: https://www.instagram.com/madebyashleyriley/
FB: https://www.facebook.com/sewashley.co.uk
---
my name is Jackie and i live in the netherlands. Sewed the camy with galloon lace and lycra. I used 20 cm wide lace, it was enough to sew the camy, but i needed a lot more for also de brief. I altered the cup a little, because my breasts are a little dropshaped without bra. So i had a little excess fabric at the top of the cup. I used a little less elastic for the back and side cups, 1 cm on both sides. I overlapped the cups a little in the front. I found it an very easy sew, perfect step by step guidance from ann. And if you follow these steps miticulously, its a perfect fitting camy. My husband loved the camy, although he would not let me wear it for long 😅 i'm planning on making an all Black set.
---
well hello I am Marit.  and happy Valentines to you! I loved testing this Romy set! I am really addicted to sewing lingerie and it is so fun and statisfying to make a garment like this. I made a set with a cami and bottoms, and I combined it with the Barbara shorts, because I had some fabric left 😉 per-fect fit
I also made a slip dress and the hubby was all like hello boom-chicka-wow-wow.
So, I am from the Netherlands and bought all the supplies at Kantjeboord in Amsterdam. I used stretch satin and stretch lace, and I love the feel and fit. I had to adjust quite a bit to the cups. I made a B cup and had to cut back on excess fabric at center where the cups meet, and on the outer cup. I got it in two go's, so I would advise to make a fitting toile and also: don't give up or get discouraged! With small adjusments you can get a great fit. We are all here to help you ❤ happy sewing!
---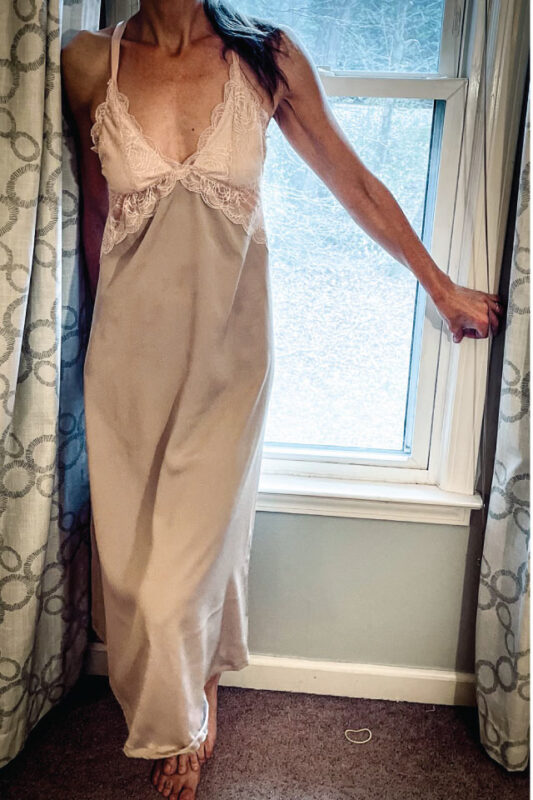 Hello, my name is McKenzie R and I am from Woodstock, Georgia, about 25 minutes outside of Atlanta. While I have much experience with sewing garments, this was my first attempt at lingerie. After searching and searching, I finally found this beautiful 2 yard piece of "Stone" Crepe de Chine from Surge Fabric Shop (@SurgeFabricShop ; www.surgefabricshop.com ), as well as a 10″ wide galloon stretch lace in "Tan" from a store on Etsy.com called Dare and Co. While those sound similar in colors, they were enough contrast that
I was able to sew the neutral-toned, Romy Full Slip I had envisioned.
While waiting for my fabrics, I sewed up a toile first and I am so glad I did! It's the first thing I would recommend for this pattern. MAKE A TOILE FIRST! Fit for this piece was so important and had not done the toile, my fit would have been all wrong. I had gone one size too small and I also made a small bust adjustment according to Ann's direction. This leads me to the next important thing, ask lots of questions! Ann is really good to go over and over something if need be, and I highly recommend connecting with her for absolutely anything. Not to mention there are plenty of Romy fans out there who have experience to share with you. Don't be scared, just ask!
I finally finished my first intimate piece and it was perfect! I have worn it already and while I (and the husband) love it, to me it feels like it's missing something. I am a stickler for matching panties and I think that is what I am looking for. So, I'll probably sew up the panties in the future to make a complete set.
Thanks to Ann for all her patience!
-McKenzie Reints
@Southern_mims on IG (sewing blog)
https://www.facebook.com/mimsrannon/ (sewing blog)
https://www.facebook.com/groups/3329016310753479
---
Hi everyone
My name is Meredith and I live in Sydney, Australia (on our beautiful northern beaches).
I made my Romy with a gorgeous Satin (suitable for sleepwear) from Pitt Trading. The lace is a 25cm wide stretch lace from Booby Traps.
When sewing the Romy, pay close attention to the pattern instructions (which are detailed and have lots of information). Make sure that you put the lace ON TOP of the fabric as instructed, then cut away the fabric (again as instructed) to reveal the beautiful lace. Also make sure you cross the straps at the back. I made the mistake of not crossing the straps and had to unpick and redo!!
The Romy is a simple sew and relatively quick … but pay attention to the instructions 🙂
I made the slip version of the Romy, but am now thinking I also want the cami with the lace knickers 🙂 I also cut my fabric on the bias to give that extra 'give' and 'swing' to the fabric.
I did my usual alterations to the pattern, grading 2 sizes between bust and hip, which was a relatively easy alteration to make
I wore my Romy on the weekend. We went away for the weekend, and I have to say I felt pretty swish in my new lingerie. Hubby liked it too 😉
To see more details on my Romy and other Designer Stitch makes, please check out my Instagram https://www.instagram.com/sew_mere_makes/
---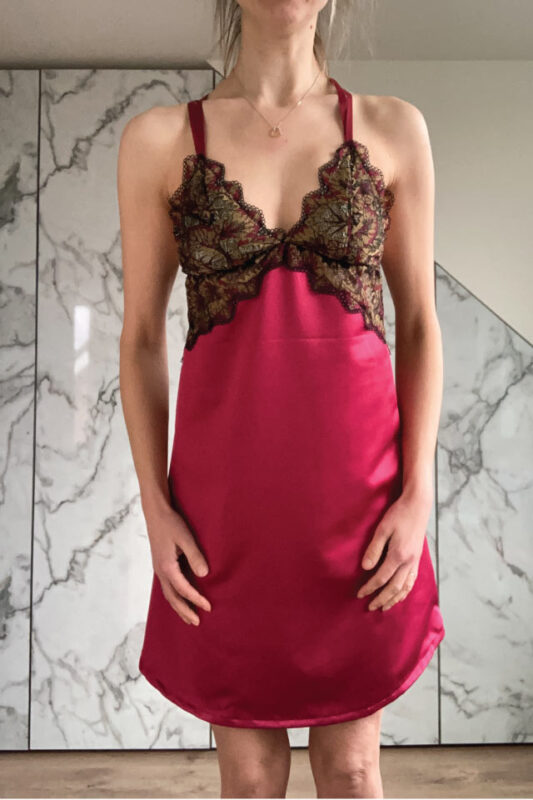 Hi! I'm Sandra from the Netherlands. I made 3 Romy's: 2 slip length and 1 Gown. I like them very much. It's something else to sew than regular shirts, dresses etc. Was my first time to make something with straps etc. My tip would be: just follow the steps by step and then everything will work out well❤️.
I did do an alteration: I made my cup smaller. I used satin as main fabric and lace for the cups. I used stretch jersey for cups.
https://www.instagram.com/sandra_wilbrink_sewing
---
Hello everyone! I'm Annie from Buenos Aires.
I chose a steel blue lace and a pink silk for the Romy slipdress. I bought them at a local retailer in Buenos Aires.
A tip before sewing Romy it´s to make sure you have the right measures of your body. Double check the bust size page. I used a Teflon sewing foot so the silk fabric and lace run easily.
I sewed the Romy Slip Length in a straight size 5 B cup.
This is a beautiful slipdress, my sister asked me for one for her birthday, she saw it and fell in love.
Check out my work and follow me on IG & FB
https://instagram.com/civitana
www.facebook.com/Annie.CruzCivit