Hello and welcome to my blog post for the release of the new Shakti Jersey Pants pattern,
I would love to share with you my design ideas, inspiration and influences behind the new PDF pattern release.
Firstly – you may be wondering why Shakti ?  I am always looking for ideas and inspo for all the designs that I have circling around in my head (and believe me when I say that  my
head is BURSTING FULL) and the design of the Shakti reminded me very much of yoga and everything that surrounds it.
So I searched for sanskrit words and meanings and found that Shakti is such an amazing word. The meaning behind this word is just perfect for the pants pattern.
So when it came down to designing the style I had a really hard time trying to work out what elements I wanted in the pattern and what I could sacrifice. I just loved seeing all the deign ideas filter through Pinterest and I was seeing so many versions of the Shakti in so many different forms.
I initially had the Skati Jersey pants development in 6 different legs with the 3 co-ordinate waistbands – but managed to whittle it down to 4 different legs….
and I thought to myself – shall I whittle it even further and release this pattern over a few months offering concurrent leg styles.
Then I thought "don't be ridiculous" – why not just release the pattern with the 4 leg styles to give it some real value added appeal…and that is just what is in the Shakti Jersey pants pattern is all about.
There is a style within the pattern that will suit every body and every lifestyle of every sew'ist out there.
When I place tester calls within my pattern tester group I try – where possible – to help and guide my testers with ideas and inspiration – so they can make their garment fit with their own styling choices.
As you may have read here before I am a mad Pinterest-er and have stacks of boards – alot private – where I pin design influences, shapes and color for further ideas in the future.
This is the Pinterest board I developed for my testers and I have made it public for you all – why not go in and have a look, join the board if you want and add your own Shakti Jersey pants influences. The link is here.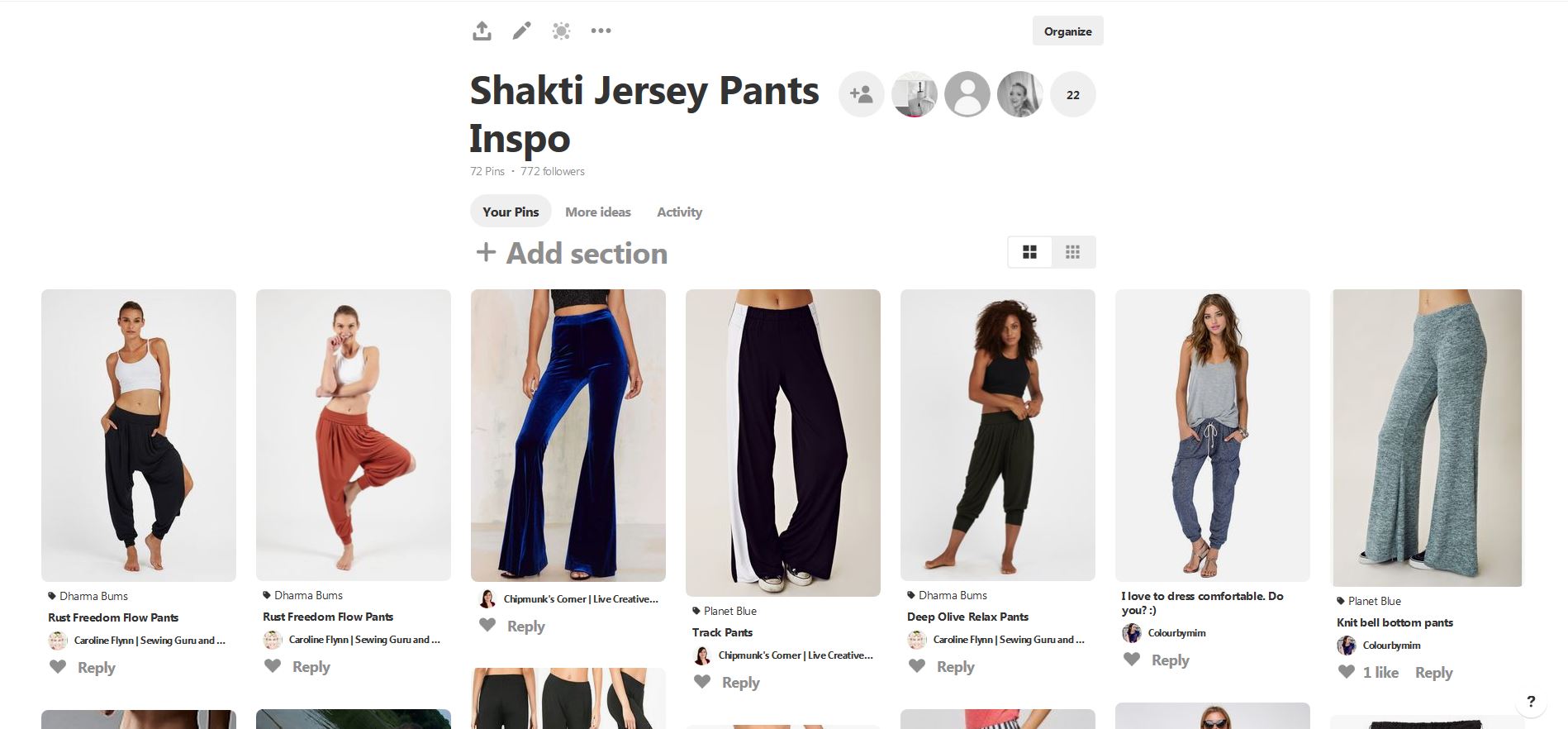 And finally to wrap up my blog post I would just like to add some of the images behind the Shakti Jersey Pants inspo. The Shakti pattern is really a blank canvas for you all !!
---
Drawstring and Side Ruched Shaktis
---
Side Ruched Yoga Waistband.
The Shakti Jersey Pants with all the styling options offer such an amazing array of different garments that you can make. The style can easily transition from the beach right through to relaxed work wear – even use a more upmarket fabric and make your Shaktis for an evening out.
Please don't forget to check out all of my amazing tester photos here as you will just LOVE how each of my gorgeous and talented women have made the Shakti their very own.
This week I will also be posting the Shakti Jersey Pants Tester Roundup Part 1 and 2 so that will give you even more inspiration for your Shakti
And ladies – why not sew up all 4 of the Shaktis and get your ultimate feminine power of the universe happening  !!!
Cheerio and Kind Regards
Ann at Designer Stitch.