Hello to all my lovelies on this temperate Saturday in Australia and thank you for joining me here for Day 5 in the series of Clara Dress blog posts.
I hope that you enjoyed reading the last 4 days of blog posts and if you have missed them here are your links. They make great reading.
Day 1 – Clara Dress Inspiration and Influences Post.
Day 2 – Clara Dress Tester Roundup Part 1
Day 3 – Clara Dress Tester Roundup Part 2 
Day 4 – Pattern Alteration for a Sway Back
Pattern Alteration for Neckline Gape.
In todays post  I will share with you how to alter your front pattern piece for a gaping neckline along with my amazing pattern tester – Kendel W.
And the Clara Dress pattern again offers a great base to do this with. xx
The above photo shows Kendel wearing her fitting toile. We undertook quite a few changes on her final toile but it was well worth the effort and this was the first time Kendel had ever fitted a woven to her body.
(I will be writing a seperate blog post in the coming days about her fitting process. And it was all done with her sending me photos through our Facebook pattern testers group…lol)
You can see in the above photo that the neckline is sitting away from the body and this usually happens when you have a very full high bust but you collapse back into the area at your high chest/collar bone.
Mind you I have done this same process on very slim women who have a smaller bust but are very slim/boney from the upper chest and above.
As I shared in my previous post your toile will TELL YOU what it wants to do.
The above photo shows the toile starting to form its own fitting wedgy or dart at the neckline edge.
You can distinctly see the neckline is sitting away from the body.
But you must also err on the side of caution.
The neckline by design – the fabric – is actually sitting on the bias of the fabric –  TOO much handling of the garment/toile will also stretch out the neckline.
That is why a basting stitch to the neckline edge before commencement of sewing is a good idea to offset any stretch.
Stitching a Wedge into the Front Neckline of the Dress Body.
Kendell pinned a slightly angled shaping/contour dart across the upper area of her front bodice. Very similar to the sway back alteration I wrote about yesterday, this fold/darted area is the widest on the neckline edge, and tapers back to nothing at the stitchline at armhole edge.
How To Adjust your Pattern for Gaping Front Neckline.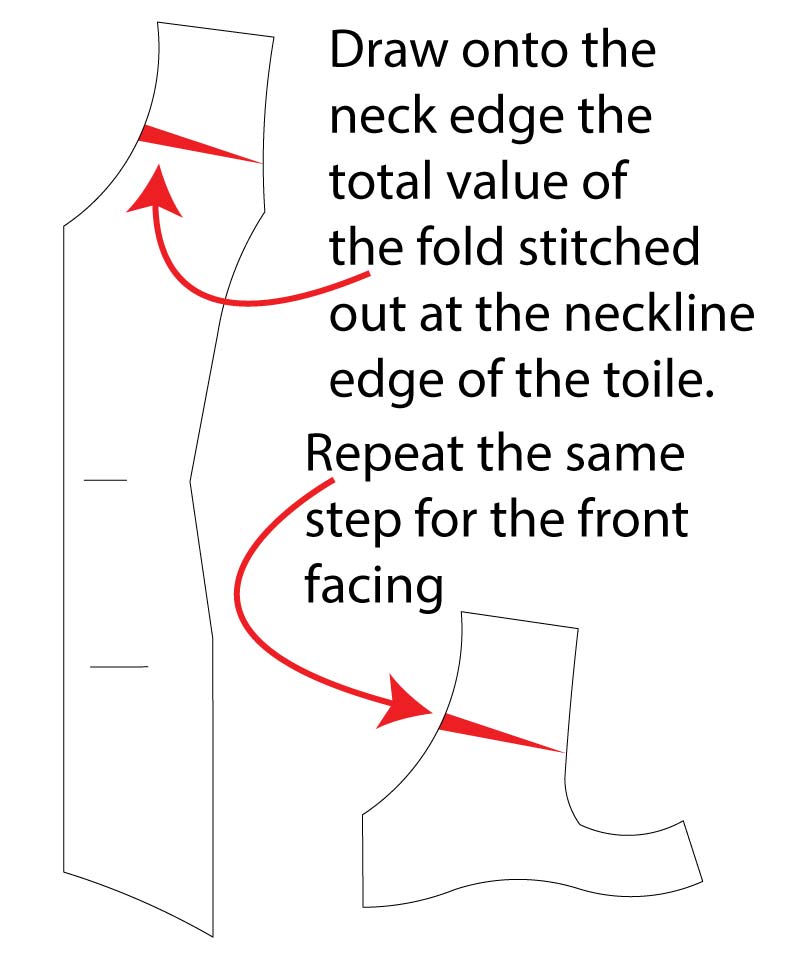 Using your toile as your guide draw the total amount folded out/stitched on neckline edge of your toile – the greatest amount is at neckline edge stitch line tapering to nothing at the armhole edge stitch line.
Now we have to eliminate this excess. Fold your pattern from edge to edge of the wedge – just like you would fold a dart to stitch it – and secure in place with adhesive tape.
The upper part of the pattern piece body will shift – I have shown in the above illustration the original pattern piece in pale grey outline – and the new shape in black outline –  but that is what we want – we are shaping the neckline to create curve and shape to emulate Kendel's body.
Once the neckline is altered make sure you also alter the facing as well. Same process and in the identical area of neckline.
Once the neck edge has been folded you will get what I call a "jogg" on the neck edge of the pattern piece.
Blend the edges as indicated in the above illustration.
And this is how a gaping neck is determined and pattern is adjusted – again it is quite an easy pattern alteration.
And I am sure you will all agree how absolutely GORGEOUS our Kendel W looks SUPER modelling her Clara Dress.
And tomorrow keep your eyes out for the next blog post –
Adjusting for a Full or Flat Tummy Area.
Cheerio
Love to you all xx
Ann at Designer Stitch.
Oh – ps !!!….
The finer details : On Sale for a limited time only – $8.95 (US)
multi-sized pattern – including Cup Size B thru DD (E) :
(AU/UK) 6 – 26
(US) 2 – 22
(EU) 34 – 54
Intermediate Sewing Level.
https://designerstitch.com/shop/clara-dress